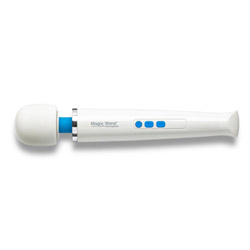 Magic Wand Rechargeable
Wand massager
by Vibratex
Absolute Magic
Often imitated but never replicated, the Magic Wand is truly the only massager to get if you crave intense power and aren't concerned about noise. If you're not thrilled that this is external use only, there are attachments you can purchase for internal or dual stimulation. The only thing that could possibly make this toy any better would be if it was waterproof.
Published:
Pros
Unmatched power
Patterns available
Rechargeable
Cons
Can get very loud
Too powerful for some
Not waterproof
Recently, I've been splurging on toys with fantastic reputations, hoping each time that they will be worth the hype. In the case of the infamous Magic Wand (formerly known as the Hitachi Wand), the legendary power proved to be exactly what was promised.
As toys go, it is fairly basic. There aren't too many bells and whistles, but it has several improvements over the original version. It is a massager originally intended for sore muscles (and it works WONDERFULLY on those!) but with sensual applications for your erogenous zones (that can be enjoyed either alone or with a partner). Because of the large wand head, this is for external use only, though there are third-party attachments you can buy to use it internally. The head is silicone and the body is plastic, making it pleasant to hold and use.
The best feature of the Magic Wand is its incredible strength. I am absolutely a power girl and this is the only toy I've ever encountered that was too strong for me on the highest setting. Be aware that with great power comes great noise– the loud buzzing sound is constant and increases incrementally with each setting. Speaking of settings, there are 4 intensity levels and 4 patterns, easily controlled by three buttons: a power button that turns the toy on or off (please note that your power/pattern "position" is not remembered if you turn it off and then back on), an intensity control button (and corresponding blue bars that show which level you're on), and a vibration mode control button (with green lights to indicate the pattern number).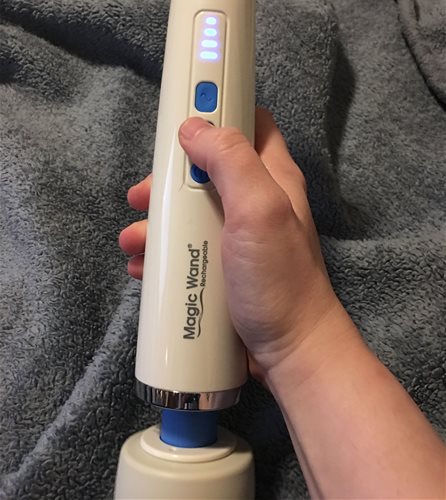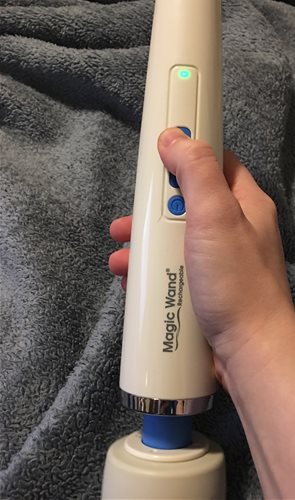 Unlike the original, this wand is cordless and rechargeable. It is absolutely NOT waterproof (you can't even use lube with it) and it should not be used for more than twenty minutes at a time (due to possible overheating). The manual that comes with it is very thorough, and has way more safety warnings than any "regular" toy I've ever seen. Essentially, use caution if you have any health concerns and common sense while playing. Clean it carefully, ensuring it is never submerged in water.
Charging is extremely simple: plug in the charger to the device and an indicator light shows the battery level, where flashing red means time to charge, solid red means charging, and green means fully charged (takes about 3 hours).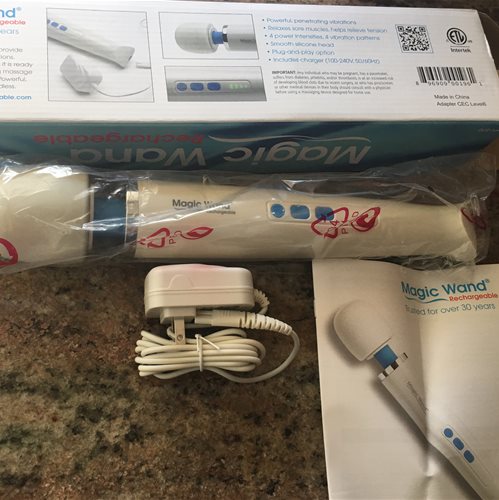 Experience
I absolutely loved my solo session with the Magic Wand. Without a doubt the strongest toy I've ever owned, it had me a shuddering mess within minutes. That being said, my clitoris felt slightly numb after I used the highest setting, so go slowly and know your limits. While something like the Womanizer provides an orgasm in around the same time, I find the sensations from that kind of product more gradual with a build up, whereas the Magic Wand is high intensity, out of control power.
A great feature of the wand is its subtlety. As a "legitimate" personal massager, it doesn't scream sex toy when you look at it. I very credibly told visitors who happened to see the box on the way to the recycle bin that I got a massager to deal with my stiff neck and shoulders, and they were none the wiser it had other uses! That being said, it's a large toy and so not discreet in the sense that it is difficult to tuck away (you can't just throw it in a drawer).

This product was provided at a discounted price in exchange for an unbiased review. This review is in compliance with the FTC guidelines.
Thank you for viewing
Magic Wand Rechargeable
– massager review page!