Alright while it lasted...
Basically, you get what you pay for with this vibrating egg. It is definitely not the best-made toy out there, but it could do in a pinch, or if you are considerably close to orgasm already before you use it. Do not count on it to last you for years and years to come. (pun intended)
Published:
Pros:
Cheap, Fairly good for clitoral stimulation, Good vibrations when turned on high
Cons:
Not very well made, A bit loud at times, Short battery life, Definitely not waterproof
I actually ordered this vibrating egg from another website, and I was fairly excited since it was my first egg. Granted, I was not surprised to see that it was made of plastic, given the low price. I had purchased this vibrator with the intention of using it in my dorm to masturbate quietly, but when I tried turning it to a remotely strong vibration at around 1:00am, the apparent loudness startled me and made me thank heaven that my roommate was a deep sleeper. When that roommate left a month later, though, I found out the hard way that my new roomy could hear my egg loud and clear unless I had a pillow or two on top of me. It did not help at all that sometimes the dial on the remote would slide and trigger an awkward buzz from its hiding place beneath my pillow, (since it has no secure click-off position.)

It is no coincidence that the construction of the egg had been the first concern of mine when I opened it. The egg is made in two plastic halves (a top and bottom) and coated with some sort of shimmery thin layer (which I discovered was capable of being scratched quite easily) and connected to the remote made of the same material by a wire that did not seem snuggly attached to the egg. I had a gut feeling that this vibrator would not be the the most easy to wash completely, as opposed to toys that have such parts made in one piece. Because of this, I only felt comfortable using the egg outside of my panties and on my clitoris, wiping it with a disposable sanitizing cloth afterwards.

My instinct had told me that this toy should not go into my vagina, and I later discovered this precaution was well-founded. Using the toy for a long period of time, about thirty minutes, caused the egg to heat up and give off a plastic smell. My vagina would not have forgiven me easily. On top of that the vibrations (which were not as powerful enough as I would have liked in the first place,) got considerably weaker. Turns out the flexible plug connecting the egg to the wire was loose. I had to always use one finger to keep the wire in place whenever I had it on, and even then, satisfaction was not guaranteed. It takes me a little while to climax, and often the batteries would give out after forty-five minutes of use. I shudder to think of what would have ensued if I had tried using it anally and the wire gave out on me.

Finally, the day came; after eight months of fairly normal once-or-twice-a-week use, my egg would not turn on. Nothing I did could make it turn on, even after dismantling it and trying to fix it. I cannot say I feel cheated, since I did pay a dirt cheap price and it did help me, (eventually) achieve a few good orgasms during its lifetime. All in all, this toy is not bad for a cheap fix, but I would be prepared to shell out more money over a long period of time if you insist on sticking with it and replacing it every time it breaks down. Personally, I will stick to my other tried and true, albeit more expensive, vibrators.
Experience
Since I am a bit of a mech junkie, I ended up taking the entire thing apart, egg and all. I was so enthralled by the parts that I did something crazy and made something out of it. A necklace, to be precise. I turned the vibrator motor into a pendant and strung it on the remote wire. I might make it available on Etsy, but I'm still not sure...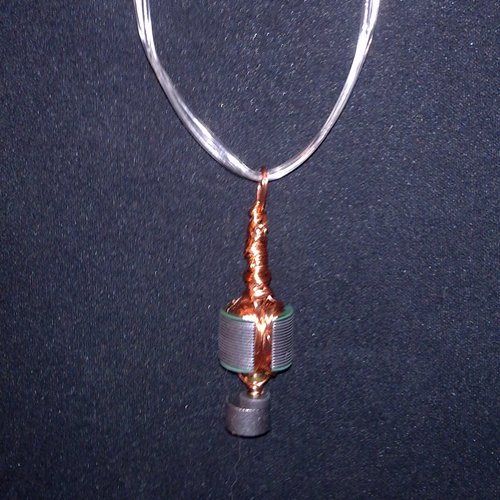 This content is the opinion of the submitting contributor and is not endorsed by EdenFantasys.com

Thank you for viewing
Petite egg and controller
review page!