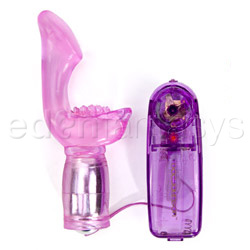 G-spot tickler
G-spot vibrator
by Doc Johnson
Better as a bullet than a g-spot toy
When used as designed its not a satisfying toy, but when the jelly part is removed, what's left is a reasonably powerful bullet that would make a great product to take with you when traveling.
Published:
Pros:
Effective bullet.
Cons:
Not effective when used as designed.
The g-spot tickler
is a 3 1/4 inch circumference bullet inside a jelly toy with a 3 inch insertable g-spot section and a nubbed portion for clitoral stimulation. The remote has a dial that allows gradations of speed control. A red light glows with variable intensity depending on the speed setting.
The jelly part of the toy has a slight smell which isn't unpleasant. When I first received it I washed it, inserted batteries, then turned it on. I started with the highest speed. That's the way I am. But the dial does allow you to gradually adjust speed. With my hand around the g-spot extension, I could feel vibrations. But once inside me the vibrations are much more subtle and not strong enough to provide good stimulation. The head of it is shaped similarly to
Ella's
wonderful head so I thought that stimulating my g-spot by thrusting could be effective. However, the jelly material is too soft to provide enough stimulation when used in that manner.
While the bullet in this toy is nice and fairly strong, I found that I needed to press the nubby part intended for clitoral stimulation against myself quite forcefully to achieve even moderate sensation. The bullet is in the handle so vibrations must transmit through almost an inch of jelly material to reach you. An inch of jelly causes too much vibration dampening. When the toy is moved during normal use it slightly sticks to hair and skin. Ugh!
However, when the jelly part of the toy is removed from the toy it becomes an effective bullet. I can see the bullet and remote being a wonderful toy to take on vacation since its not terribly loud and doesn't take much space.
Jelly is one of the most popular sex toy materials. Its made of PVC and softened with phthalates, the latter of which can cause a variety of health issues with long term exposure. It also is very porous so its a good idea to cover it with a condom when possible and to be thorough in cleaning after use. Jelly is also a sticky material and will easily collect lint. Only use a water based lubricant with this toy.
I'm giving this 3/5 stars for the quality and effectiveness of the bullet.
Experience
I also tried putting a condom on the bullet and inserting it. A condom was necessary because the hole where the cord enters the bullet isn't completely closed. I didn't want fluids to enter. This technique didn't turn out to be effective. I could feel the vibrations but they weren't arousing. A vibrating bullet didn't enhance kegel exercises either. I often feel aroused while kegeling, but the a bullet decreased that effect, if anything. I also tried holding it against my g-spot with two fingers. That didn't please me. It was awkward to maintain that position. I don't believe vibrations are the way to g-spot happiness anyway, at least not for me.
I also tried using the bullet on my clitoris while stimulating my g-spot with
Ella by LELO
. While the bullet was on me, the clitoral stimulation was quite enjoyable, but I couldn't feel Ella. While keeping Ella moving I turned the bullet off and instantly felt Ella in all her glory. Perhaps its like walking and chewing gum at the same time. I'm unable to enjoy both g-spot and clitoral stimulation simultaneously. Or perhaps the bullet is strong enough to overpower the sensations of a g-spot dildo.
This product was provided free of charge to the reviewer. This review is in compliance with the FTC guidelines.
Thank you for viewing
G-spot tickler
– g-spot vibrator review page!