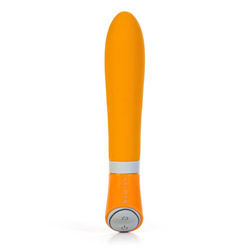 Bgood deluxe
Slimline vibrator
by BSwish
Bgood could B better
Overall all I found that while it is not as powerful as I would like, the lack of power was not enough of a reason to take away several stars. While it isn't a 5-star vibe, it is in the running. Bswish has a good idea going with this vibe, they just need a little more oomph to back it up. It is a very cute, well made vibe that I am happy to have in my collection.
Published:
Pros:
soft velvety feel, easy size to work up to, it's cute
Cons:
vibrations not strong enough to be used alone
When looking at the offerings available to review I was really looking for something that would work for me in a few different ways. I don't own/like many toys that are used to insert, so I wanted something that I felt could be used inside the vagina as well as on the clitoris. Vibes that can be inserted are mostly a new thing for me, new as in the last few months. The
Metal-Jewel Sensuous G
was the only one that I have liked so far. I think I like it because it wasn't that big and it was smooth. I have used
Jenna's Velvet Jewels
and found that I was more comfortable using it as a clit vibe.
The Bgood Deluxe arrived at my door in a pretty sturdy box, compared to the packing of some of the other vibes that I own. The box features a scantily clad woman on the front so I wouldn't consider the packaging to be discreet. It isn't overly sexual though. Lying in a plastic shell you find the vibe, instructions and a pouch to store the toy in. It runs on 2 AAA batteries and this is said to give it a run time of 3 hours. There was a slight smell to the vibe and the pouch, but nothing that really bothered me that much.
The Bgood Deluxe shaft is made of silicone which has a safety rating of 10, which is one of the first things that I noticed about it. This means it is very safe to use. The base of the vibe is made from ABS plastic and the buttons feel like silicone. It was buttery soft to my skin and felt amazing! It is a smooth material that is non-porous, phthalates free and latex free so it should work well for most users. The closest toy that I have that felt this good to touch would be my Diamond Teaser bullet by CalExotics and the Insignia Oden by LELO. I honestly felt the Bgood Deluxe was softer than even those two toys.
The Bgood Deluxe is 7 1/2" long, only an inch longer than my
Metal-Jewel Sensuous G
. It has an insertable length of 5". The diameter is a little bigger than the size of a quarter at its widest part and it tapers down slightly at the tip.
It pulsates and vibrates at the push of a button. There is a power button above the button that changes your vibrations. If you're not paying attention you could just keep scrolling through the different patterns. I can feel the vibrations over the entire vibrator but they are strongest at the base and the tip. I had no numbness after using this for about an hour.
Level one
is a low intensity hum, while
Level two
is a medium intensity hum.
Level three
takes you to a high intensity hum.
Level four
gives you a pattern of 12 vrooms and then a vroooooooooooooooooooooommmmmmm.
Level five
is a continuous pattern of vrooms with about a 1 second pause in between.
Level six
gives you a continuous buzzbuzzbuzz with no pauses in between. When the first buzz stops the other immediately starts.
It is a traditional vibrator that is intended to be used to insert into the vagina. It is also useful as a clitoral vibe. It's close in size to other traditional vibrators, although it slims downs slightly at the tip and the base. I found that it is not as powerful as some of the other vibes that I own, maybe using my Diamond Teaser bullet has spoiled me, but I was shocked at how much more power was in my tiny bullet when compared to this vibe. You do have to use an extra AAA battery when using the Diamond Teaser though. Traveling with the Bgood Deluxe is a breeze since it comes with a plain black pouch, simply place you vibe in the pouch and toss it into your bag. I doubt if anyone would notice it unless they were holding the bag.
It can be cleaned with soap and warm water, I used my Eden toy wipes and they worked fine with it.It can not be boiled since it has motorized parts. It is compatible with water-based lubricants. Using silicone based lubricants may cause the silicone covering the toy to degrade. Since the Bgood Deluxe came with a pouch I would suggest that you remove the batteries, clean the toy thoroughly, let it air dry and store it in its pouch. I did notice that the silicone seems to pick up dust and debris so when not in use, keep it stored in the pouch. I would also suggest, just to be on the safe side, to clean it again before you use it.
Experience
I enjoyed using this vibe for several reasons: it felt very soft to my skin and didn't snag on anything, the vibrations were pleasant enough that I will use it again and I found that although it could be heard from someone in the same room it wasn't loud enough to be heard through a door.

The silicone covering of this vibe was slightly squishy towards the middle, but the tip and towards the base feel like hard plastic. I am not sure but it feels as if there are two motors, one at the tip and one near the base. There is a little give to the shaft towards the middle, which is another reason that I think there are two motors on the inside. There were a few things that I felt could have been better with this toy. The main thing that frustrated me was that it is just now powerful enough. I read through some reviews on the original Bgood and this was one of the same problems that users had with it. I would expect that when you make a newer version of an old toy and you add the word Deluxe to the title, I expect it to be so much better than it previous incarnation. I will admit that it looks better than the original, it's bigger than the original, but it seems to have the same lackluster vibrations as the first toy.

Placing the tip against my clit wasn't exactly earth shattering, but it was enjoyable to insert into by vagina. Using this toy was fun as long as I didn't use it by itself. When inserted I also used my bullet and let me tell you, the results were spectacular. I had to work up to its insertion with a little added help from a water-based lube but other than that it wasn't a problem to insert. When I had this vibe inserted I had a very full sensation and I could actually feel some of the vibrations on my clit. I believe this was caused by the rumbly vibrations on levels 4-6. That made for some wonderful extra stimulation. There are not may vibrators that I feel comfortable inserting but this is certainly one of them. The Bgood Deluxe appealed to me because of how nice it felt touching my skin. I liked the shape of it and where the control panel was located. It was also a good thing that it had multiple functions because I normally don't want a toy with only one speed. I want vibrations that I can work up to, start low and get to exactly what is comfortable for me.

I did notice something about the feel of this vibe that I didn't feel while using it. I ran my fingers all over the shaft of the vibe and in two separate places I felt seams that run nearly the length of the vibe. I never felt these seams while it was inserted and I am almost positive that I won't be the only one who can use it. For the people who have very sensitive skin, you may want to think about it long and hard about if you can tolerate this before you drop $40 on this particular vibrator.
Follow-up commentary
2 months after original review
It is just not strong enough to satisfy me. I will hold on to this because the shape works quite nicely when used with a clit vibe.
This product was provided free of charge to the reviewer. This review is in compliance with the FTC guidelines.

Thank you for viewing
Bgood deluxe
– traditional vibrator review page!