Bright Pink, But Kind of Bland
While the Mood Sensuous has a plethora of great features on paper, it fell short in reality. It's unique vibration patters are the best thing about this toy.
Published:
Pros:
Very unique and different functions/paterns. Reasonably rumbly.
Cons:
Power difuse thoughout the massager. Not the highest quality.
The Mood Sensious is a new vibrator in the Mood line from Doc Johnson. This waterproof, multi-function massager comes in black cardboard box, with multi colored dots all over the inside which can be seen through the clear plastic toy holder. As well, the dots also are along the top of the box, as well as on the back, giving you 5 different categories of features about this toy. Those Categories are Features, Material, Batteries, Cleaning, Lubricant and Functions. This toy is a 7 function massager, which is waterproof and takes 2 AAA batteries. The toy is made out of phthalate free plastic, and the material is made from two different kinds. One is a shiny hard plastic and the other is a coated soft plastic. The hard plastic looks like it's wrapped around the toy in a H or angle wing like formation.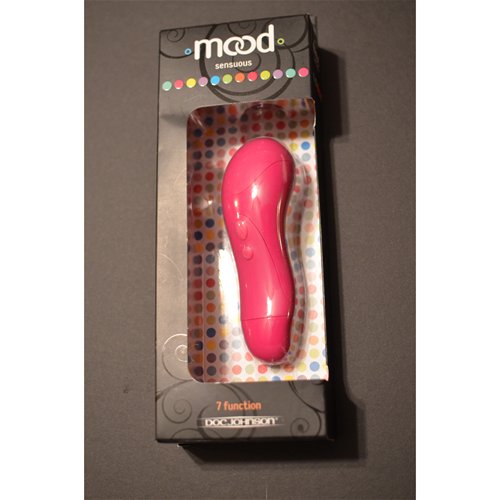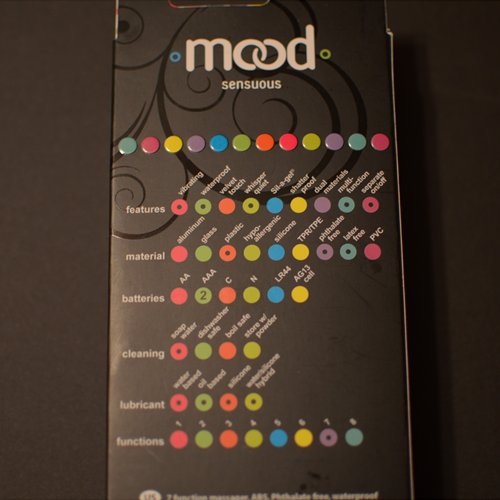 Here are the dimensions of the toy.
5 1/2" in length.
1 1/3" in diameter at the base/batter cover seam.
1 3/4" in diameter at the head.
4" in circumference at the base of the handle
5 1/4" in circumference at the head of the toy.
To get to the batteries you just pull off the battery cover. Inside the battery compartment is a diagram, clearly showing you how to place each battery in the compartment. There are two buttons to control the toy. The first is a round power button and the second is a oval button with 7x written on it. To turn the toy on, a quick press of the power button. You then can cycle through the settings by pushing the 7x button. To turn the toy off you just push the power button. Here are list of the settings and a brief description.
Setting #1- High constant
Setting #2- Constant Quick pulses.
Setting #3- 5 seconds of Quick Pulses, 10 seconds of Medium Constant Vibration, 10 seconds High Constant Vibration.
Setting #4- 6 pulses long pulses, 5 quicker pulses, then about seconds of much quicker pulses.
Setting #5- 8 seconds each, high, the med, then low then back to medium, and back to high, repeat.
Setting #6- va-va-va-vroom, va-va-va-vroom, va-va-va-vroom, vroom, vroom!
Setting #7- 4 seconds of quick pulses then 12 seconds of constant high vibration.
Care and maintenance is very easy for this toy. First, it's compatible with water, oil, and silicone lubes. As well, cleaning is a breeze with soap and water listed as the primary method, but you can easily use a cleaning spray, foam or wipe.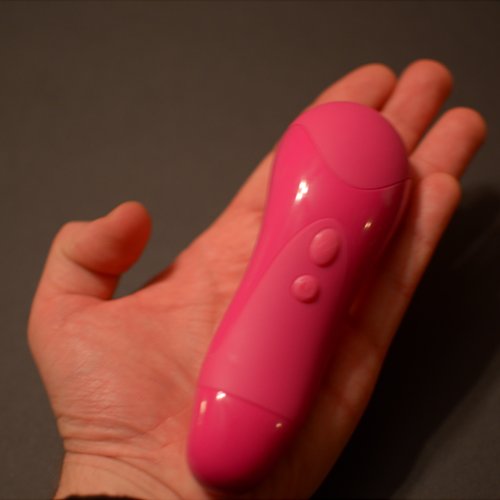 Experience
All in all this seems like an ok vibrator. Both me and my partner had the same reaction, it doesn't feel like the highest quality. My second thought is that there was no way it was water proof. We both thought that it didn't look like the best shape design to use durring sex, but we gave it a whirl. The misses thought that it was reasonably strong, but not super concentrated. She cycled through the patters, and remarked that she liked a number of them. Now she's pretty picky when it comes to what she likes as far as vibes, so I was not at all surprised when she set this aside and switched to her favorite.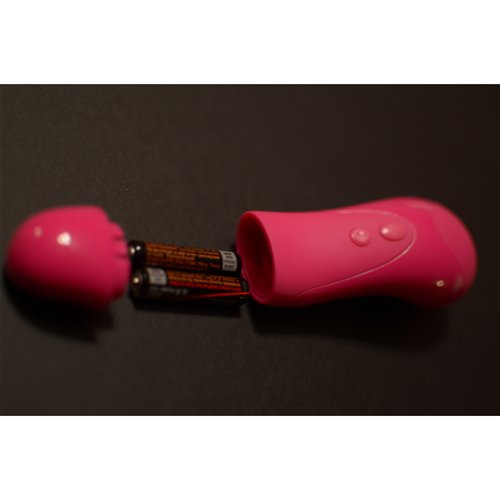 List of things that I did not like...
The vibrations are defuse through out the head. They are a little more powerful where you rest the toy against your body, but not a ton.
The toy isn't actually water-proof. After a few minuets submerged in water, we pulled it out and dried off the exterior and opened up the battery compartment, and clearly there was water in there. Since then the buttons, particularly the power button, does not work reliably.
The lack of directions. Yes, it's pretty obvious, but there is nothing, and to me that is a minus.
If you turn the toy off on one setting, and turn it back on, it starts from the first setting.
It's not "whisper quiet" like they advertise on the box. It's by far one of the loudest vibrators we have.
The battery cover pops off easily and that is very frustrating when you are trying to get off.
All in all, there are more gripes to this toy that really makes it worth while for us. The only thing that really makes it redeeming are that it's not weak in the vibrations department and it's patters are more interesting than most.
Follow-up commentary
22 days after original review
Normally, I wouldn't write a follow up to a toy so soon, but this one just landed in the trash. Why? Long story short, because it's not waterproof. We've used in a handfull of times. It's been good, not great. But it's never been waterproof. We haven't used it in water since my testing for the initial review, but the toy has kept going off randomly. It's woken us up in the middle of the night, scared the dogs and the last time, we weren't home and our nanny was freaking out until she went and found it. Very embarrassing! Not to mention the power button pretty much just doesn't work. This toy really just missed the mark and caused us too much grief to keep it around.
This product was provided free of charge to the reviewer. This review is in compliance with the FTC guidelines.

Thank you for viewing
Mood sensuous
– clitoral vibrator review page!