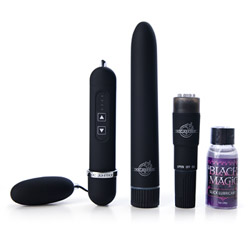 Black magic pleasure kit
Vibrator kit for couples
by Doc Johnson
Convenient, elegant and fun!
I like the idea of toys that match - especially when they look this good. And even more so when the performance lives up to the visuals.
Published:
Pros:
Looks good, feels great, sounds quiet... in fact, it's all just right
Cons:
Requires both AA and AAA batteries... and the battery compartments are finicky
We'll get the band news out of the way first. The packaging looks good but it is flimsy flimsy flimsy... by the time my order had made its way through the mails, bumping against another toy in the same box, the pleasure kit's casing looked like a bag of cat treats going three rounds with a dog. All of which I mention only if you're thinking of giving this as a gift. Nothing says "oops" like a battered box.

Ah, but then we open it up and... the specifics of the kit have been well detailed elsewhere, but just to recap, it contains a pocket rocket with some delightful little nubs on the (detachable) cap; an egg and, thirty inches of cord away, its controller; a seven inch vibrator (dial-base, 6" insertable, 3 1/4 circumference)- all, as you would expect, colored a very classy, and gently velvety black. Plus a one ounce bottle of Black Magic lubricant (which, thankfully, is clear.) Batteries are not included. But neither are nasties like latex and phthalates. So, with the introductions out of the way, let's put these boys through their paces.

Okay, the first thing to report is - it's a quiet collection. Doc Johnson have always impressed me with their eye for discretion, but the rocket in particular is one of the quietest toys I have ever encountered, and the other pair aren't far behind. And when you consider how much ooomph they have... which I must admit surprised me, because other reviews here left me expecting a less vigorous experience. But no, all three buzz away without a care in the world, and while I could have used one more speed-setting on the egg (it has four)... well, maybe that's just me being greedy.

The vibe is the true joy here - a reminder, in many ways, of why traditional shapes and sizes have clung on in the marketplace despite so much competition from various and sundry objets d'art. Not too fat, not too short, not too pointy, my main thought is - don't bother with the lube, unless you really, really need to. Somewhere between "a little drag" and "ouch! Friction burns!" there is a happy place that the vibe seems to have the GPS co-ordinates for.

So - again, if you're buying this for someone else, expect to be rehabbing the packaging. But personally, I'd make that someone else buy their own. I'm keeping this one for myself.
This product was provided at a discounted price in exchange for an unbiased review. This review is in compliance with the FTC guidelines.

Thank you for viewing
Black magic pleasure kit
– vibrator kit for couples review page!