Curvy toyfriend
G-spot vibrator
by Toyfriend
Curvalicious Toyfriendery
This is a very well-made, totally waterproof, silicone toy. It looks very inviting, packs some moderate vibration and is easy to care for. Will it blow your mind? Well, maybe. If you don't need crazy powerful vibration clitorally and if you can deal with a 6" circumference, this might be a dream toy. If not, this might just be your cute new somewhat-platonic friend. The Curvy Toyfriend may not be for everyone, but it's definitely a solid effort.
Published:
Pros:
adorable, well-made, silicone, comes with a stand, variety in vibration
Cons:
high vibration comes before low, delayed off button, biggest bubble may be too big for some
Right out of the box, the Curvy Toyfriend just seems so dang friendly. I mean, calling it a "toyfriend" makes me like it instantly. Excellent marketing. I want to carry it around in my breast pocket and have adventures. It's bright yellow, bubbly and adorable.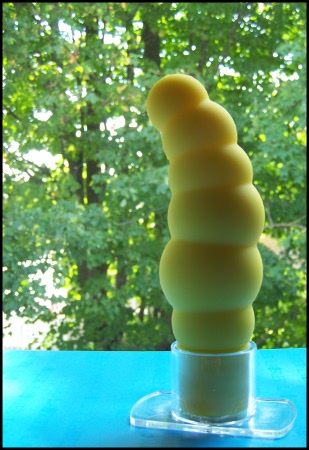 Curvy Toyfriend contemplates the next big adventure
This little guy can be used easily for clitoral stimulation, and for g-spot stimulation if you somewhat of a shallow g-spot. Although the shape of the Curvy Toyfriend might immediately speak "anal toy" to you, there's no flared base here and unless you have a vise-like grip and only want pretty shallow penetration, I wouldn't recommend this for internal anal play. For stimulating the outside of the anus, you're good to go (remember to condomize or sterilize between orifice switchings!). This toy is completely submersible in its waterproof glory, so feel free to make it your bathtime friend.
The Curvy Toyfriend is part of the Rocket Toyfriends line that also includes Starlet, Cheeky and Wavy. The little insert included in the packaging reads:
"The Rocket Toyfriends are our third family of playful vibrators: they are quality products with simple functionality that are easy and fun to play with. All Toyfriends are different in character and design but share the same basic qualities: They are all quiet, energetic, waterproof and made of smoother, body-safe silicon. The products come in a contemporary packaging with a stand for storage and display."
Not sure why they're mentioning the packaging when I clearly already have opened said packaging myself, but whatever. They are right on that count and on all the others, as well.
One of my first moments of Toyfriend happiness was over the fact that it comes with a stand. This is great. So often I'm trying to precariously balance toys upright on my night table so they don't catch dust or cat hair before or after use. Nothing's worse than being all ready to play and then having to get up and do some emergency toy rinsing. A toy that comes with a stand? Genius. Speaking of dust, this also collects none of it. Even without the stand, cat hair and lint is no worry.
What else does the Toyfriend come with? Batteries! Oh yes, this little guy is all ready to go. Two AAAs come already loaded in the Curvy's battery compartment. So that the batteries don't waste, a little paper is also tucked up in the compartment. This paper reads, "I am a tickler!" and made me giggle with joy when I came across it. Say it loud and say it proud, Curvy Toyfriend.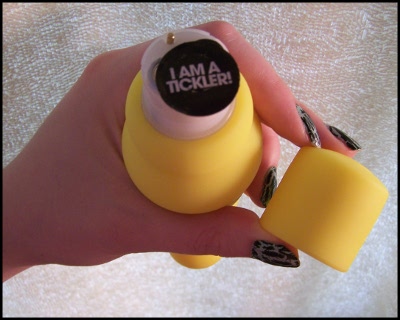 SHAPE & DESIGN
The Bubbly Toyfriend is made from basically the silkiest silicone ever. It's smooth and gorgeous with no drag at all. It's also very, very firm. This has no give to it whatsoever, similar to the silicone of LELO products. I believe it's plastic with a silicone coating, actually. The firmness is great for g-spotting, if this toy manages to be the right shape for your body. Speaking of shape – this goes from fairly thin to adequately girthy in very little time, and the lack of flexibility means that there isn't a lot of room to move if the 6" circumference of the biggest bubble is a bit too wide for you. By my measurements, the circumference of each bubble on the Curvy Toyfriend is, from the top:
1 – 3 ½"
2 – 4"
3 – 4 ¾"
4 – 5½"
5 – 6"
6 – 4 ¾"
Length-wise, this has got a maximum of roughly 4.5" insertable, from the tip of the top bubble to the base of the bottom-most. If you only wanted to insert the first four bubbles in order to avoid the girthiest fifth, you have only about 3" of insertable toy to play with.
Cleaning is as easy as scrubbing this up with warm water and soap or toy cleaner. The word "tickler" is imprinted down the side of the toy, on the lower 3 bubbles (mostly on the 2nd lowest). I haven't had any problems with cleaning this so far, but just make sure when washing that no fluids have managed to get themselves trapped in that area. There is also a seam down the back of the toy's curve, but it can't be felt during use.
Although the safety rule for silicone toys is that one should always pair them with a water-based lube, I did a patch test with Pjur Med Premium Glide as well as Wet Platinum Silicone and found that there were no issues. It looks like there's a good chance this toy would be compatible with silicone lubricants, but be sure to patch-test with your silicone lube of choice before jumping into use.
Experience
FUNCTIONS & CONTROLS
But, you ask, how did it work? Despite its adorable looks, this is not really a beginner toy. But yet, also not an advanced toy. What the hell, Curvy Toyfriend. I feel silly using a warm-up toy with this, but the largest bubble is a little too wide for me to comfortably use right off the bat because of the plastic-firm silicone. The smaller ones are a perfect start, but the length of the toy is too short for that depth to be much fun for long. So I try to force it, but it's a really firm material and that doesn't end well. Cute little friend, you're going to too fast and too slow at once, somehow!

I did manage to stimulate my g-spot with this toy, but it wasn't the mind-blowing g-spot attention I've received from other toys. It was alright, but not particularly intense or easy to attain/maintain. Some angling was necessary to get adequate pressure. More bothersome was the distraction of dealing with the lower bubbles' width - rather than any kind of real g-spot stimulation, what I mostly felt during internal use was the stretching of trying to insert the larger bubbles. Despite carrying all the vibration, the thinner tip of the toy felt a bit lost by comparison.

Clitorally this was very enjoyable, though not quite orgasmic for me personally. The curvy shape really lends itself to this kind of stimulation, with the top few bubbles curving to sort of cup vertically around the clitoris. The vibrations are quite localized in the tip of the toy, and by the 4th bubble down the power is pretty diffused.

The five vibration programs are as follows:
1) high
2) medium
3) long pulses – about one second long each, starting on medium power and ending on high
4) short pulses – half second long each, medium level vibration
5) super short pulses – quarter second long each, medium level vibration

It's kind of a shame that they gave up the strongest vibration level first thing. If you're like me and would rather work up to the top speed rather than starting out strong and then decreasing, this'll be a bit of an annoyance. It's also unfortunate that the patterns aren't top strength either. On the plus side, the noise level here isn't terrible. The first setting is the loudest, and it's undetectable through a closed door. The medium settings are muffled by blankets, though not completely hidden.

The power button of the toy is located on the bottom of the handle. One press turns it on, and subsequent presses will scroll through the five vibration programs. In order to turn the Curvy Toyfriend off, you need to hold down the button for two seconds.

Personal Comments
My overall reaction here is impressed, even if this wasn't the perfect toy for my anatomy. The Toyfriends are clearly a well thought-out, quality line and I certainly recommend them.
This product was provided free of charge to the reviewer. This review is in compliance with the FTC guidelines.

Thank you for viewing
Curvy toyfriend
– g-spot vibrator review page!