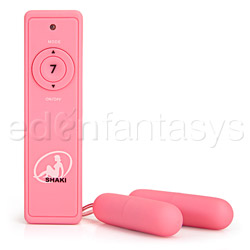 Dual bullets disc
Bullet by Shaki Toys
Dual Bullets = Awkward but Functional
The Waterproof Dual Bullets is not the best set of vibrating bullets that one can own, but if you are willing to buy something cheap and simple, it is somewhat worth it. The major flaws, such as the cheap package and $1 bin look and feel, is in some ways diminished by just how steady and powerful the vibes and the functions are, but one deserves something much better than this.
Published:
Pros:
Dual bullets, lightweight, travel friendly, somewhat versatile.
Cons:
Too light, too cheap, tacky packaging, questionable advertisement, NOT waterproof, humorous Engrish.
The
Dual Waterproof Bullets
could very well be the first sex toy that you would own which has Engrish written all over the package. One can't help but laugh at phrases like "multi-speed vibrating," "7 functions vibration frequencies bring different stimulation for you, gentle or strong; it is up to you," "do not use on any wound" (hahaha), "wash it with safe suds," and "enjoy your happy life everyday water proof bullets." Funny, but nonetheless, it speaks for the toy itself. This is a novelty item. Is it the best set of vibrating bullets? Not really, and honestly, the Engrish and questionable advertising of it (what's PU coating? What does L mean?) makes this toy rather tacky, giving it that dollar-bin quality. It wouldn't be surprised if this was literally sold at a local dollar store near you. The motor is made of plastic, a plastic so cheap that it could shatter from dropping it on the floor or throwing it against the wall.
The motor is also tiny; it is no longer or wider than a strawberry wafer, and it's also as simple as any sex toy could ever be, with just an on/off button and an up/ down arrow button to make the vibrations higher or lower, at any vibe function that you choose to explore. The bullets are 2 ¼ inches at length and the wire is less than 30" long. The bullets weren't as velvety soft as one may be accustomed to. Like the rest of the product, it has this very cheap feeling that's almost a turn off. One of the oddest things about this toy was that inside of the motor, there weren't any plus or minus signs that tell us which way the batteries go. And even worse, the package says that this requires 2AA batteries, but it really requires 2 AAA batteries. Oy.
Although my initial thought was negative, I was surprised at how strong and intense the vibrations really were and how interesting the seven functions were (and it was also a pleasant surprise that it wasn't too loud!). With just a press of a button (which has a big black 7 on it), this baby turns on. To explore the seven functions, you have to keep on pressing the up arrow. To stop it, you just press the center of the button again. The first vibe function is one long and steady vibe. The second is the same, but just higher in intensity. The third is loud and even higher in intensity than that, the sound reminding you of cars racing in a video game. The fourth one is trying to be like an earthquake or a siren, the fifth one is trying to imitate the rhythm of a fire alarm or alarm clock, the sixth one is just one long bump-bump-bump sound and the seventh one basically just the same. The good thing about these bullets is that they are dual; you can multi-task by gliding them along both nipples, tease from one pleasure area to another at the same time (clit to nipple, labia to clit, the rim of the anal area to pussy, scrotum to tip of penis, all over the penis/pussy, the list goes on).
[Editor's Note: These bullets are not safe for anal penetrative play and a condom should be used over them if being used for vaginal insertion.]
I wouldn't recommend using these anally; the wires seem just way too fragile and cheap to risk having those bullets stuck in the back door without having something to pull them out with. The mostly negative quality of the bullets, other than just the Engrish, shoddy packaging, and $1 store feel, is just purely the quality of it. Awkward is the word for it. While playing with these bullets and testing the vibe, the seven functions themselves felt as if they couldn't decide what vibe it was trying to be. For instance, I would play with function three, and then it would suddenly turn to function four (hands free), which confused me and threw me off just a little. And the most confusing thing of all was that even though these are called "Duel WATERPROOF bullets," the back of the package says "do not use in bath or shower." All I could think of was, What? So I didn't risk it...
To be honest, the
Dual Bullets
are the oddest set of vibrating bullets I've ever seen. From the packaging to the actual product itself, it screams $1 bin, but what this toy delivers in vibration and function bumps it up to the $5 bin, maybe $5.50. If you are willing to spend money on something that cheap, go for it, but if you want something better, search elsewhere.
Experience
This toy is somewhat versatile. Use it on your partner while blindfolded, surprise him/her by inserting it in crevices that will make them squirm and coo while tied up (remember, use caution if you decide to use it anally, though I wouldn't recommend it). Use it for DP fucking, with two of the bullets in one hole and
using a dildo / butt plug
/ your partner's cock in the other. You could also use the wire to restrain the wrist or the ankles while the bullets are buzzing away outside or inside of you. Or just use this product by gracing the bullets all over your body for a lovely little massage; it feels great.
This product was provided free of charge to the reviewer. This review is in compliance with the FTC guidelines.

Thank you for viewing
Dual bullets disc
– bullet vibrator review page!