It's Not My Sign But It's Pretty Fine
Scoring 3's across the board, this is a decent toy that packs both moderate vibration and moderate volume. The construction is solid, the texture is interesting and the orgasms are nice. This would make a great birthday present because of the astrological sign factor, but more advanced users may desire a bit more in terms of control sophistication and the feel of the silicone, especially from a Fun Factory toy.
Published:
Pros:
silicone, attractive colour and shape, potentially compatible with silicone lubes, price
Cons:
noise, dial base, cleaning effort, not a beginner toy
Fun Factory's Astrovibes line is a neat series of vibrators that corresponds to the twelve astrological signs. The idea is similar to the
Birthstones
vibrators offered by Evolved. They come in interesting colours, shaped as whimsical interpretations of the astrological signs. When I saw the price of this line, I absolutely had to snap one up. A silicone vibrator from a company I know and trust, for so little money? Done. I'm a Sagittarius and my sign isn't offered on EF so I chose the Taurus because it had the most glowing reviews. While my review may not be glowing, it is warm. This is a decent toy by a great company.
If you're familiar with Fun Factory silicone, you know that it's super plushy and lovely. The Taurus's silicone does have some give to it, but it doesn't have the same soft squish-factor that other FF toys do. It's a bit smoother, with quite a bit of drag. It's, well, kind of rubbery. It does manage to pick up less dust/lint than other FF toys I have, which is nice. Although the friendly-looking design may attract beginners, the firmer silicone may make the ridges on the head of this toy a bit much to take. Still, that sure is a gorgeous shade of orange.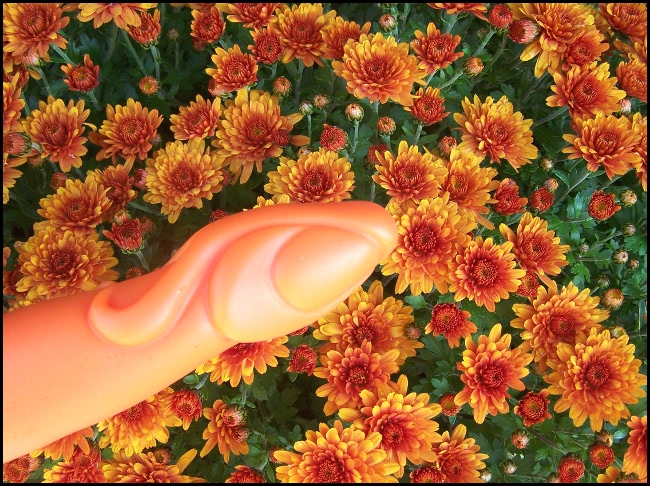 Taurus photobombing a picture of some chrysanthemums to show off its delicious orange colour
The Taurus is a pretty traditionally shaped vibrator, being quite straight without any fancy curves. In keeping with the astrological sign it's based on, the end of the vibrator is shaped like a stylized bull's head with horns that curl partway down the shaft. I was personally drawn to this shape over other Astrovibes designs because of the flat end/nose (though pictures taken from the side may lead you to think that the Taurus is pointed, it is actually fairly blunt-ended). I like deep thrusting but have felt some discomfort from toys with pointed ends. This feature did work out for me: I've never had that uncomfortable pokey moment where I feel that I've gone too deep. This flattish end is also useful for clitoral stimulation, especially because much of the vibration is located there.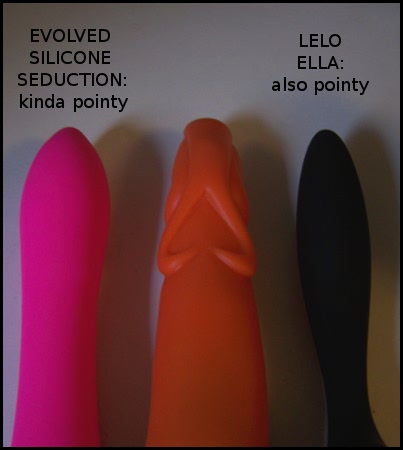 While the Taurus is a bit bendy in the hands, it's pretty rigid during use. It's not a toy that really wants to move with you very much. Something about the shape of this toy makes it uncomfortable for me to use lying flat on my back; best results are found by sitting up a bit and reclining on pillows. This may vary, of course, but the Taurus grew on me quite a bit once I realized what position worked best for me.
This shape didn't do a lot for my g-spot, but it did feel interesting and pleasurable overall. The ridges of the head make thrusting a more complex-feeling endeavour than it would be with a purely straight, smooth toy. I found that going more slowly with the in-and-out gave a really nice massage to my vaginal walls. Interestingly, it was my back wall (as opposed to the front wall, where the g-spot is located) that liked this sensation the most intensely.
At it's widest point, the Taurus is 5" in circumference. At its thinnest, around the bull's neck, it dips to roughly 4¼". The bull design goes 3½" down the length of the toy, and the remaining 3" of shaft beyond that is completely smooth. While this isn't an alarmingly girthy vibrator, those who are new to insertable toys may want to choose something else for their first. I suspect that most folks will find this an adequate size (although size queens will certainly scoff). More on this subject can be found in my Personal Comments section.
Astrovibes are not waterproof, so don't be dunking them. This toy
is
splashproof as far as I can tell, though, so washing up doesn't have to be too much of a worry.
Not waterproof: You can lead a bull to water but you can't fully submerge him.
On the topic of cleaning, you'll really want to get your toycleaner/soap and water into all those little crevices around the head of the toy. Fluids like to get trapped around there like a mad time. You really need to get your nail (or other pointy tool) in there, especially around the horns, to make sure everything is washing off properly.
This being a silicone toy, there is the issue of lube compatibility. Or is there? Patch-testing this with Wet Platinum silicone lube resulted in no issues. Patch-test with your own lube of choice, of course, but this may well be a high enough material quality that it will not react with silicone lubricants. Bonus! Still, if you're feeling wary, water-based lubricants are always a safe choice.
Experience
FUNCTIONS & CONTROLS
The controls for this toy are a simple dial base that serves up a gradient of low to mid-range power, fueled on two AA batteries. I would definitely recommend taking the batteries out if travelling with this toy, because the dial base is very easily bumped and turned on.

The vibration is centralized in the head of the toy and doesn't do a particularly good job of traveling the length of the shaft. The bottom 2½" of the Taurus have much lesser vibrations, no matter how high you crank the turn dial. This can be both a pro and a con: When inserted, this means there isn't a lot in the way of vibration happening at the entrance of the vagina (and there isn't any texture to be had there either). However, this also means that vibration isn't getting wasted on your hand when holding the toy, and there's no risk of numbed-up fingers.

While the power level delivered by this toy is pretty good, the noise is kind of lame. Maybe I'm just spoiled by using mostly dildos and luxury vibrators but dang, The noise increases when you put pressure on the toy, though it thankfully muffles decently when inserted. While you can't hear the toy through a closed door, the noise is distracting enough during use that it feels like people should be able to hear it. The buzzing is certainly a buzz-kill.

PERSONAL COMMENTS
If I had written this review when I first bought the toy about eight months ago, it would have had a much different tone. This is not a beginner toy – though the Taurus was far from being my first internal vibrator, my first few uses of it back then were uncomfortable, if not outright painful. The fairly firm ridges on the head of the Taurus were unpleasant to insert, and only once I was thoroughly warmed up and turned on did I get anything other than discomfort from this. Any kind of real thrusting was out of the question. It was big, oddly shaped, and I hated it.

Picking it up again now to write what I imagined would be a fairly negative review, I was surprised to find that I actually didn't mind the toy. Insertion felt fine, the flat nose of the toy was enjoyable as I had initially imagined it might be. My main complaint at this point is the noise. Because it's so much quieter when inserted, I sometimes feel the need to keep as much of the shaft inside of me as possible, just to mute it a bit. I mean, I guess I should just turn on some music but really, this bull has got some volume.

As a side note, my mother thought I had absolutely lost my mind when she caught me pretending to make my vibrator drink at a water dish in the garden, baha.
This content is the opinion of the submitting contributor and is not endorsed by EdenFantasys.com

Thank you for viewing
Astrovibes Taurus
– traditional vibrator review page!