Just Enough To Keep You Interested
Don't let the name fool you, it's not metal. They've made a piece of plastic all shiny and kind of false advertised themselves into a lackluster vibrator with not enough curve and certainly not enough vroom.
Published:
Pros:
waterproof, pretty, different vibrational and pulsing patterns
Cons:
NOT metal but plastic with metallic paint that will chip and wear, not a powerhorse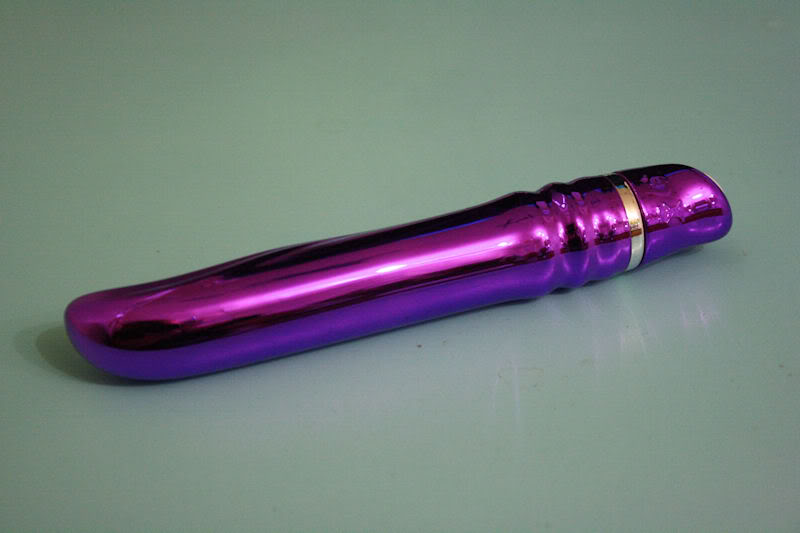 This massager is marketed as a fancy shiny little vibrator with a "sweet curve." It is waterproof, features seven different functions, and is powered by two AAA batteries. It is slender, smooth and kinda pretty. But if you are looking for an intense ride or a toy made of actual metal, keep looking. The curves aren't that sweet, and your friend here will lose its pretty little luster.
So let's get one thing straightened out here. Despite the name of the toy being "precious metal," and the prominent METAL on the toy's box, this toy is actually plastic with a shiny metallic coating. Is this a bad thing? Not necessarily, as plastic is easy to care for and a familiar material we have probably all experienced. But over time and use the paint will flake off and wear away. I've taken a photo of one of my heavily used three year old vibrators with the same kind of paint job to show you what your Sweet Curve may look like after repeated use.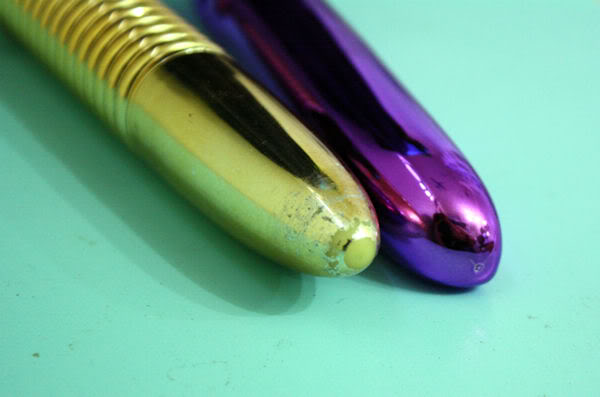 As you can see, there is visible wear and total loss of paint on the tip, as well as scratches. If you can live with this and not wonder about metallic paint on your taint, then let's talk specs.
This smooth vibrator's curve is slight at the tip with a barely noticeable bulge in the middle of the toy. The end of the toy near the control button is ribbed. The little ribbed section is included in this toy's measured 5 inch insert-able length, and measures 6 1/4" over all. It has a one inch diameter and is featherlight at just under two ounces. It also includes a funny little ring under its battery compartment cap that you must keep intact with the toy to keep it waterproof.
The "curve" isn't enough to do much for your g-spot, or really provide any stimulating exploration in the world of curved toys.
This is a push button toy. The button lights up when the toy is activated, and flashes in the pattern of the pulsation and escalation.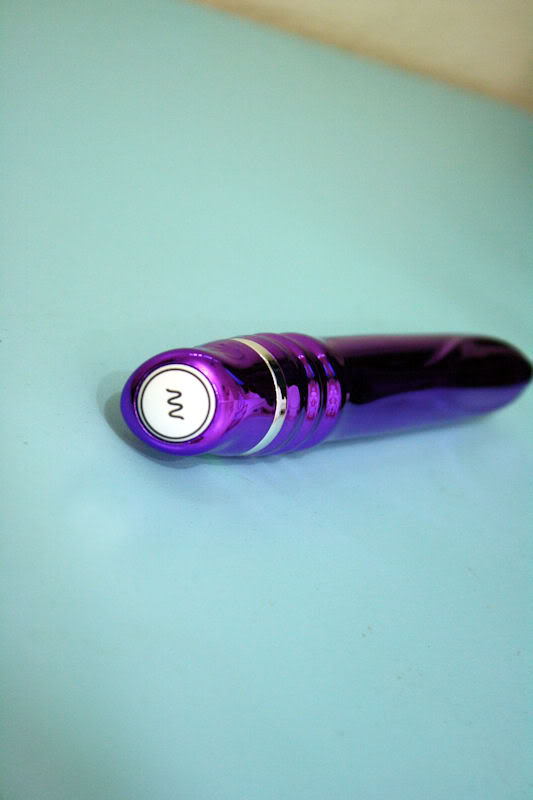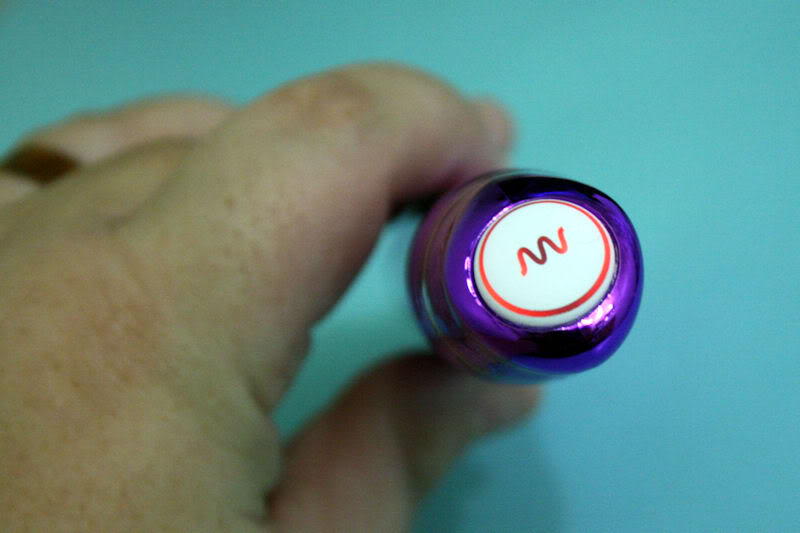 And now I will use my poetic license to describe the toy's seven patterns to you the best that I can.
1. low
2. medium
3. high
4. riggada riggada riggada RIGGADA RIGGADA RIGGADA riggada riggada riggada (choppy building pulse action)
5. ZZZ ZZZ ZZZ ZZZ ZZZ ZZZ ZZZ ZZZ (pulsing high intense buzzing)
6. ZZ ZZ ZZ ZZ ZZ ZZ ZZ ZZ ZZ ZZ ZZ (pulsing short high intense buzzing)
7. Z Z Z ZZZZZZZZZZZZZZZZZZZZ Z Z Z ZZZZZZZZZZZZZZZZZ (three shorts and a long)
The eighth click will turn it off.
The best way to care for your "Precious Metal" Sweet Curve is to give it a good cleaning with hot soapy water and store it in a soft cloth so that it maintains its shiny coat.
Experience
With 2 AAA batteries you already know that this thing's buzz will be a bit sub-par for someone who needs a powerhorse vibe. And though I thought I'd be passing this one on, I found a sweet little use for it. As it's a little more powerful than most of the bullets I've played with and provides more variety with its pulsing patterns, I'll find myself slipping this into my panties and keeping myself stimulated while talking dirty with my fiance. Sometimes just having a conversation about sex gets me aching for it, but often there is very little I can do since the kids are awake and daytime sex isn't easily obtainable. No matter, this vibe keeps me just stimulated enough to sustain me until we can get to the bedroom. And by the time we get there everything is swollen and ripe and juicy. It's a good time.

So even though this isn't a total solo fun time get off toy, it's kinda nice for off time stimulation.
This product was provided free of charge to the reviewer. This review is in compliance with the FTC guidelines.

Thank you for viewing
Metal jewels sweet curve
– traditional vibrator review page!