Kisses are Fun
Kandi Kisses is a pretty high quality discreet lipstick vibe. I like that it's rechargeable. I get tired of having a million batteries laying around for everything I use. The packaging and the toy itself appear to be of very high quality. Despite the small size of Kandi Kisses, the vibrations it creates are at the same level as those of larger toys. I don't like that the silicone portion of the toy is just a thin sleeve over a plastic core.
Published:
Pros:
cute, discreet, great packaging, quality, rechargeable
Cons:
silicone end is just a thin sleeve of silicone over plastic
I don't have a specific need for a discreet massager disguised as a tube of lipstick as I don't have any need to hide toys in my home. However, the petite size and design of OhMiBod's Kandi Kisses lipstick massager interested me a lot. I've never tried a rechargeable toy, either, so I wanted to see what that was like. I decided to order Kandi Kisses as my next review assignment.
Kandi Kisses is honestly the nicest packaged toy I have ever received. I don't normally go for the higher-priced high quality toys, though I do expect this packaging to be typical for vibrators costing $100+. The outside packaging is a black paperboard box with silver text on it. The front and sides just list the name. The back lists some key features of the toy:
- 7 vibrating patterns
- Made of silicone, which is body friendly
- Rechargeable and good for up to 2 hours of use
- Waterproof
- The motor is powerful, yet silent
- 1 year manufacturer's warranty
- Includes a USB charger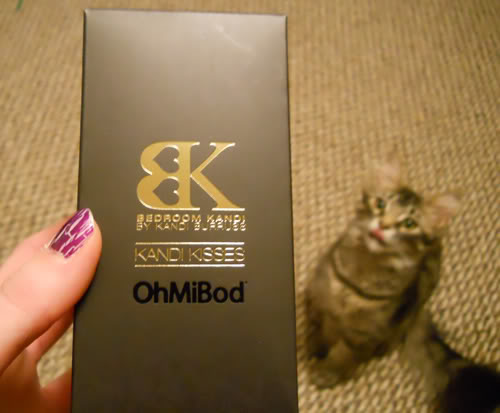 Even my cat wants it.
Inside of the box is a cute black storage box for Kandi Kisses. The lid is hinged on with some black ribbon. Inside, the vibrator is laid on some black satin over some cardboard. Underneath the toy is the USB charger. Also in the box is the user manual. This box is great for storage and looks nice sitting out on a night table. It measures 5 x 2 1/2 x 2 1/2 inches.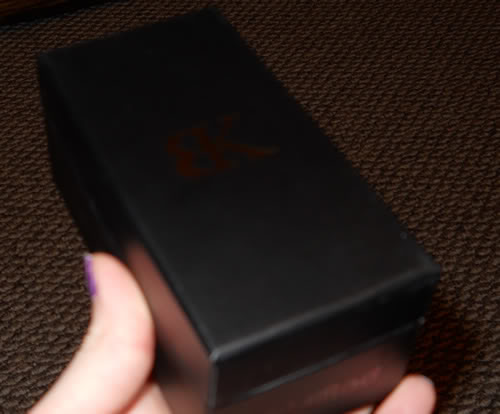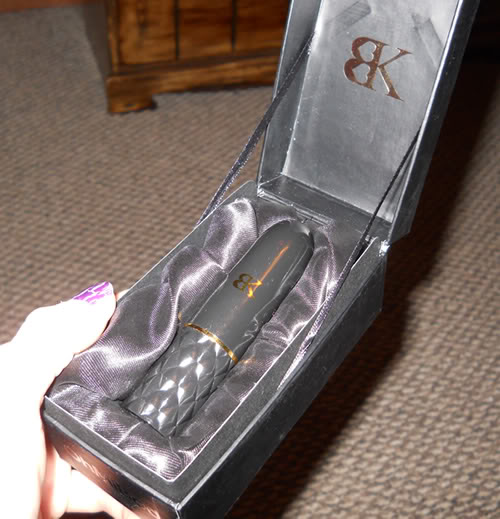 I highly suggest reading the included user manual before using Kandi Kisses. Since it's waterproof, there isn't an open charging port on it, so it's a bit confusing to figure out. According to the manual, the toy will have about 10 minutes of use right out of the box. It holds a charge for 2 hours once it's fully charged. I'd leave it connected for 2-3 hours to ensure a full charge. Kandi Kisses is charged by a USB cable, which means you need a computer to charge it. It plugs into a USB port. The cable measures 32 inches in length. It plugs into the bottom of Kandi Kisses, in the middle of a silicone oval. There's a small dot in the area you insert the end of the cable. The silicone will flex in, allowing the toy to charge without it losing its waterproof capabilities when you go to use it later. This toy has no indicators as to what the battery level is or when it is fully charged, unfortunately.
Kandi Kisses is made of ABS plastic and silicone. The pink "lipstick" part is a thin silicone sleeve over plastic, while the rest of it is plastic. The silicone is velvety feeling and hard to the touch. It does not flex, since it has a plastic core. It does not have any seam. The end rounds off very nicely. The black plastic base is easy to hold even with lube covered hands, as it is textured to look like the end of a lipstick tube. The lid snaps on nicely to keep the silicone clean. The base measures 3 inches around, while the vibrating silicone end measures 2 1/2 inches around. The length of the base and the silicone are 2 inches each, making Kandi Kisses 4 inches total in length. This compares well to the length of a normal tube of lipstick.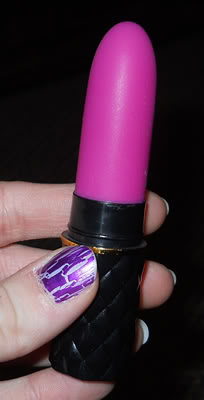 This vibrator is not designed for insertion, it is meant as an external vibrator only. Its rounded tip allows for direct stimulation of any area of the body. The vibrations feel like they come from the center of the vibrator, so they can easily be felt throughout the entire body of it. There are 7 vibration patterns accessed from the base. There is a black button above the charging port with a squiggly line on it. Holding it for about 5 seconds turns Kandi Kisses on or off. Pressing the button and releasing it quickly changes the vibration pattern. Turning it off and back on starts it back off at the first pattern. The patterns are:
- Low constant
- Medium constant
- High constant
- Slowly building up and down pattern from low to high (like /\/\/\/\)
- One second pulses of high vibration spaced a second apart
- Half a second pulses of high vibration spaced half a second apart
- Two medium pulses followed by a long high pulse
I personally prefer the pattern that builds up and down and the longer high vibration pulses. Even though this toy is small, it packs quite a punch. The high vibrations are similar to that in other toys I have tried that are twice its size.
Continued in Experience
Experience
This toy is great for use during solo play or for couples during foreplay. The size allows you to really take this anywhere in a purse or pocket for pleasure on the go. We aren't that adventurous, so we just use it for foreplay in the bedroom.

Kandi Kisses is virtually silent. You can hear the vibrations if you are within 2 feet or so of the toy, but any further away, you won't hear it at all. Music, covers, or a closed door will definitely muffle all sounds of vibration. None of the plastic pieces at the base make noise from the vibrations within.

Caring for Kandi Kisses works much as caring for any other silicone toy. It can be cleaned with soap and warm water or your favorite toy cleaner. It cannot be boiled or placed in the dishwasher due to the plastic pieces and the motor inside. I recommend leaving it out to air dry rather than wiping it dry, as the silicone attracts lint and hair like crazy. Since this is made of silicone, it is only compatible with water based lube. Silicone lubes will wreck the material. I also recommend storing it with the cap on it, so dust and lint won't gather on the silicone. For storage, you can either just throw the tube in a drawer or box of toys with the lid on it, or you can put it back in its box. If you store it with other toys, make sure the lid is on because the silicone in this toy could bond with the silicone in other toys. I personally keep everything together in the box.

For me, this toy has its good points and its bad points. I love the small, discreet design and the power of the vibrations. I also love the fact that this is rechargeable and comes with a cute storage box. However, I do not like the silicone sleeve. The toy is design as all plastic with a thin sleeve of silicone slipped over the end of it, rather than being mostly silicone with a small plastic core. I can easily pinch together folds of silicone, which stand up like thin skin would until you smooth it back down. I also don't like how there seems to be no way to change out the battery, so once it dies, you have to throw this out.

I feel I can fully recommend trying this toy out if you're willing to spend $60 on a lipstick vibrator. If you aren't, there are some cheaper versions on EdenFantasys, however they may not have as many features as Kandi Kisses. Everything I received, including the outer packaging, box, and the vibrator itself just scream quality. This would make a wonderful gift for any woman because it's so beautifully presented.
Follow-up commentary
2 months after original review
I still like Kandi Kisses, however I don't really use it as much anymore. I have found I prefer the shape and stimulation of another external vibrator much more because it doesn't pinpoint stimulation like this toy tends to and it's a bit more powerful.
This product was provided free of charge to the reviewer. This review is in compliance with the FTC guidelines.

Thank you for viewing
Bedroom Kandi kandi kisses
– sex toy review page!