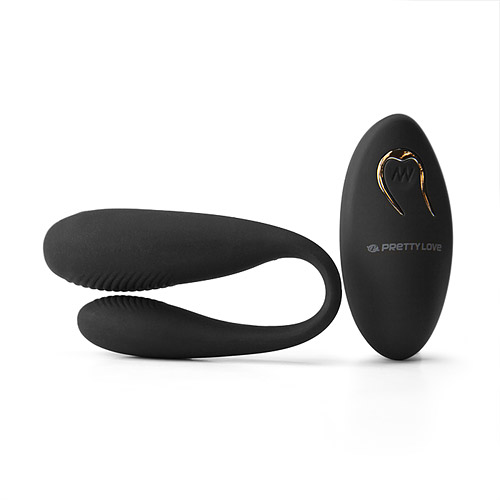 Unity 2
Remote control C-shape vibe for couples
by EdenFantasys
(Me+You)Unity2 = A Damn Good Time
I enjoyed this toy more with my partner than solo. Rarely am I able to climax with my partner the Unity 2 provided the right amount of internal and external stimulation for a strong, blended orgasm. My partner also enjoyed the Unity 2 but mentioned it was stronger than he expected. I think this toy would be great for both beginners and more experienced couples, it does take a little getting used to, but the end result is well worth it.
Published:
Pros
Silicone, Rechargeable, Waterproof, Wearable for Solo Play or with a Partner, Quiet
Cons
Didn't line up quite right for me solo, experienced a little friction, and needed to reapply lube
Years ago, when I was with a different partner, I purchased a We-Vibe that ended up not getting much use as it was slightly uncomfortable for me when used for vaginal sex as intended. I've had friends rave about c-shaped vibrators recently and decided to give this style a try again. I chose the Unity 2 primarily for the price point and the features it provided, plus it looked to be slightly more slim than the first c-shaped vibrator I had tried.

Right out of the box, you can tell that this toy is well made. The Unity 2 is surrounded by smooth, hypoallergenic silicone that is latex and phthalate-free with the added benefit of being waterproof. It is small and fits in the palm of your hand, 1" (external) and 3/4" (internal) diameter and 3 3/4" length and comes with a small remote - toy itself is rechargeable with USB, and the remote uses 1 AAA battery. The texture of this toy is smooth with some gentle ribbing where it rests on your g-spot and clit. There was a charge in the toy when it arrived, so I turned it on to test the vibrations noise level and see how the remote worked; one feature of this toy that I really liked is that it can be used with or without the remote. After I checked out the settings, I plugged it in to fully charge, which took just over 2 hours.

Unity 2 has 12 vibration modes, with 2 motors - one that you would feel internally and the other externally when worn. This toy can be used solo or with a partner; both options provide a wide range of experiences to pleasure yourself and your partner. Our biggest recommendation with this one is to apply more lube if needed. Initially, we didn't experience any issues, but after switching from vaginal sex to oral, we did notice a little friction when he tried to insert himself a second time with the toy still in place. Just apply a small amount of lubricant, and you should be good to go. Our other suggestion is to talk openly about the experience; my partner mentioned that this was more intense than some of the other couples toys we have used, like vibrating cock rings and pulling out to get a short break from the sensations was needed so that he didn't climax too soon.
Experience
With most couples' toys, I will charge the toy and test the options out first and then give it a try solo, and the Unity 2 was no exception. Unity 2 has a smaller diameter for the insertable portion, which ensures comfort when being used with a partner; however, for a solo play, I had a little difficulty lining this toy up just right with my anatomy, and it left me wanting a little bit more. I have a few realistic dildos, so I grabbed one that was close to my partner's girth and length to try to get an idea of how this would feel when used with a partner, and I was pleasantly surprised how much more enjoyable it felt with the added fullness from the realistic dildo. There was added pressure internally, which allowed the toy to hit my g-spot just right, and it also adjusted the toy so that it was more snug against my clit. I didn't spend much time using Unity 2 solo and let my partner know that we had a new couple's toy to try out.

I gave my partner a quick rundown on the settings and how to use the remote and explained that this toy was wearable and a portion would be inserted while the other half would provide external clitoral stimulation. The idea of the toy was intriguing to him, and he suggested I insert the toy while we were watching a movie so he could "practice" using the remote. The added element of surprise when he would turn the toy on and off and change the settings did make it a little more enjoyable solo, but it wasn't long before I was begging him to try it out with me. We applied a little more lube than we would normally, he was nervous about friction from the inserted portion, but he was able to easily slide in and out with the toy in place. We have used quite a few different couples toys together, primarily different cock rings that he has also enjoyed - he made it very clear early on that the sensations were a bit more intense than he was used to, and we took a little break. I left the toy inserted, and he applied pressure to it with his hands and continued to switch the settings with the remote while I gave him a blow job. Just as I could feel the sensations building and feeling like I could be close to an orgasm, he applied a little lube and slowly inserted himself with the Unity 2. It did not take long before both of us were close; I struggle relaxing and getting off with my partner present because I tend to hyper-focus on everything else that is happening. With the Unity 2 providing both internal and external stimulation for myself and added sensations for him, I was able to ride it out and orgasm at almost the same time that he did. Once I had finished, he did shortly after and pulled out because he said the sensations were too much.
This product was provided at a discounted price in exchange for an unbiased review. This review is in compliance with the FTC guidelines.
Thank you for viewing
Unity 2
– remote control c-shape vibe for couples review page!