Next Time I'm going with WIND-Power!
I'm all for alternative energy and saving on the costs of batteries. I was so excited to see a product like this that I did not read the fine details about it only charging for 60 minutes of use.

I think next time I'll look for something that is wind-powered. My hubby always says he's full of hot air - so at least he can get under the blanket and start blowing on the item and make it work when it runs out of energy.

Till then....Energizer...Duracell...whoever...here I come.
Published:
Pros:
Can be used when traveling
Saves on buying batteries
Cons:
Only 1 hour (whine: 60 too-short minutes) of playtime per 8 hour charge
The Solar Bullet had a great concept behind it. Basically, you take your average silver bullet toy and put it on a small charger that is solar powered so that you don't have to worry about constantly replacing the batteries. Being a bullet-a-holic (I'm still looking for the cure for that) - I HAD to give this toy a try. So I bought one and talked to my husband about preparing to put jacks on all of my other bullets so that I would never need another battery again.
You see - I love bullets to "get me off" but I also like some of them for relaxing when I'm tired. I can go to sleep with a bullet and sleep peacefully for 8 hours at a time - only to wake up about the time that the once-fresh batteries expire. Out of my assortment of bullets, I have some that are "sleepers" and some that are "ooh la la let's play". I find that most of them have about the same battery life its just the intensity of the motors that makes me sleepy or playful.
So let me tell you a bit about this bullet. It is created by Cal Exotics and has a small charger that is solar powered, and a corded bullet with a mini-jack that plugs into the charger. You control the setting with a slider style button at the top of the charging unit. There is an LED on the side which indicates when the item is charging. In addition, this bullet has a mini-flashlight in it at the very tip. I suppose that is in case you're outside and its nighttime and he just can't find your clit without a bit of help. The cord is approximately 3' long.
The bullet is almost your standard silver-coated ABS plastic bullet. However, unlike my favorites (Colt and Eden Fantasys), this bullet is not egg-shaped and is narrower in length. The exact measurements are:
Length: 2 1/4"
Circumference: 2 1/4"
Weight: 4 oz
I find that the vibrations are located mainly in the tip of the bullet and not all over and they are fairly intense. This would definitely be better for pinpoint stimulation than the larger bullets which spread their vibrations throughout their whole length.
Now for some pictures.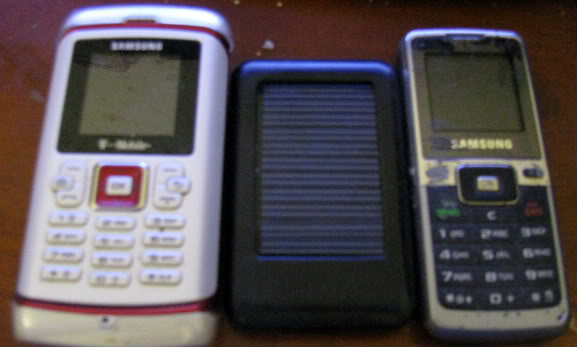 This shows the solar charger between two cell phones to give you an idea of size.

The two phones and charger next to my keyboard to show another idea of size.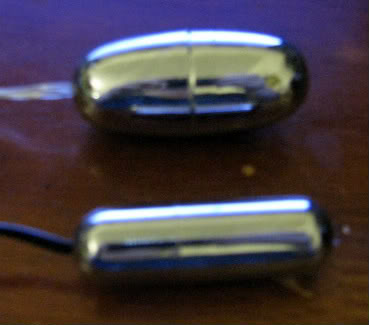 The top bullet is an egg shape bullet from the products mentioned below. The bottom bullet is the one that comes with this toy.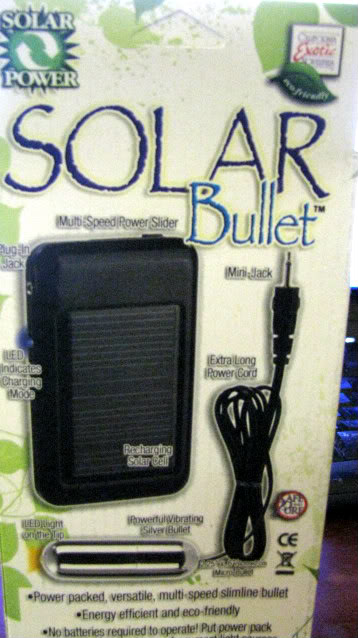 The package information (there is no manual with this).
Experience
If you feel you must buy this product - please be aware of the following points.

- This product is not waterproof nor is it splash-proof. I would not try to wear it while tubing down the river or even riding in a canoe (because with my luck - they'd dump me). I do not trust the end where the cord connects to the bullet to keep water from getting into the motor.

- Because it is ABS plastic, you can use any type of lube with it. Aw come on - you didn't think that EVERYTHING I'd have to say would be negative - did you?

- It takes an 8 hour charge to get 60 minutes of playtime. It can be charged by sunshine or even under a lightbulb. There is no alternative to plug it into a wall socket - solar charging only.

- Since this is ABS plastic, it is very easy to clean. Just wipe it down with a cloth and some soap.

- I would not recommend this for anal use since it does not have a flared base. Sure, it does have a 36" cord...but what if the cord disconnects from the bullet - know what I mean?

DO NOT BOIL THIS ITEM. DO NOT PLAN TO CLEAN IT IN THE DISWASHER.
This content is the opinion of the submitting contributor and is not endorsed by EdenFantasys.com

Thank you for viewing
Solar bullet
– bullet vibrator review page!