Nice Rabbit...Just Didn't WOW Me.
Although I didn't fall in love with this rabbit, it has a lot of great qualities many women will love. It's made out of TPR, not jelly! It's fairly powerful and has a very soft jelly like feel. It's waterproof, has a pretty star button design and isn't too loud. Sadly, it was a little boring for me. This will probably be moving to the back of my toy box. However, this is worth a shot if you think this may work well for you.
Published:
Pros:
Soft
Waterproof
Powerful
TPR!
Cons:
Not everyone will like design
Use
OK…I first want to admit that I'm a rabbit snob. Ever since I fell in love with my first rabbit styled vibrator, I have been trying as many as I can. I just love those bunny ears! After learning that jelly is an unsafe material, I bought this rabbit because of its cute design and TPR material. However, Evolved Novelties' Dream maker lunar Rabbit was just OK for me. I didn't really like it as much as my other rabbits. Now, I am particular about my rabbits and this one just didn't fit me right. However, this is a great rabbit that a lot of women will love. I just didn't.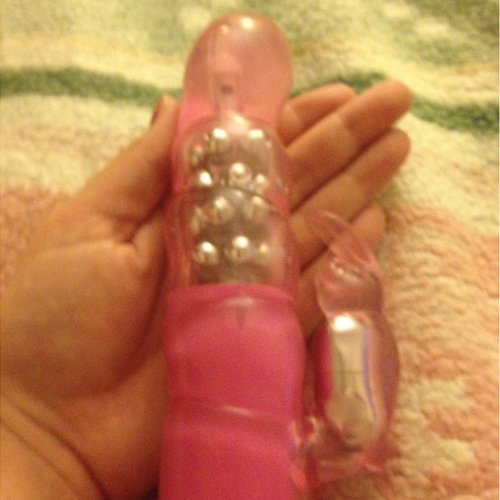 The Dream maker is designed to stimulate the clitoris and G-spot at the same time. I found it best at stimulating the clitoris. Its softer material would work best for those of you who prefer softer toys over harder toys. Beginners to advanced users could find pleasure in this vibrator.
Material/Texture
One thing that I love about the Dream maker rabbit is that it isn't jelly! Most rabbit style vibrators are made out of jelly. I don't like jelly because it is unsafe to use on a continual basis. If you have a jelly toy, consider buying a safer material in the future or use a condom.
This rabbit is made out of TPR. TPR is a rubber type material. It rates a 7 out of 10 on Eden Fantasy's safety scale. It is hypoallergenic and latex free. Now, it's not the safest material to use (like silicone or glass) but much safer than jelly. Jelly usually rates around a 2. I am so happy to find more and more rabbits that are not jelly. From now on, I don't purchase jelly toys.
The interesting thing about the Dream maker rabbit is that the material is super soft. Most TPR toys that I own are made out of a harder material. Dream maker's TPR is really soft and flexible. It actually feels very similar to a jelly type material. This is a great option for you if you like the feel of jelly, but you don't like the unsafe material. It is very easy to smush and bend. The clitoral attachment is very easy to bend. You can move the bunny up, down, or side to side. Whichever way you want really! Its ears are particularly easy to move as well.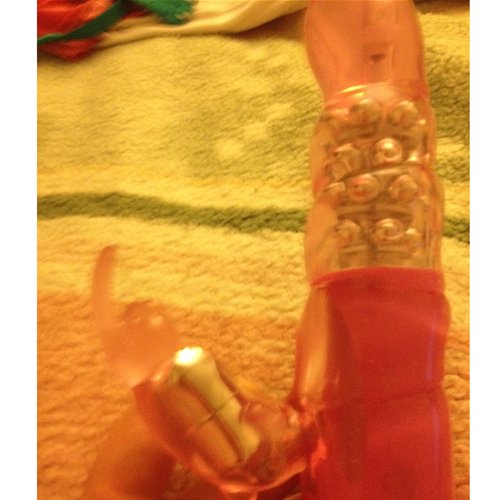 The shaft can't be bent too much because of the beads inside. But, you can still slightly bend the top of it. There is no texture to the Dream maker. This is great if you love smoother toys. The rabbit does have a seam down the back of the toy, but I didn't notice it during use. There is slight drag when applied to the skin, so be sure to use a lubricant with this vibrator.
One negative thing about this material is that it attracts hair and lint like crazy! I hate it when toys do this. I usually would wipe it down or wash it before use.
Design/Shape/Size
The Dream maker's shaft is a little wavy and the top and is slightly angled to help stimulate your G-spot. Inside the shaft, are sets of beads that you can rotate during play time. The clitoral attachment is a cute little bunny. This one actually has a cute little face with eyes, a nose, and a mouth. It even has a cute little bunny tail! And, of course it has very long ears. I like the detailed bunny. Most just have the ears and don't care about the rest. You can tell that this rabbit is higher quality.
The handle of the vibrator has the buttons and the screw cap. On the back of the control panel, there are three spots where you can grip your fingers.
The Dream maker is 10" in length with an insertable length of 5 ¼". It has a circumference of 5 ¼" and a diameter of 1 ¾". It weighs in at .5 pounds. The shaft isn't the biggest I've ever had, but it is still fairly big. I would recommend this rabbit for average to advanced users because of its size.
One random thing that I want to note is the bunny ears. Most rabbits have two distinct separate ears. This bunny has ears that are formed together and cannot be separated (unless you cut it). I prefer two distinct separate ears because of the double feeling on my clitoris.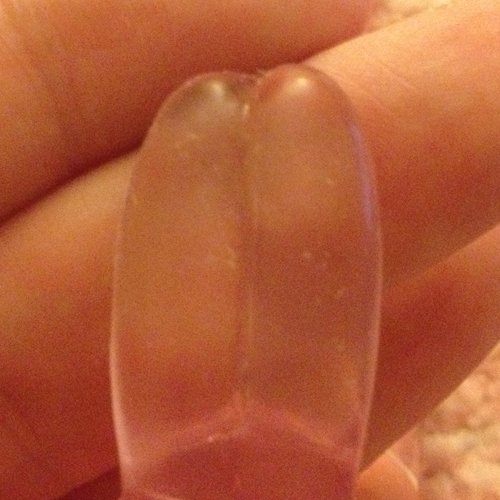 This rabbit is on the big side (like most rabbits). You can definitely hide it easily when you work at it. I wouldn't necessarily travel with this vibe. I wouldn't want airport security finding it! I prefer traveling with a smaller clitoral vibrator.
Experience
(continued)
Functions/Performance/Controls
Like most rabbits, the little bunny vibrates and the shaft's beads rotate. Inside the little bunny, there is a bullet where the vibrations are located. You can see the bullet through the material. The vibrations can definitely be felt throughout the rabbit, particularly in the ears. Both options can be turned to a very strong setting. I gave this rabbit a vroom of 4. It's strong, but not as strong as other vibes I've tried.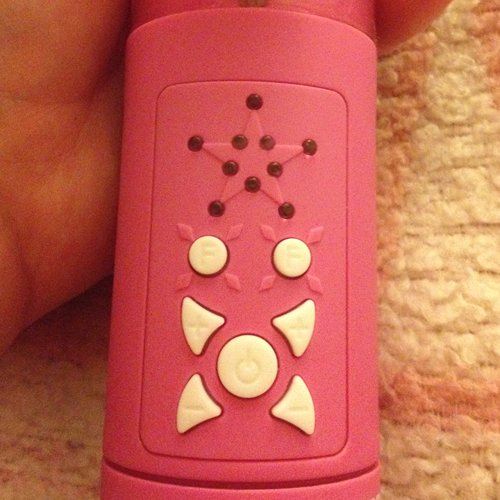 The controls are very easy to use. There are a lot of white buttons. The middle button, turns the toy on. The buttons to the right (+ to -) control the bunny's vibrations. The button marked 'F' above goes through patterns. The buttons to the left (+ to -) control the rotating shaft. The button above the shaft switches the beads rotations. Above all the buttons, there are blue light indicators shaped in a star. They light up blue during use.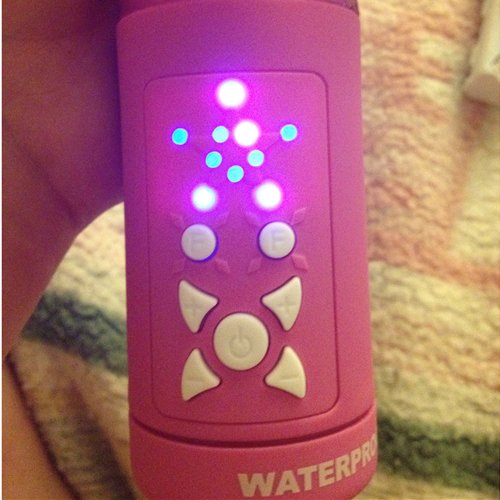 This rabbit isn't terribly loud, but it is a bit noisy if you have all the settings on high. The bottom compartment holds 4 AAA batteries. I found the batteries last a few hours on the highest setting.
Care and Maintenance
Since the Dream maker is waterproof, I clean it with warm soap and water. It's very easy to clean. You can also use a wipe if you prefer. I found no water leakage into the battery compartment. I store mine in a plastic bag to keep the material away from other toys.
The TPR Dream maker can be used with silicone or water based lubricants.
Packaging
Evolved Novelties pack their toys in cool tins. I really love these because you can reuse them. You can either store the toy in the box, or use it for something else.
The tin isn't discreet. There is a see through front where you can see the toy.
Personal Comments
This is a really well made rabbit, it just wasn't as orgasmic for me as other rabbits have been. After owning many rabbits, I have found that I prefer a harder material for the rabbit ears. The nice thing about this softer material means that you can thrust with this rabbit easier than other rabbits. I thrusted this rabbit so I could orgasm easier. Sadly, rabbits are really dependent on your personal anatomy. This one just didn't fit me right.
*NOTE: sorry for the format. I had selected the standard template when I meant to press the extended template!
Follow-up commentary
6 months after original review
Like I've said before, this can be a great rabbit for someone else (not me). It just isn't special enough for me, but I am picky about my rabbits.
This content is the opinion of the submitting contributor and is not endorsed by EdenFantasys.com

Thank you for viewing
Dream maker lunar rabbit
– sex toy review page!