Oh, It is Smart!
This is the best multipurpose toy. It is so good for the sore spots and it rocks as a clitoral vibrator. It is quiet, rechargeable, waterproof. It glides across your body and your partners! I cannot find anything bad to say about it.
Published:
Pros:
Quiet
Multiple Settings
Glides on your skin
Silicone
Cons:
none!!
Smart Wand Large from Lelo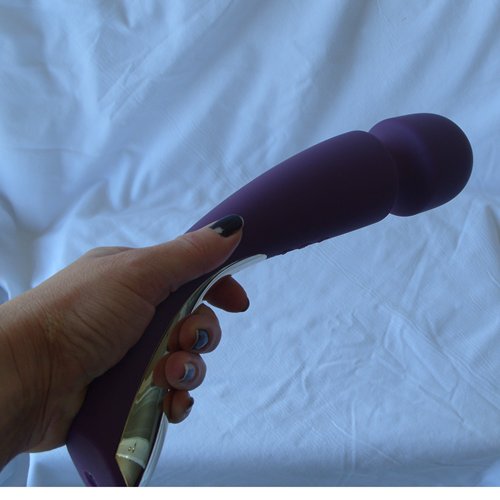 This is a wonderful multipurpose massager. It can be used for your sore shoulders, your legs, feet, wrists, arms, your butt. It works great for couples play or for when you are alone and want some clitoral stimulation. My husband has shoulder issues and he loves for me to use this on his shoulders at the end of the day. This works great on the sore thighs after working 12 hour shifts. The large wand is especially great because you can use it by yourself to get lower on your back. The silicone glides nicely on your bare skin as well as over clothing.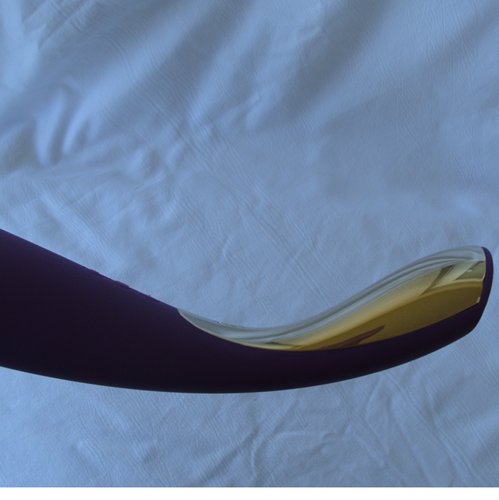 Materials/Textures
This one is completely smooth with no textures. It does have the cut out for the head which enables it to be turned on the large head of it. I too have a Hitachi and This one performs so much better. The silicone glides nicely and carries the vibrations well. The silicone is soft and velvety, no drag to it.. The silicone rates a 10 on the Eden safety scale. It is non porous, hypoallergenic, non latex, phthalates free. There is no smell and no taste to this toy. You really don't need any lube to play but the vibrations tend to carry better for clitoral stimulation with some water based lube. The handle does have a portion that is made of plastic that rates an 8 on the Eden safety scale. It too is hypoallergenic, non porous, non latex and phthalates free. There is a seam that runs along the handle where the plastic and silicone meet. It really isn't an issue as not too much icky stuff gets into that area. The wand really doesn't collect any lint or hair.
Size/Shape/Design
The total length is 12 inches long. Basically the handle area is 9 inches. The diameter of the head is 3 1/8inches. The handle is ergonomic and doesn't hurt your hands or wrists with use. It has a curve to it that works well when trying to massage your own back with it. The vibrations do carry slightly into the handle area.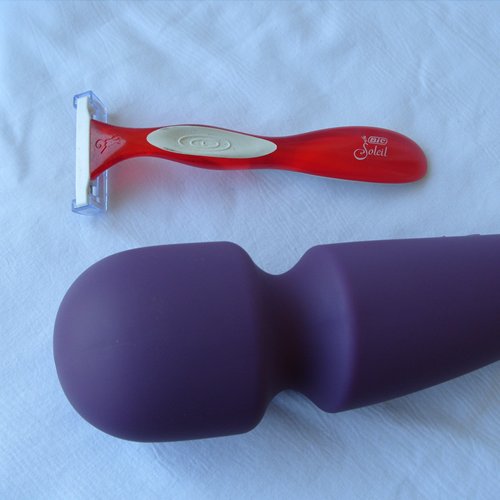 Functions
The smart wand needs to be charged initially for 2 hours before you use it. You shouldn't use it while it is charging. It is completely cordless so you can drag it around the house with you and use it when you are watching TV or lying in your bed. It is also waterproof so you can even use it in the bathtub! To activate the wand you hit the + button. To decrease sensations and to go back in patterns and to turn it off you press and hold the - button. It also has the () button in the center that starts the pulsation patterns.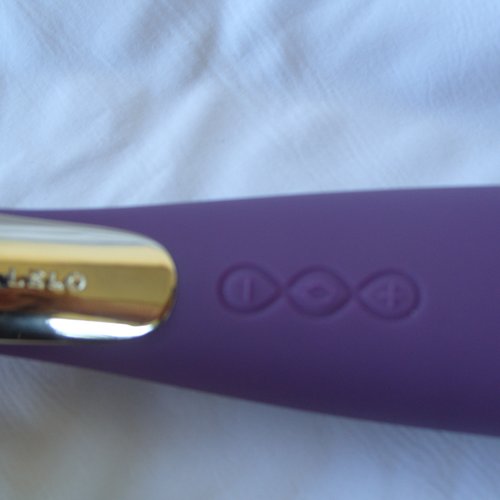 The smart wand has 8 speed levels of vibrations and an additional 8 different pulsation settings.
1. Steady vibration
2. Slow Pulsations
3. Medium Pulsations
4. Fast pulsations
5. Escalating pulsations
6. Roller coaster
7. Faster coaster
8. Chaotic mix of pulsations
The smart wand has wonderful features. It has what is called motion sense technology. To use this feature you press the () button and hold it for 3 to 5 seconds. What this means is when it touches skin is starts out "softer" and then increases in strength as pressure is applied and then when you remove it from the skin it decreases in intensity. This is a feature that you can turn on and off.
The wand features a travel lock, by pressing the + and - buttons together for 5 seconds it locks it off and you turn it back on in the same manner. The wand also has memory so that what ever setting you have it on when you turn it off and then turn it on it will be on the same setting.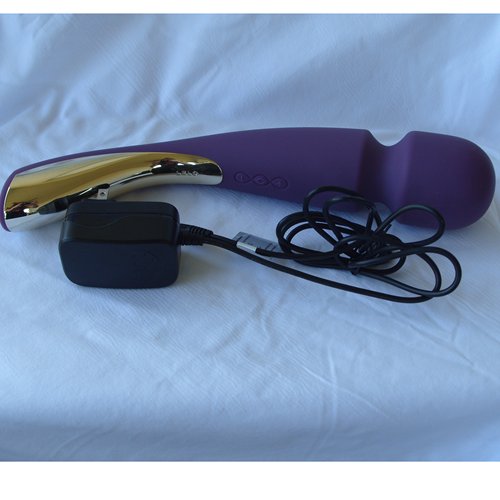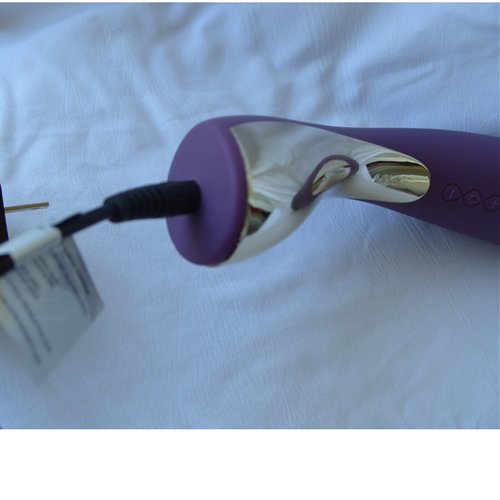 To charge the wand you plug in the DC plug into the port at the end of the handle. The buttons light up flashing when it is charging. It glows solid when fully charged and the lights will blink white when the battery is dying.
Experience
Care and Maintenance
To clean your smart wand you can use antibacterial soaps and water, toy sprays. You can wipe it down with Eden Wipes. You cannot boil or place this in the dishwasher because of the motor. Use only water based lubes with your smart wand. Store away from other toys so the finish is not compromised and the toys don't meld together. The wand comes with a great neoprene sleeve that fits it's nicely. Honestly, the wand has been sitting on the ottoman in the living room and on the bottom of the bed. We haven't had any issues.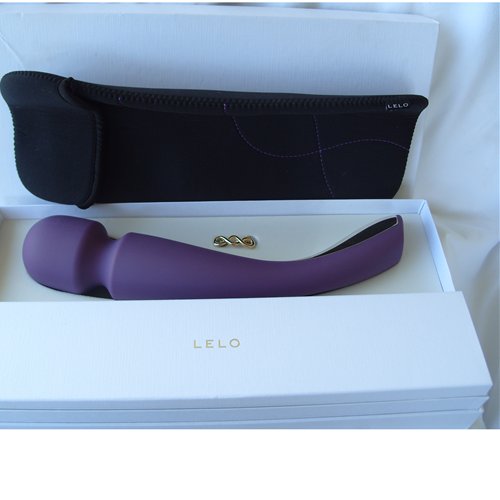 Packaging
All of the Lelo brand toys come with the greatest packaging. There is an outer sleeve that is has the product on it an the inner box with a lift off type of lid. The toy is nestled into a foam cut out. You receive a Lelo pin ( which is a really cheap pin!). Your charger, instruction booklet, warranty information and storage sleeve are all included.
This one really does blow the Hitachi out of the water. Yes the Hitachi is stronger but it doesn't glide across your skin and sometimes as a massager it can actually hurt. The smart wand feels great, it doesn't hurt. It glides. I have honestly been keeping it close and using it often. I work 12 to 14 hour shifts standing almost all of the night and I like to use it on my outer thighs, calves and lower back after some bad night shifts and it works so well.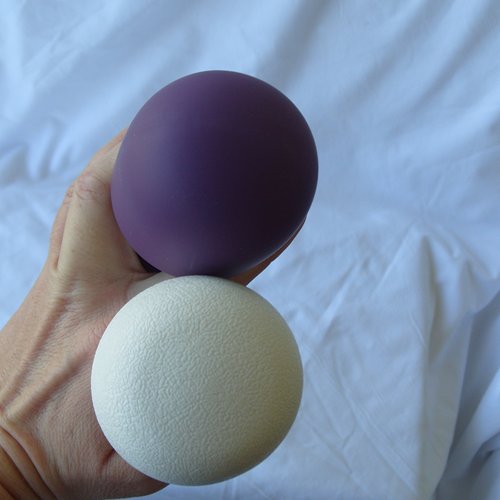 It is easy to get to those hard to reach places when you are by yourself. It is also quiet enough that I can use it in the bedroom without waking up my Husband. You definitely cannot say that about the Hitachi.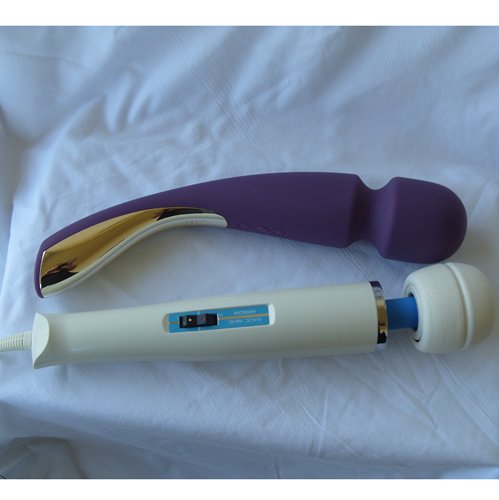 It works great as a clitoral vibrator. It hits me just right without being too overwhelming and my Hitachi attachments actually work with the wand too.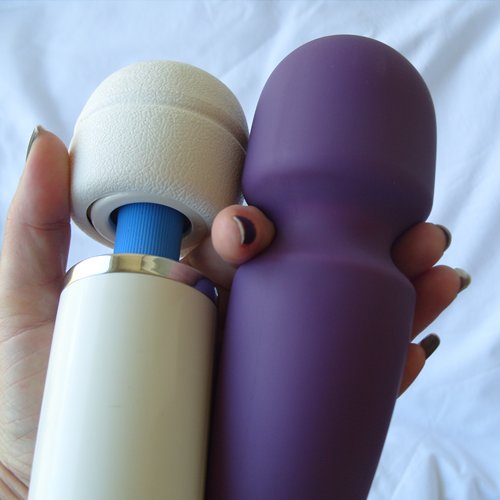 It is great for travel and has the neoprene sleeve to keep it in and keep it safe. It would be great to take on a long plane trips to use on the plane.
Follow-up commentary
3 months after original review
This one really does deliver, I love the way that it glides across your skin and your clothing as well. My husband has problem shoulder and this one works so well to loosen him up. It is not just for sexual enjoyment!
This content is the opinion of the submitting contributor and is not endorsed by EdenFantasys.com

Thank you for viewing
Smart Wand large
– massager review page!