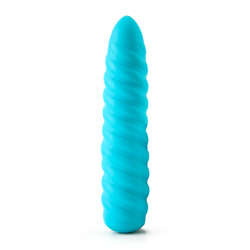 UltiClimax textured
Textured classic vibrator
by EdenFantasys
Powerful vibrations
This is a very solid vibrating dildo, made of body safe and easy to clean materials, that packs very strong powerful vibrations, even if they are slightly buzzy.
Published:
Pros:
Strong Vibrations
Easy to clean/store
Cons:
Not capable of being submerged in water
Vibrations a bit buzzy
I was extremely excited to try this toy with my wife, in part as it was offering us something slightly unique in its texture/shape that we don't have with our other toys... and usually, vibrators starting at the price point of this toy offer vibrations beyond a mild buzzing. Also, any toy made out of body safe and sterilizable materials, like this one is being made of silicone, is always an attractive toy for us to try and use.
We don't have any vibrating dildo toys at this price range, that aren't bunny style vibrators; however, I feel like these other toys give a good comparison of features and size. If we were spending this kind of money (retail pricing) then these would be other contenders. You can see the other toys we have below with the
Lelo Ina Wave
(pictured on the left) and
Edenfantasys' Honey Bunny
(pictured on the right) toys. I feel like the UltiClimax delivers far more powerful vibrations than the Honey Bunny, along with a unique texture that adds something different; however, being a dildo vs rabbit vibe if you need that direct secondary clitoris vibrator then this likely is not as good of a stand-alone toy. They do make a non-textured version of the UltiClimax that likely is comparable in price/vibration/materials if you feel like the texture isn't for you as well.
I tend to hold Lelo toys up as our golden standard of toys since they use such high-quality materials and their vibrators offer a lot of control and deep rumbly vibrations vs the more common buzzy vibrations you get with cheaper toys. I feel like the UltiClimax's silicone was very close to smoothness and quality of our
Lelo Ina Wave
toy. The UltiClimax does fall short in its inability to control the intensity of vibration with its 10 modes; however, those modes are very enjoyable and pack a significant punch. My hand went numb using the toy while playing with my wife to give you some context for how intense the vibrations were. So if you need a very powerful intense vibrator, this is likely a really good option... if you are just starting out with vibrators, I would recommend either a toy that allows you to adjust the vibration speed (like most Lelo toys) or one with lower intensity to start as this may be too intense to start.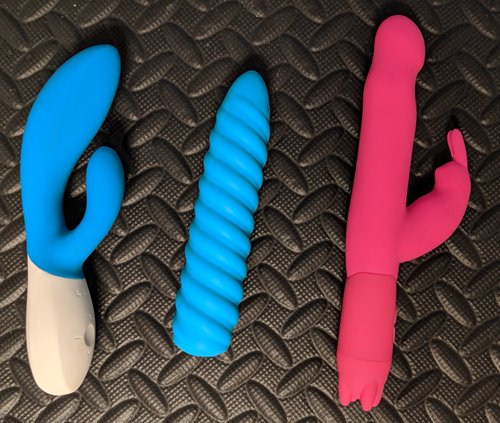 The UltiClimax is very easy to clean with its non-porous silicone that is very smooth, and as the texture is a wide screw ridge shape going down the length of the toy, it's not an issue like some other textures that make it hard to clean. We found it easy to clean with just warm water and would sterilize it with some rubbing alcohol before/after use.
We've had another toy with the style of charger that this toy uses, but I find the jamming what looks like a very thin headphone jack into a hole in the base of the toy and trying to get that into the charge port... is an extremely nerve-wracking experience. I always feel like I'm going to break the charging cable trying to insert. Also, this pin-hole for the charging makes this toy far less waterproof than it could be if it used an alternative style of charging. It is water-resistant enough that there is no issue washing it directly under the faucet, and you should let it fully dry before trying to charge it again.
The battery seems like it gives consistent vibrations for the advertised at least an hour of use, from our experience as well. I found this very impressive as most toys say some length of time usage ability, but either fall far short or the vibrations fall off the longer you use the toy as the charge drops.
This product was provided free of charge to the reviewer. This review is in compliance with the FTC guidelines.

Thank you for viewing
UltiClimax textured
– textured classic vibrator review page!