Snuggle up with your Warm and Glow!
A great innovative, novelty idea for beginner to advanced toy collector who loves sensory play. The vibrations feel great, the smooth head gives a larger surface area for the vibrations with slight penetration should you wish and of course the warmth perfect for all over body massage.
Published:
Pros:
Innovative idea, massager, vibe and heat, gorgeous pink, Soft and smooth, Discreet quiet vibrations,
Cons:
The poor battery power (Trade off). I would also have loved an extra speed,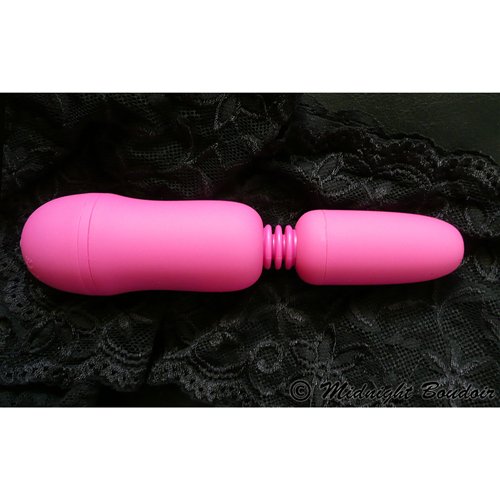 I collect unusual vibrators and I adore warm/hot sensory play. I was really looking forward to using this without the hassle of carrying jugs of warm water to and from the bedroom.
When it arrived it came in a tasteful fun box showing the feminine unusual shaped pink massager.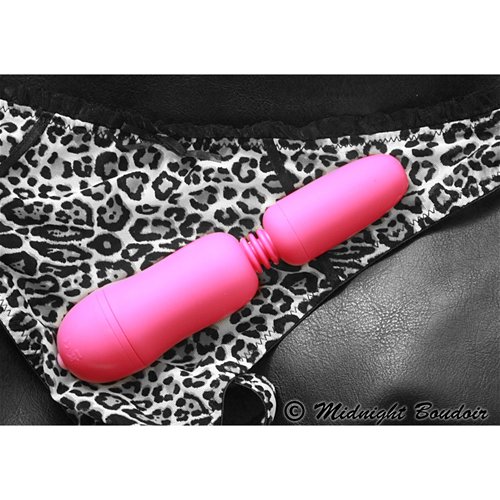 Design
The warm N glow massager is made by CalExotics novelties and is a 3 in 1 toy, a massager that warms and glows as well as a sextoy. The pink feminine PU coat is very soft and sensuous; the waterproof massager is an unusual shape and is divided into 2 joined by a flexible neck, the neck is made of more brittle plastic so Im not sure how much pressure this could take if bent too far.
Measurements
The full length of the massager is 17.5cm (including button).
The head is 6.5cm long and its widest point is 3cm which tapers to a smooth blunted tip for comfort enabling a wider surface area for massage.
The base is 9.6cm long; perfectly fitting into the palm of your hand so you can reach hard to get at places.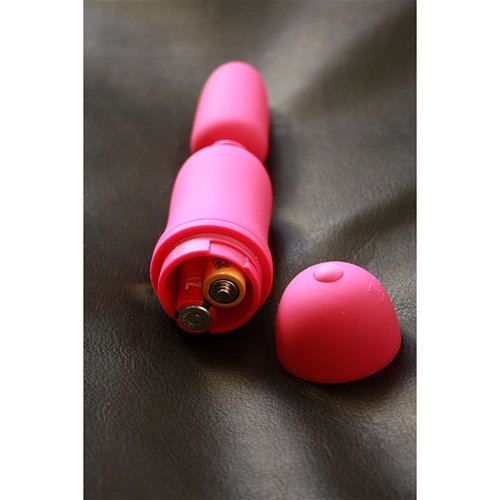 The battery compartment is pretty basic, the + and - signs inside do not show which way up the 2AA batteries are meant to go and are a very loose fit. Make sure the battery compartment is screwed on tightly as the seal is fairly thin, as I'm not sure how much I would trust the waterproof seal of the battery compartment and I'm not prepared to submerge it completely to find out. I love this too much.
The Vibrations
At the base there is an well defined matching pink button to click through the 2 speed vibrations.
1. First click is a slow vibration, this didn't do much for me,
2. 2nd click the speed is fast and rumbly.
3. Click again and it turns off.
These vibrations are fairly discreet and quiet and cannot be heard through walls and certainly quite enough for a bath or shower.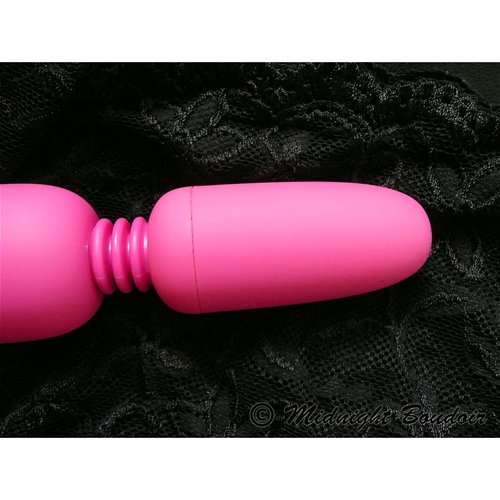 Use
The head really does heat up well and the soft PU coat feels wonderful smoothed over the skin. I suffer with a bad back and muscles pain and the warmth combined with vibration felt amazing, the vibrations are quite powerful and fairly rumbly but for me as a power queen, I felt it just needs an extra speed, I wanted a little bit more from the vibrations. But the vibes feel great for massage and it got me there in the end with the help of the heat. It was just wonderful.
The ribbed flexible neck enables you to press and gently massage the head directly onto the skin and muscles for a sensuous and relaxing effect. But the image of the box is a little misleading in the fact the head does not sway, jiggle or move as extreme as the box shows.
Cleaning
The massager is waterproof so you can clean it under running warm water, in the bath or shower I chose not to, as I do not 100% trust the seals and have yet to submerge this in the pursuit of science.
The head cleans well with sextoy cleaner or under running water, but maybe a hygiene issue as it has a moulding join on the head and the neck is made of a corrugated plastic; which has a small gap where the motor sits inside. There maybe a waterproof seal inside but we cannot see it, but most certainly this gap will harbour germs, so you must play close attention to this when cleaning, use a spray cleaner to get onto all the gaps.
Experience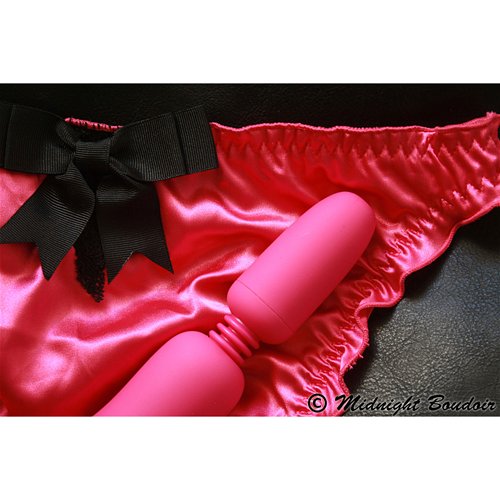 This massager is more like using a mini wand but with the added bonus of having heat. This is brilliantly innovative idea, this whole body massager really does help you relax.
If you are a lover of sensory play you will love this little gadget without having jugs of hot water in the bedroom (there should only be one wet patch in the bed). The strong rumbly vibrations and the heat from the head certainly feels amazing against your clit, plus you can have a few inches of penetration should you wish, even though the box says "External use only", I'm still alive, nothing jumped out and ate me and I had no electric shocks.
But joking aside something that heats up must always be used with caution and common sense.
The Heat and Glow
The heat was a great surprise for me as I really wasn't expecting to feel much warmth from such a; in their words "novelty item". The heat is a really comfortable, enjoyable heat but does not get too hot to touch. It is hard to describe without measuring the actual temperature but its very warm and it maintained the same temperature until my brand new batteries started to die after approximately half an hour.
Obviously if you want powerful vibrations and heat; the trade-off is the battery power, it didn't last long at all.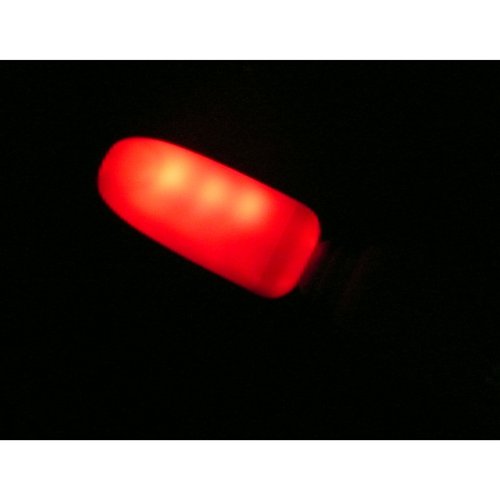 The wider smooth head gives a larger surface area for the vibrations to work through across the skin ideal for all over body massage and slight penetration should you wish.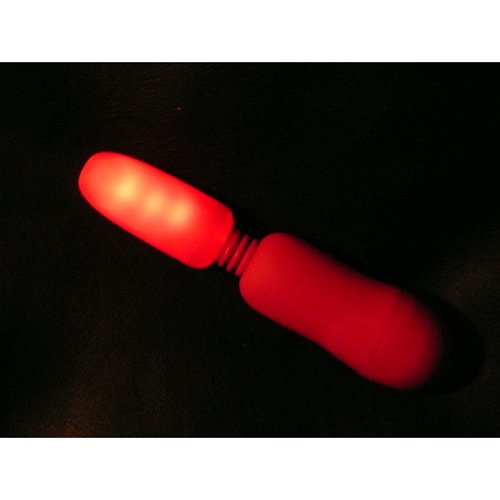 The head glows beautifully in the dark, as you can see above. I think these maybe small lights that heat up of some kind, (e.g. which is why they do warn us to only use this for external use only).
The massager continued to heat up till my batteries died so the heat seems to be linked to the power of your batteries, so if it becomes too warm turn off immediately.
But the only problem I found is that after about half an hour I actually found the base part and motor you hold was warmer than the vibe, but it was still a very warm heat at the head.
I really enjoy hot sensory play and Ive had much hotter but this really worked well for me. The only con for me is the battery power; but I understand if you want power and heat there has to be a trade-off. I would also have loved an extra speed, I just felt it wasn't powerful enough for me.
That said I still thoroughly enjoyed this vibe and will be buying more batteries to enjoy the sensuous warming technology. Just seeing the head glow gives you a warm feeling and will also add a little fun for you and your partner. A great fun massager for yourself or with a partner, for therapeutic or sensual purposes.
Follow-up commentary
2 months after original review
I still like this little vibe, its ideal for those that love sensory play without all the hassle of heating your toy up in hot water and then it going cold; ruining the moment.

This toy maintains its heat until the batteries die and the batteries last much longer than a jug of hot water. It also has a great girth so you can feel the heat through your whole vaginal area; its just an amazing feeling.

If I wanted just powerful vibes I wouldn't grab this toy, but if I want a few hours of hot sensory play that Im not having to mess with jugs of water this is my favourite sensory toy after glass. Its quicker and less messy.
Plus I can have a quickie without the preparation, most sensory playtimes are not quickies and have to involve preparation of dashing to the bathroom for a jug of hot water then waiting a few minutes for your favorite toy to heat up, then you are on a time limit till it cools down; often ruining a sexy moment.

Its not the best made toy and it isn't the most powerful vibe I have but its not the weakest either; but with heat and vibes combined it gives me an intense orgasm and Im a happy bunny.

I hope more companies take note and make some more toys that heat up and add deep rumbly vibes for us sensory play enthusiasts.
I would recommend this toy for novelty value and a great sensory quickie and to keep you warm in Winter...worth every penny!
This content is the opinion of the submitting contributor and is not endorsed by EdenFantasys.com

Thank you for viewing
Warm-n-glow
– wand massager review page!