Spellbound is a powerhouse!
The spellbound is not the ultimate beginner toy. It is exceedingly large and runs on two C sized batteries. It is fully waterproof. The spellbound can also function as strong clitoral vibrator. The g-spot is perfect for women with shallow G-spots. Although, it does have only the three basic vibration it will leave you with a happy ending in no time. I would not recommend the spellbound for women who are sensitive. If you require powerhouse vibrations, I think this is perfect for you.
Published:
Pros:
Sturdy, Strong Vibrations, Waterproof, Velvety Texture,
Cons:
Not beginner friendly, Vibrations can be too strong for some.
The spellbound G is a beast of a toy. I was a little surprised when it came to the house. I did not think it was going to be as large as it was. When you have your first actual view of the toy in your own two hands, You realize that it is not a toy for the beginners. The vibration can be a little overwhelming. The spellbound comes in your run of the mill plastic casing. The casing does have the normal paper insert with some key information on it. The spellbound is in full view, so this may not be the best when giving it for a gift. You can use the casing as storage if you like or you can just trash it. It depends on the personal user. Traveling with the spellbound is relatively easy. You can throw it into your bag and head out the door. I do not think this is a toy you should be traveling with. Storing the spellbound you can keep it in your toy box with the other toys, or just throw it into your top drawer.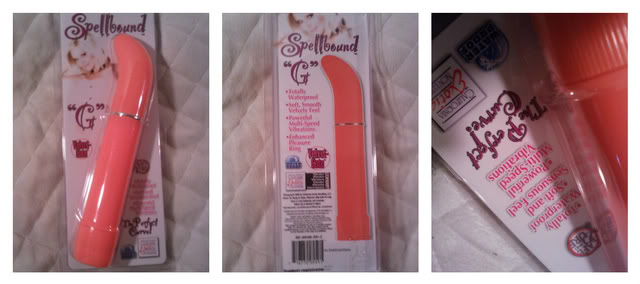 The measurements of the spellbound are,
Length: 8"
Insertable length: 6 1/4"
Circumference: 4"
Diameter: 1 1/4"
Weight: 5 oz.
The spellbound is the king of powerhouse G-spot vibrators. It has the perfect curve. The curve on the spellbound is not too deep. Although, some may think that the curve is not deep enough. I'd say it is perfect for people with shallow G-spots. The large size of the spellbound can make finding the G-spot a little harder. Twisting and turning the spellbound can cause some women a little discomfort depending on body structure. I personally had a hard time; I enjoy slimmer G-spot vibrators.

When the spellbound is in your hands, you right away notice the girth of the toy. You notice that it is a pretty sturdy toy. The second thing that you notice is that it is hard and unforgiving. You cannot bend it or turn it in the direction you would want it. The spellbound is made up of (ABS plastic with PU coat) plastic, so you can use it with water and silicone lubricants. It is also fully waterproof, so you can take it into the shower, or bathtub. It does have a velvety texture that does not cause much drag at all. You may want to add extra lube. When cleaning the spellbound you can fully submerge it if that is how you love cleaning your toys. You can also just use your favorite toy cleaner.
The spellbound is NO joke. It runs on two C sized batteries, which delivers extremely strong vibrations. The strength of the vibrations may not be suitable for sensitive women. The spellbound does not just have to be used for G-spot stimulation. You can also use the spellbound for clitoral stimulation. The curve allows the spellbound to hug your clitoris and deliver an equal amount of power evenly across the clitoris.
The spellbound is not multifunctional. It just has multi setting. It has the normal low, medium, and high. Which sometimes can be tedious, if you need to get off this toy does do the job. I would not recommend using this toy for anal at all. I'm not even sure how you would safely insert it because of the curve.
The spellbound is extremely loud! You can hear it through the covers, and you can most certainly hear it through a closed bedroom door, which does not make it that suitable for roommate living. The spellbound is operated by a turn dial. The dial is textured which is perfect, so when your hands are all lubed up. You do not have to worry about not being able to grasp the dial.

Experience
The very first time I tried the spellbound I did not enjoy it at all. Like everything, you have to give it a second chance. The firs time I used it, I felt the plastic was too stiff. I wish it would have had a little more give to it. I tried to find my g-spot with it but had no luck. It seemed like I just spent most of the time moving it around trying to find the right spot. After about 45 minutes of messing around I finally gave up. I was becoming VERY annoyed. When my boyfriend asked how did everything go? All I could get out was "That thing is STUPID" it oddly came out in a childish way too. A week later I decided to give it another go. This time I did not use it for g-spot stimulation, but I use it for clitoral stimulation. GOOD LORD! It was unbelievable! It got me off within seconds. I used it once again during sex with my boyfriend. The curve made it perfect for using the spellbound in that situation. I was able to hold it in place no matter what position we were twisted into. I've grown to like the spellbound.
This content is the opinion of the submitting contributor and is not endorsed by EdenFantasys.com

Thank you for viewing
Spellbound G
– g-spot vibrator review page!