Triple Orgasm? I had FIVE of them!
This is a pretty impressive toy, but it could do without the floppy anal tickler that doesn't stay in place and wiggles around like a piece of spagetti. The intensity is amazing, the control panel easy to operate, and the curve of the main shaft hits the g-spot just right. I just wish the areas that connected the ticklers to the main shaft were a bit more rigid, as these tend to scoot around quite a bit unless they are held in place.
Published:
Pros:
Powerful, easy to operate, moderately safe material, not terribly loud.
Cons:
Effectiveness of the anal and clitoral ticklers is questionable.
The "Triple Orgasm French Kiss" from C.E.N. (California Exotic Novelties) may very well have you screaming "Ooh La La!" should it hit in all the right places, namely the G-spot, clitoris, and the anus. This one is for the ladies, of any experience level. This toy shines in the power department more than anything, not to mention the fact that it is safe for some water play.
Material
The soft parts are made from
TPR
, which isn't as safe as silicone, but it's certainly a few steps up from rubber. It's semi-porous and generally leans a bit toward the softer and more flexible side when comparing it to silicone and rubber. Supposedly it starts off soft then becomes harder over time, so only time will tell if that theory hold true. The one thing about it is that even though it's crystal clear when its new, it tends to discolor/become cloudy over time, so it's crucial to keep it away from heat and light and other materials which could cause it to "melt". There's a slight smell to it, almost like a scented eraser, and no unpleasant taste. The handle is made of a hot pink plastic. The texture is generally smooth, but has a bit of grab and attracts lint and other particles.
Size & Design
This is an amply-sized vibrator, measuring a total of approximately 10.25 inches, with a main insertable shaft of roughly 5.5 inches and a circumference of about 5 inches. The inner components are visible through the entire toy. The main shaft has a section of 3 divided rows of rotating silver beads/pearls, with the middle row being a larger diameter than the top and bottom, which are the same diameter. The head is rounded, but there is an exaggerated split down the top side (g-spot) with a row of nubs extending down the center to where the bottom row of beads is located. In this "crevice" the nubs may not even be that noticeable, as their height does not reach higher than the sides of this split section.
The anal penetrator has an insertable length of approximately 3.5 inches. At the most, it will feel like inserting a pinky finger, should it stay in place. A mini bullet vibrator is located about half way up it and carries the vibrations through to the teardrop shaped head. The TPR material is "twisted" on this portion.
The clitoral attachment had one of the oddest tips, as if designed like a suction cup, with some nubs on the inside. Unless someone has a large clitoris, these may not even hit the target correctly, so for most users, this addition is somewhat pointless. Another, pink colored motor, sits within this attachment.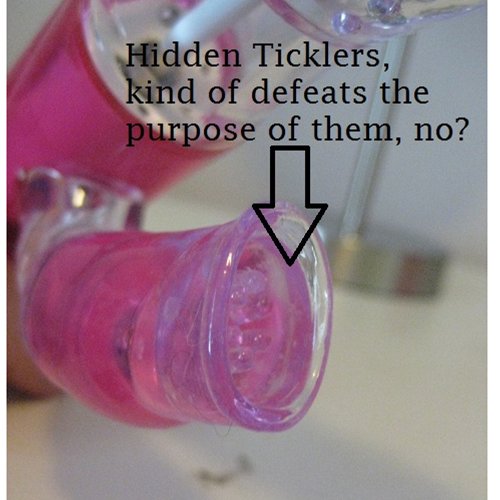 The "joints" on both the clitoral and anal attachments, where they attach to the main shaft, are very stretchy, enabling these two parts to wiggle around more than necessary, which is a bit counterproductive; but at the same time, might make it more ergonomically friendly for certain shapes and sizes.
FUNCTIONS
I really like the way this vibrator's controls are arranged. The control panel has a separate on/off switch, which illuminates to let the user know the power is on. Not until one of the "Up & Down" arrows is activated (light above those turns on) will the features start up. There's a side that manages the twisting motion and a side for the clitoral/anal vibrations. The "F" button in between both of these manages the patterns and the direction of the twisting action. Therefore, each feature can be used separately or together.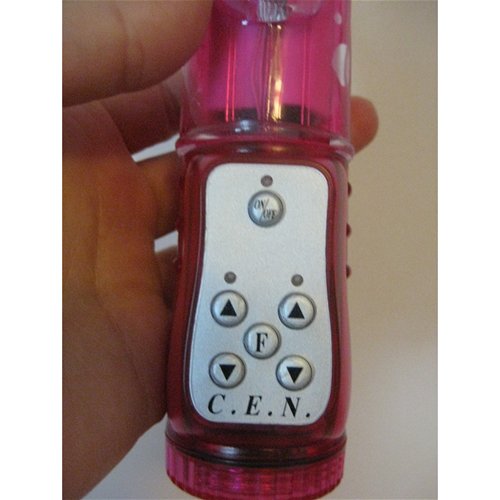 The vibrations increase from low to high over several increments. Even at the highest setting, it's not very loud. As for the rotating beads, they are much quieter than other "pearl/beaded" vibrators, which pack the beads in such a manner to where they make cracking sounds as they rub against each other. With this model, the beads are on 3 divided levels, so they rotate more smoothly and more quietly.
The toy is powered by 3-AA batteries that insert easily in a removable battery tray at the bottom of the handle. The cap is a fully threaded one that requires several turns to screw it on tightly to insure no water penetrates the inside (rubber gasket present also).
CARE & CLEANING
Either a water-based or silicone lubricant can be safely used with TPR materials. The entire toy can be placed under running water for cleaning with antibacterial soap then left to air dry. Store in a lint-free cloth or original packaging.
Experience
My first attempt was futile, since I really wasn't feeling horny -nor patient enough to experiment with the toy. Personally, I'm not a fan of TPR toys, because the material tends to be so stretchy and less stiff, making it harder to keep the appendages on target.

The second attempt proved much better, but I concentrated on just the main shaft and the clitoral attachment. I had to just rest the clitoral motor on mine, because the nubbed portion didn't sit right down on top of it, and probably won't for most users. The anal tickler just wouldn't stay in and is basically a worthless addition, in my opinion.
Follow-up commentary
2 months after original review
Even though this toy provide me with some good orgasms, I haven't reached for it again, because I can climax much faster with my other more reliable and less expensive options.
This product was provided free of charge to the reviewer. This review is in compliance with the FTC guidelines.

Thank you for viewing
Triple orgasm french kiss
– rabbit vibrator review page!