Triple Orgasms? Why didn't I even get one?
This Rabbit has myriad bells, whistles, probes, ticklers and protrusions. It has a large beaded head, and individual controls for the beads and the other two probes. Its clitoral attachment will most likely be workable for many women, as it is very flexible. Not the strongest in power, and easy to stop the beads with PC strength and a bit loud, this toy, however, should be workable for those who like lots of options in a moderately powered product.
Published:
Pros:
clitoral stimulator very flexible, non-jamming beads, easy to use controls, waterproof
Cons:
too squishy for me, not enough power, loud
This is a somewhat complicated toy, with many appendages and bells and whistles therefore I found photographs were necessary to describe it properly.
The Triple Orgasm French Kiss
is a Rabbit Style vibrator with three probes, 6 buttons, and according to the box "over 500 intense patterns." That may be a bit of an exaggeration, but if one considers turning off some functions, using all of them at once and cycling through each button and then the other, there are quite a few.
It is comprised of a large base, containing the control panel, a phallic insertable, beaded head and two appendages, one for clitoral and one for anal stimulation. The entire contraption is almost 11 inches tall but weighs under a pound. Despite its bulk, it was not hard to use or manipulate, even with my short arms.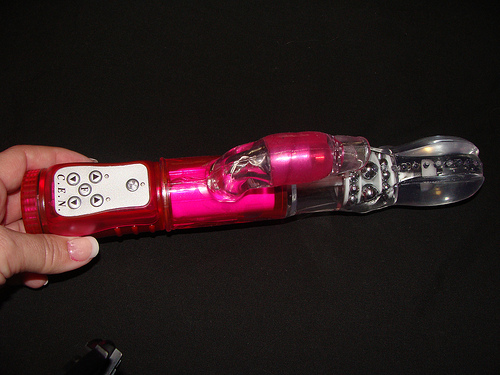 The size of the main, phallic head is about 5.75 inches long with a 5 inch circumference. The main head has an unusual indentation, which is filled with small protrusions, most likely meant to either help with G Spot stimulation, or to stimulate during thrusting. (Although thrusting is not something a rabbit is built for.)
.
This head, as well as the other parts of the vibrator, are made from TPR, a form of rubber based plastic. There was no odor to this toy at all. But, I found the TPR extremely squishy and pliable. I prefer firmer toys.
Below the rounded head are three rows of metal colored beads on a track. Beads on tracks are less likely to jam in toys like rabbits, so the fact that the beads were on a track was one of the choosing points of this toy for me.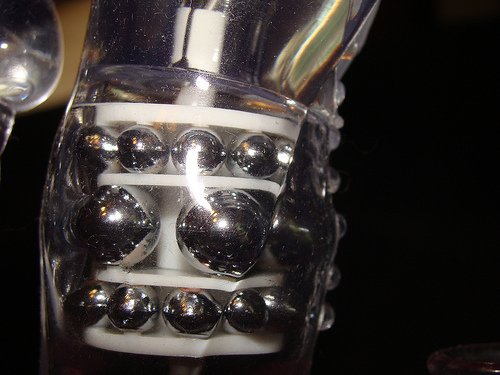 The beads are loud, when turned on, but one
is
able to feel them in use. I have strong PC muscles and was easily able to bring the beads to a grinding halt with a squeeze. As I like to exercise my PC muscles while sexually aroused, this didn't work out for me as well as I would have liked it to. Women who are happy relaxing their PC muscles during stimulation may not have a problem with these beads, until they orgasm.
This brings us farther down to the rest of the shaft. For some reason, there is a TPR sleeve as part to the shaft. It is very pliable, and it can be squeezed enough to reduce the 5 inch circumference of the shaft in half. As I like firm toys with a large circumference, that give a feeling of fullness near the neck of the vagina, this also didn't work out well for me.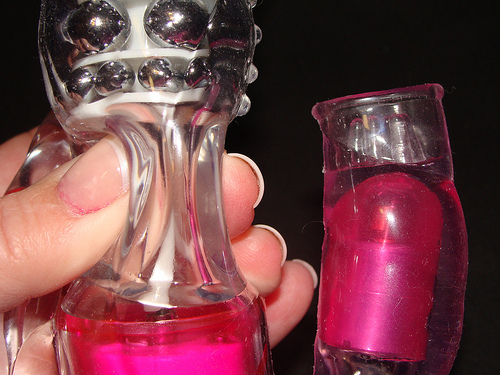 Next we come to the "rabbit" part of the toy, or more accurately, the clitoral stimulator. This stimulator, thankfully, does not look like any animal. It is partially hollow, like a small cup with ticklers on the inside.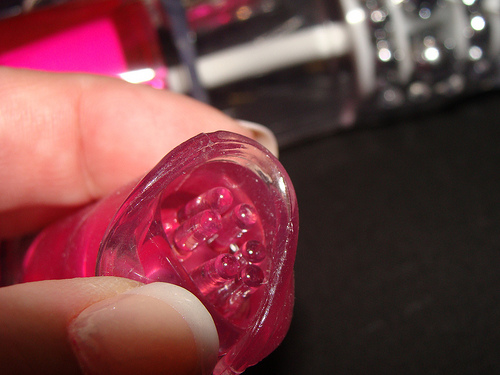 As the stalk this is on is very flexible, the stimulator can be
quite easily
moved to fit different anatomies. This will probably "fit" more women than a standard Rabbit with a clit stimulator which is firm in place.
The "anal probe" (which runs on the same motor as the clitoral stimulator) isn't really a probe. It is very small, and
so
flexible and flaccid that it is impossible to penetrate the anus. It's smaller around than my pinkie, and will probably be most acceptable to those who like light tickling of the outside of the anus. Perhaps it should have been called a "rimmer" instead of a probe.
This is all put together by a large foundation with a 6 button control panel.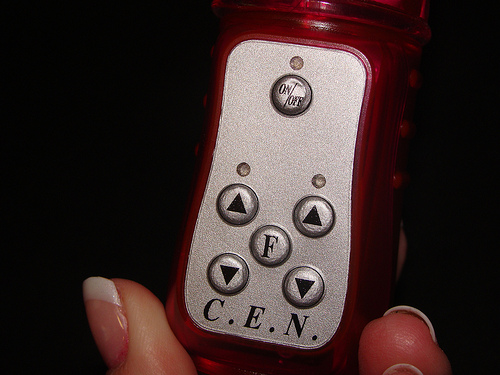 At the top is an On/Off button, which can be used to turn off the toy at any time. (There is no need to cycle through all the functions.) The control panel looks complicated, but it is actually really intuitive. One button controls the Main Power, so it can be turned off or on at any time, and learning the controls was quite easy and I was able to master in on only one use.
Below the On/Off button, on the left side, are two arrow buttons, which control the intensity of the bead rotation. To the right two buttons control the intensity of the vibration of both the anal tickler and the clitoral attachment. These each have a motor, but the anal and clitoral motors work together.
The button between the arrow buttons (F) guides you through the three patterns of either the bead rotation, the vibrations or both together. Six speeds in all. The beads can be manipulated by this button to go one direction or two different speeds of changing direction of rotation. The vibrations will turn on and off if the F button is used.
Experience
The toy is very loud and becomes louder as either the intensity is turned up or as one adds an other function to the usage. The beads make a slight, but loud grinding noise (although they do NOT jam!) and the vibrators make a loud vibrating noise, which increases greatly with intensity.
The beads can be used separately, but the do not vibrate on their own. The anal and clitoral simulators can be used together, but not separately. Turing on the vibrations of the stimulators does not decrease the strength or speed of the beads, and if the vibrations of the stimulators (as the shaft doesn't vibrate on its own, but will vibrate due to proximity to the motors in the clitoral and anal stimulators) are turned on first, subsequent turning of the bead function doesn't decrease vibration power in any way. This is an improvement over many rabbits, in which using more controls used to decrease over all intensity.
I found the vibration of the clitoral and anal stimulators to be lacking in enough power for my liking. I did not feel I was anywhere near climaxing during any trial of this toy. Part of this may have been due to the extreme flexibility of the clitoral stimulator, as I prefer more rigid toys, or due to the lack of firmness of the shaft of the body of the toy.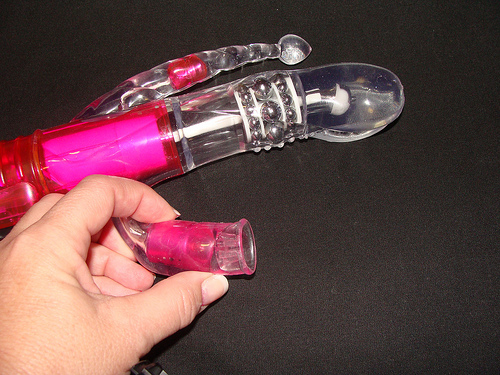 The toy is made of TPR and plastic. It can be cleaned with toy cleaner and washed in warm water and soap. The box claims the toy is 100% water proof.
Water based lube is compatible used with this toy, although one could test a silicone lube on a small inconspicuous part of the TPR. Do not use an oil based lubricant. Due to the toy's shape, three probe design and a great deal of drag from the TPR, placing a condom on this toy would be virtually impossible. This is not a toy for sharing as it cannot be sterilized.
The toy itself displays no discretion. It is obvious that this is a sex toy, so carefully storing this behemoth of a toy is a necessity if one has nosy parents, children or roommates around. The power runs on 3 AA batteries.
This toy would work well for someone who can climax easily from moderate strength vibrations, doesn't require more than tickling in the anal area, and who feels comfortable not clamping down on the shaft during arousal and stimulation. As the toy is quite easy to manipulate and mold to the body, I think many women will find it friendlier to use than some other rabbits. The clitoral stimulator is able to positioned almost anywhere (within reason) so few women will find it a "bad fit" for their anatomy. The anal stimulator is not at all intimidating, and can also easily be moved out of the way, if one cares not to use it.
However, I found the toy too flexible, not able to give either the pressure nor the power I needed to come anywhere near an orgasm. I am not an easy woman to please, however, and I think many women would like the French Kiss who have been let down by more rigid and less flexible rabbit type toys.
Follow-up commentary
2 months after original review
I really can't say I've given this toy more than a few more half-hearted tries. It simply isn't strong enough for my needs, I'm not fond of the sounds it makes and it still doesn't get me anywhere near even thinking I might have an orgasm. Even with its "millions" of settings. (The thing has a lot of buttons, and they are very intuitive to learn to use.

This toy may be great for women who are very sensitive to vibration, who really don't want G Spot play, those who want a mildly to moderately powered rabbit with a movable clit stimulator and don't mind shafts that are easy to squeeze and don't usually clench on toys enough to stop powered beads.

I do think there is a niche for this toy in many women's toy boxes, but it really isn't for the Clit O Steel lady, nor those who want firm anal play or a shaft that keeps firm during use.

It could, however, be a perfect toy for a woman who wants a rabbit with a clit stimulator that is adjustable, as many do look for that often hard to find addition.

While not a toy for me, I think there are women and maybe even a few men who will enjoy this rabbit.
This product was provided free of charge to the reviewer. This review is in compliance with the FTC guidelines.

Thank you for viewing
Triple orgasm french kiss
– triple stimulation vibrator review page!