Some of my readers thought it was a fashion statement, and others thought it was a feminist rebellion against wedding dresses. I sent it to my friend Kevin, who saw it and responded
"Nice flower,"
, which is telling in
so many ways
. I pointed out that the flower was, in fact, an enormous vagina, but he insisted that it was a fabric orchid because "that's not what a vagina looks like." Then I emailed him a medical photograph of a vagina and then he admitted that he was wrong about the vagina, and also about the decision to ever giving me his work email address.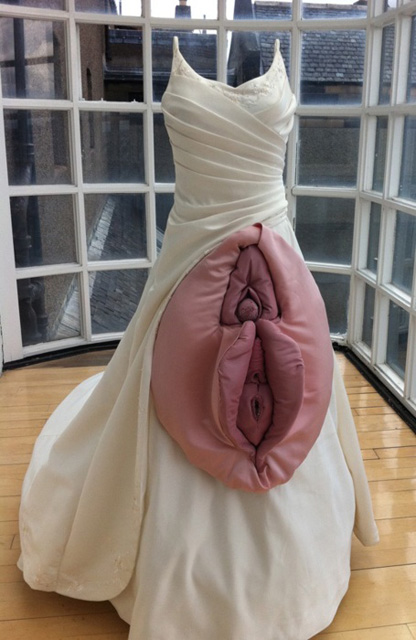 Kevin: It's nice though, because most wedding dresses don't have pockets. This way she can hold her own gum without asking her husband to hold it for her.
Me: I don't think I could pull off that look. I'd be like, "Does this vagina make me look fat?" Plus, I don't have the biceps to go sleeveless.
Kevin: I'm not sure anyone would be looking at your arms when your vagina is being so distracting
Me: True. Plus, the vagina is so enormous it's sort of
slimming
. Like wearing vertical stripes.
Kevin: It looks like a cartoon alien just busted through her gut.
Me: We're done here.
Kevin: If that was my dress I'd put a baby in one of the pockets. Then at the reception I'd shoot it out. And whoever catches it gets pregnant next.
Me: You know what's weird?
You're kind of making me want a vagina wedding dress.
Kevin: You know what's weirder?
Me too.