So, to start off I want to give some information on what a flogger is. Floggers are sex toys commonly seen within BDSM play. Flogging is the act of hitting a person with an object and dates back hundreds of years when it was used as a form of punishment, as part of religious ceremonies and other areas. This has since evolved into what is commonly referred to as impact play within the BDSM community. It has evolved into an erotic and sensual practice. It can create a variety of pleasurable sensations. Flogging can release endorphins, it can create a warm pleasant sensation, or it can be used for some pain play as punishment (obviously nothing too severe or intense). Today we are going to be making a rope flogger that would be classified as a cat 'o' nine tails.
So to start off you are going to need to make some decisions:
1. How many falls do you want your flogger to have?
2. How long do you want your flogger to be?
3. How wide do you want the falls to be?
The number of falls changes the experience of using a flogger from thuddy to stingy. A thuddy flogger is one that creates less intense more warm sensations. A stingy flogger is more intense. It creates sharper more painful sensations. The more falls you have on your flogger, the more thuddy it is going to be. The fewer falls you have on your flogger, the more stingy it will be. Just in case you are unsure, falls refer to the number of "tails" or the number of "strands" a flogger has. For a rope flogger, I think 8-12 falls is a good number. If you go lower, you will get a more stingy flogger. If you go higher, you might end up with a very big and bulky flogger.
Secondly, you need to decide how long you want your flogger to be. The longer the flogger the harder you can swing it, and the more intense you can make the sensations. You can swing a long flogger lightly and still provide light sensations, but a longer flogger allows a larger spectrum of sensations. It does however require more room and might not work depending on how large your bedroom or play area is. A small flogger is around 12 inches in length, while a full flogger is 32-36 inches in length.
Finally, you need to decide what diameter of rope you want to use. The larger the diameter the more thuddy the flogger will be, and the smaller the diameter the more stingy the rope will be. I found a good diameter for a starting flogger is a 1/2 inch. A 1/4 inch is also a decent diameter. A 1/8 inch flogger will be very stingy. If you go too large you might find your flogger is very heavy and hard to use So I would not recommend anything larger than 1 inch for sure.
Assuming you have decided the specifications of your flogger, it is time to begin. To make our rope flogger you are going to need:
1. Rope for the falls (whatever diameter you choose)
2. 1/8 inch rope for the handle (I find para-chord works quite well).
You are going to need to figure out how much rope you need. You will need rope equal to the length of your flogger times the number of falls. For example if you want 10 falls and a 30 inch flogger, you will need 300 inches of rope plus some extra. I would give yourself an extra 2-3 feet. You are going to measure out the length of the flogger you want, then put a fold at the top of the rope and bring it back down to where you came from. Then go back up from where you just came from (again the length of the flogger you wanted). You are going to make these folds equal to half the number of tails you want. For example if you want 10 falls you are going to make 5 folds. Now you have a length of rope folded multiple times. It should look something like this: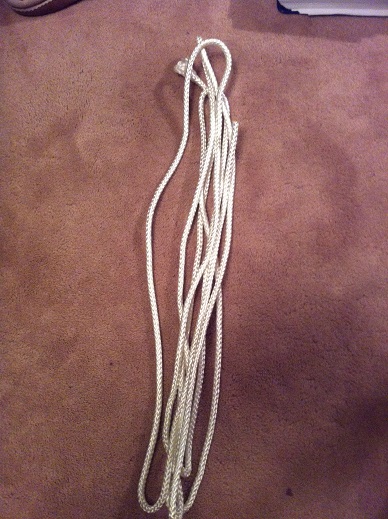 You now are going to make the handle. This is where we take our 1/8 inch rope, and we are going to start close to the bottom of one end of our rope. Tie a knot at one end. Now start wrapping the rope very tightly up along the rope until you have a handle of the length you want. I would recommend a handle around of about 5 inches. But do whatever fits your hand. Tie a knot at the top of the handle. You should now have something that looks like this: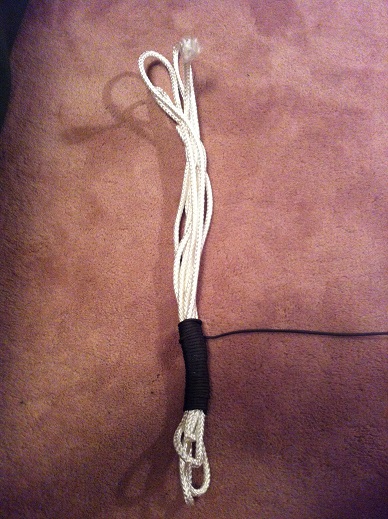 You now have what kind of resembles a flogger, but there are folds and not falls. So in the middle of each fold you are going to take a pair of scissors and cut it. You can now see why we made folds equal to half the number of tails. Because each fold turns into 2 tails. You now have your rough flogger. It should look something like this: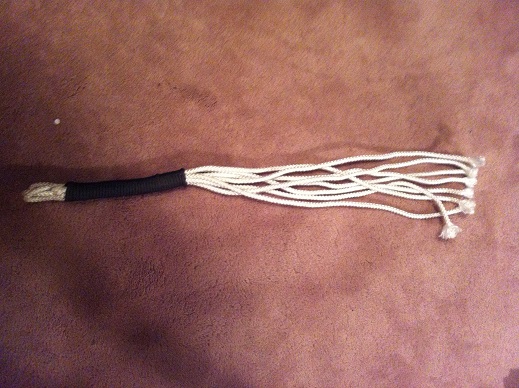 You might notice your falls are slightly different lengths. This happens. It is next to impossible to make all the folds the identical length. So place the flogger on a flat surface and carefully cut across all the falls horizontally till they are nice and equal in length. And Tada! You now have a finished flogger.
When using rope, the ends tend to fray a little bit. To prevent this, you can either burn them, apply some clear nail polish on them, or tape them near the ends to keep them from fraying. You can also let the falls completely unravel. This will create a very thuddy flogger because your 10 falls just turned into 100 falls.
You can also change the falls. You could tie a knot in the ends of them. This would make for a more intense flogger. It would cause more trauma and pain when used. So I would not recommend this for a first time flogger, but if you have some experience you might enjoy the sensation.
A note: Floggers can cause some trauma. You want to only hit certain areas of the body to prevent causing real damage. So please read up on some flogger safety before you play with one. I will be writing an article on floggers within the next month, so you can check back here as well.
Here is a photo of two floggers I have made using this method: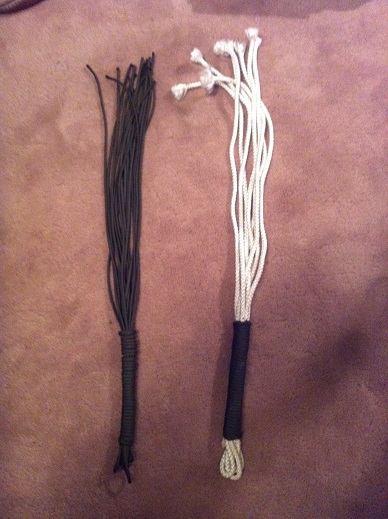 Hope you enjoy your new flogger and have a safe and fun experience.