The holidays are upon us, and we're all scrambling to find gifts. That necklace they've been ogling for the past year, or the game system they've been dying to try are easy solutions to your gift-giving woes. But they do nothing for satisfying your sexy side—if you ignore the nooky you'll most definitely be getting after they unwrap their gifts.

This year, why not stuff their stockings with erotic lingerie, sensual massage products, and a few things for their...more delicate regions? We've got just the thing(s).
Want to indulge the feminine side of her sexuality? Build a
luxury gift kit just for her
. For just $154, you can get her the new We-Vibe Thrill—which is made of silicone and features a great handle—and some LELO Personal Moisturizer to ease whatever use you had in mind. Throw in some Brown Sugar Scrub so she can pamper herself in and out of the bedroom. Have it wrapped in holiday colors, and shipped right to your door all from the comfort of your living room. Don't worry! Shipping's free. And you just saved about $70.

Brown Sugar Scrub by Cake Beauty, We-Vibe Thrill, LELO Personal Moisturizer
Small
,
Medium
,
Large
or 2.0.
Made of silicone, and equipped with delicious vibration, the Cobra Libre is designed with
your
interests in mind. Toyfluid, one of my personal favorites, is compatible with every toy in your arsenal. And the Pure Plug is made of solid stainless steel, so you can both use it with a quick wash-up in between.
"The Pure Plug Medium is a stainless steel anal plug for beginner and/or intermediate users. The shape is great for staying in place while moving around and it will not get in the way during vaginal intercourse (with a partner or toys) if you like dual stimulation. An overall great plug that is worth saving up for."
—
Waterfall

Toyfluid by Fun Factory, Cobra Libre by Fun Factory, Pure Plug 2.0 by Njoy
Don't leave your fella hanging. We've got all sorts of fun things for him to play with! Start the fun with some Toyfluid and the Cobra Libre from Fun Factory. Ramp it up with a little anal play with Njoy's Pure Plug in
Over at
EdenCafe.com
, the Indulge Me Pleasure Set is just one of a few LELO sets we're giving away. Inside, you'll find the
Noa Couples Massager
as well as LELO's
Intima Silk Blindfold
and
Tantra Feather Teaser
. But if you just can't wait to get your hands on it, add it to a
luxury couples kit
and get it at 30% off! Add Organica Erotica Massage Oil by Shunga Erotic Art for long, sensual massage after a hard day, and 2 to Tango by System JO to turn your senses up to 11.
Oh by the way? This gift kit includes gift wrapping and ships free, too.
"The Indulge Me Pleasure Set is a truly luxurious, classy set for any couple, or it can be given as a gift to a couple or to your partner. The matching amethyst products are absolutely high quality. This set is the most luxurious, romantic night in a box. Everything for a thrilling experience is included."
—
Kendra

2 to Tango by System JO, Indulge Me Pleasure Set by LELO, Organica Erotica Massage Oil by Shunga Erotic Art
Maybe you're looking for something for both of you? Something that demands a hands-on approach from each partner? We've got something for you, too.
Maybe you like it a little rough. These toys are just for you. Tie 'em down with ASLAN's Jaguar Cuffs and cover their eyes so they can't see what you're about to do. Add in a pair of clamps and the Sensua Suede Whip, and you're well on your way to some kinky fun.

Silk Whisper Blindfold by Leatherbeaten, Fetish Fantasy Series Limited Edition Magnetic Clamps by Pipedream, Sensua Suede Whip by LELO, Black Jaguar Cuffs by ASLAN Leather
What holiday gift guide would be complete without silky ribbon, green and red packages, and a sexy Santa—or at least Ms. Claus? The Sex and Mischief Silky Restraints by Sportsheets, and Coquette's Present Boxer Brief and Fishnet Santa Romper make for the perfect erotic Christmas scene, don't you think?
If they're not quite what you're after, Coquette's got plenty of other
seductive holiday gear
. The
Holiday Corset
shapes and lifts wonderfully, and goes well with any of
Coquette's panties
. Top off your look with a pair of
bow pasties
, and your lover won't know what hit them.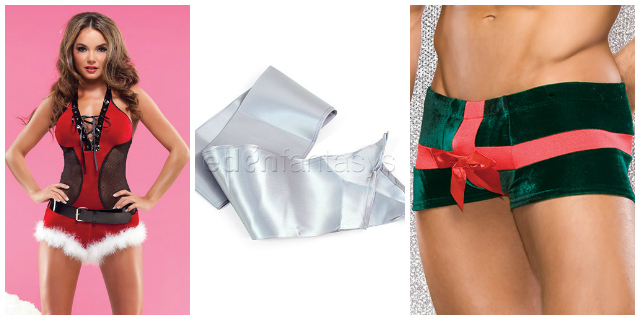 Fishnet Santa Romper by Coquette, Sex and Mischief Silky Restraints by Sportsheets, Present Boxer Brief by Coquette