Today, I visited Greenwich Village's Eve Salon, where I've been going for Brazilian bikini waxes for several years. I entered a small room, took off my shoes, stockings and panties, lay down on a crinkly layer of white paper, spread my legs and presented my pussy, covered in six weeks' worth of brown pubic hair, to my waxer for inspection.
"Looking good, my dear," she says in her Russian accent, as she usually does. After confirming that I wanted
everything
off and I preferred their gourmet (a.k.a., less painful) wax, she pours the heated liquid onto my most tender parts, then begins yanking the hairs out. The whole procedure takes about 10 minutes, including the part where I roll over onto my stomach and hold my butt cheeks open while she makes sure my ass-crack is denuded as well.
It's a ritual that's at once intimate and businesslike. How can it not be intimate when someone is touching your genitals? And yet, it's a client/customer relationship. She probably has her hands on dozens of women's labia each day. We sometimes chat about the weather or holidays, but otherwise, it's a quick process, as she makes sure each and every hair is gone, then ushers me out so she can prepare for the next client.
As for me, I'm pretty much the only one touching my labia these days, so to have someone else's fingers there, even in a nonsexual way somewhat akin to being at the gynecologist, is still a little bit of a jolt to my senses. It reminds me of when I spend an entire weekend on my own, perhaps venturing out to the deli or Chinese noodle takeout joint next door, but not having any real conversations, and then when I do go visit a friend I get a big hug. It's in part the touch element, but also being on display: even during sex I'm rarely sprawled out with my genitals exposed under such glaring lights.
The intimate yet clinical nature is one paradox of the pussy waxing experience. The other is that the pain—though as minimal as possible—is still pain. Because I lean toward being a masochist, sometimes I can eroticize the pain. I think of it like candle wax in a scene, and use my kinky training to get through the momentary pain for the reward of sleek skin. The difference in payoff, though, is striking.
If I were being covered in candle wax, it would probably come with a side of dirty talk, either telling me what a dirty girl I am for wanting it, or praising me for good behavior. Now, I care less about what my waxer thinks regarding my appearance than I do my lovers, but there is part of me that wants her to be pleased. While I may get praise after a waxing, it doesn't give me the same glow as praise from a top.
I have this fantasy of taking a lover with me when I'm being waxed. I don't know that I'd ever actually do it, or whether it would be allowed, but if the pain ever gets bad, that's what I think about. I use that fantasy scenario as a tool when I'm antsy or tempted, as I've been a few times, to tell the waxer to skip the last few hairs.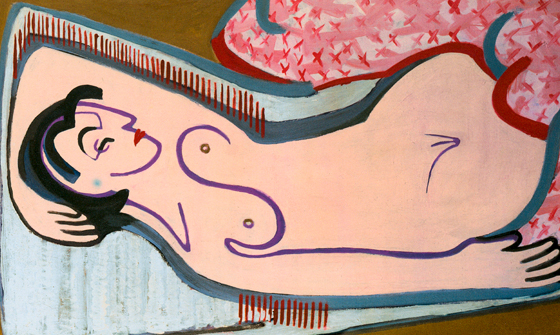 The real reward for suffering through the pain of the waxing is that when I walk out, I feel like I'm floating out the door, possessing a special sexy secret. After I put my clothes back on and head out into the sunny chill of a Manhattan winter afternoon, whether I'm technically wet or not, I feel sensual, full of possibility.
It's not that I wouldn't have sex if I'm unwaxed, but that the process of getting waxed and the smooth, sensual feel of my skin afterward, makes me feel like sex is in the air. I especially savored that feeling today because I don't plan to be having sex anytime soon, at least, not with anyone except me and my sex toys. It may happen, but right now, I'm focusing on my professional goals, not on trying to meet the right person or resurrect old relationships. Normally, I tend to think about my sexuality in relationship to someone specific that I want to or am having sex with. If I fixate on someone while masturbating, it's not a celebrity, but a real, live person (who may or may not know of my interest in them).
That said, while I take the preferences of whoever I'm sleeping with into account, I don't think I'd want to be with someone who'd make strict demands on how I groom my pubic hair. I've found that when I've had lovers, especially dominant ones, who wanted me waxed, if I wasn't perfectly smooth I had trouble getting in the mood, fearing they'd find me less attractive—and that's a mood-killer.
To me, even though it does have a sexual component, getting waxed is more akin to a great haircut or fabulous pedicure. It's is a way to remind myself that I can appreciate my body, can be passionate, without having to do that in the service of someone else.
Being waxed makes me more aware of my pussy, more conscious of every twinge of arousal that passes through me. Though the waxing takes place on the outside, it's inside where I feel hyper-conscious of being turned on, horny. For the next few days after a waxing, I try to hold onto that feeling of being hyper-aroused, and using it to notice not only my private parts but what I project out into the world.
I realize I've just shared this "secret" with whoever might be reading this, but it still feels like my own private treasure, hidden away until I choose to share it. And that feeling, even more than the actual hairlessness—especially when I'm otherwise bundled up in a not-very-sexy hat and scarf and other winter gear—is worth every penny I pay for the experience.