Sex and the Suburbs: I Promise to Love, Cherish and Not Get Caught?
September 16, 2009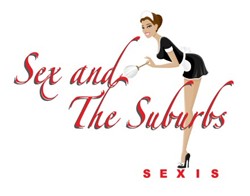 © Logos by Melanie Amorim
Cheating on one's spouse has become big business—just ask Ashley Madison.
Who is Ashley Madison?
Well, that's just the thing—she's not a she at all. Ashley Madison is a hookup site with a very specific type of hookup in mind: affairs for and with married people. (For the record, Ashley Madison is actually a dude—the site is run by a Canadian man.)

This site promises with a 100% guarantee that if you join, you will have an affair. Sure, plenty of people find them all on their own everyday, without paying a fee for a special infidelity-driven social networking site. But for $49 you can get a basic membership, and for $249 you get the Affair Guarantee Package, which offers your money back if you don't find a little something on the side within three months. Well, at least it's a site with solid business ethics, right?

Sadly, I'd never even heard of Ashley Madison until I read a Vanity Fair article by a journalist who decided to do an undercover experiment to prove that "marriage and monogamy needn't always go hand-in-hand." Which is about as much breaking news as the recent development that crack is bad for you. So she, a single woman, went undercover on AshleyMadison.com as a young newlywed and had lots of hot extramarital sex and then wrote about it like it was news. Take that, Campbell Brown—no bias, no bull! Well, maybe a little...

So I clicked over to AshelyMadison.com. Once there, I saw the following words, smeared across the page in a classy, Victorian font:

"Life is Short. Have an Affair."

And I threw up in my mouth a little bit.

According to the article, 50-65% of men and 45-55% of women have had an affair by age 40. And, let's face it—that's probably being conservative. Which apparently translates to big dollars—especially when you factor in current exchange rates.

As one of the undercover journalist's Ashley Madison-procured beaus put it, "monogamy through adultery" is en vogue—and is saving marriages across the country; therefore Ashley Madison offers an invaluable service.

Is it me, or does that not even make any sense? The whole article left me with a bad taste in my mouth.

But, as any dedicated journalist would do, I decided to do a little research of my own to get to the bottom of this Ashley Madison phenomenon. A few stats: there are approximately 4.3 million members on the site to date (yes, really), and the majority of these members are married—although there is a portion of single people with profiles seeking an affair. Not surprisingly, there are more men looking for a tryst here, and women are typically bombarded with 100+ emails a day from married guys who lament that their wives don't have sex with them anymore; or that they have an unspoken "agreement" with their wives wherein they get to have sex with others.
Continue Reading "Sex and the Suburbs: I Promise to Love, Cherish and Not Get Caught?"