Joanna Angel rarely looks back these days.
Joanna Angel, the tattooed Alt-Porn princess and award-winning adult film mogul, is so focused on using her maverick talents to advantage in her highly successful videos, blogs, and the profitable merchandizing of her sensual product line, Burning Angel.
Taking time from her busy bicoastal schedule, the Boston-native actress-director is still getting kudos from her recent three-award win at the AVN awards, yet she reflects on the fickle nature of success. "I don't think I'm that successful," she tells
SexIs
. "I have a long way to go before I can call myself successful. However, I work very hard and my brain is always on thinking new things to do to improve on what we're doing."
Industry is the key. "Taking my company to the top is what I think about all day—every day. I don't take vacations, and I don't really have a social life. I guess my determination is what makes me successful."
How did Joanna Angel get this way? It wasn't as if she was born this way, as one hit pop tune proudly proclaims.
In a recent interview, Joanna's Israeli-immigrant mother commented on her wild abandon as soon her daughter enrolled in Rutgers, the tidal wave of tattoos, punk music, and hardcore rocking eroding a childhood of traditional Judaism. "I don't think I was really out of control. I was very active in the punk-hardcore scene. I went to a lot of protests as an animal rights activist and a human rights activist. I went to six hardcore shows a week. I had short pink hair, lots of metal in my face, and my mother thought I was a part of a cult. She was a little upset with my devotion to the hardcore scene as opposed to Judaism"
While studying in her senior year at Rutgers, Joanna interned for
Nerve
, a cutting-edge mag of erotic text and images, and that was the genesis for the Burning Angel porn concept.
"I never watched porn growing up so I don't have that many porn influences," Joanna notes. "When we first started Burning Angel in 2002, we only put photos up on the website, but after a year, I entertained the idea of putting video up on the site. A friend lent me some
Evil Angel
movies, the videos mostly directed by John Stagliano and Jules Jordan. After watching them, I thought
this is so hot, I want to make stuff like this!
However, my stuff really looks nothing like any of their films, but I was still influenced by it."
Her cinematic style may favor this or that in this almost-altered goth version of the
Cinema of Transgression
of a few decades ago, with its rebels, Richard Kern, Nick Zedd and their heroine, Lydia Lunch. But some think maybe the Angel aesthetic is closer in its wacky comic chuckle and sizzling raunchy impact to its porn forefathers like the Dark Brothers, David Aaron Clark and Rinse Dream of
Café Flesh.
Whatever the standard, the Burning Angel brand works like a commercial charm.
"I really admire Richard Kern," Joanna says. "I think he's amazing and wonderful, and quite handsome to boot. I don't think Burning Angel film resembles any of these people's work at all. It looks closer to a John Waters movie than anything any of these people did. My stuff is very campy, goofy, and colorful."
For a relatively short time in the business, the titles of the Burning Angel brand are mounting up:
Joanna Angel Loves Orgies, Punk Rock Pussycat Dolls, Butt Sex Bonanza, Fuck Me In The Bathroom, Riot Grrrls, Alt Corruption, Rebel Girl, Joanna Angel Breaks Em In, Doppelganger, LA Pink, Cum On My Tattoo, True Fucking Love,
and
Joanna Angel's Guide 2 Humping,
among others.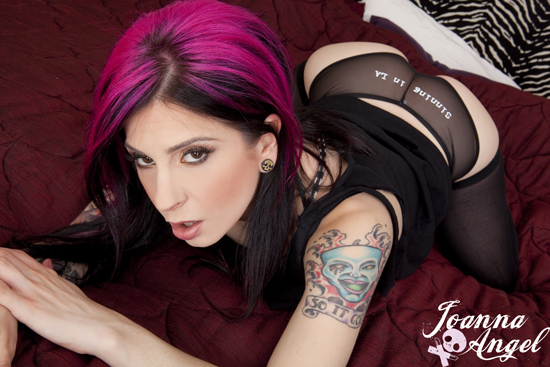 Seeing Joanna in front of the camera is watching a woman totally comfortable with herself, able to fit into any sexual box, able to color outside the carnal lines. "I like them all. My favorite is stuff with multiple guys. It feels so challenging, and like, so wrong and awesome at the same time."
Asked whether Joanna preferred working with men or women in her films, she was very forthcoming. "I'm quite happy with the talent I currently work with or have worked with in the past. I love the Burning Angel girls, and we have so many great new ones coming in every day. Every so often, we do hire girls from mainstream porn and they have all been great as well. I'll have to say my personal favorites have been Jenna Haze and Alexis Texas."
Actresses Stoya and Sasha Grey are very popular in the industry, among the girls on the fast track to success. "I think both are extremely attractive females and I'm giving myself a high-five because I have sex with both of them. Boo-ya!"
Many of her fans are women, who celebrate the ease and heat generated in her adventurous sex scenes. "Women love my work," Joanna added. "I have a lot of female fans it seems. I've done a lot of appearances where more women have showed up than men. Feminists are split between the ones who are anti-porn and pro-porn. I just try to do what I want to do and ignore what people think. You can really lose yourself if you get too wrapped up in people's reactions."
Civilians looking in from the outside of the adult film industry will make the lame comparison between Joanna's Burning Angel and the highly profitable Suicide Girls phenomena.
"From a strictly business perspective, I've to have respect for the fact they are huge," she says. "It seems everyone everywhere in the world knows who they are. I aspire to be as popular as they are one day. On a personal level, I really have no desire to watch girls engage in a topless pillow fight and not fuck. I find nothing exciting about that at all. So I will pass on my SG membership!"
Like many in the business, Joanna sounds the alarm on the free content on the Internet. "Considering that Burning Angel is a web company, I wouldn't be in the industry if the Internet didn't exist. I don't see it as a threat. The free content on the internet is what is hurting the industry, the same way it hurt the music industry, and put Blockbuster out of business. Entertainment, as a whole, not just porn, is suffering right now.
Currently, Joanna Angel is conducting a charm offense on the adult film industry and mainstream consumers alike. "We just launched some new websites, installed a new chat room, and created a whole bunch of new social networking tools. After that, we must get back to the drawing board and think of what movies we will make."
"I don't know if the future of Alt-Porn depends on us," she concludes. "I just hope we can do keep doing what we are doing so consumers have something different to watch than the same shit they have been watching for years."