What is Mummification?
Mummification is a specific type of bondage. The submissive or bottom is wrapped in some sort of material from head to toe, completely immobilizing them (although there are also partial mummifications). Mummification can be a lengthy process and take quite a long time to do, but the results can be quite satisfying to both parties.
Here is a photo of a mummified man: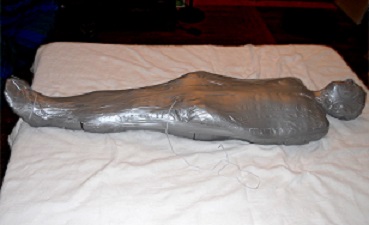 Materials
There are many different materials you can use to mummify somebody. Here are some of the common ones people use:
Duct Tape—This material is quite cheap, readily available at most stores, but does have a couple of problems with it. When removing this, it can pull hairs out with it. This can be painful. For a masochist this might be a pleasant experience, but it might not be good for others. Also the adhesive on the tape can cause some irritation, rashes and discomfort. Different people react differently. You could apply a small piece and test beforehand. Often times people will have a layer between them and the duct tape, such as plastic wrap, clothes, or some other material.
Electrical Tape—This material doesn't really stick to skin so it shouldn't pull out hairs with it. It however is quite a bit more expensive than duct tape. You have to look to find bigger rolls of it, but they can quite easily be found online. It also has some more stretch than duct tape. I think bondage tape is actually just electrical tape, but I am not entirely sure. EF does sell
bondage tape
. Here is the photo: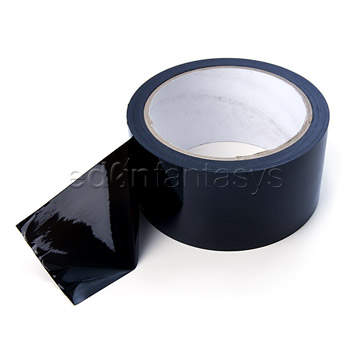 Plastic Wrap—This is the material that I will focus on the most during this tutorial because I think it works great for mummification. Plastic wrap is also called Saran wrap or pallet wrap. It is clear plastic that comes off a roll. It tends to be more flexible than the other materials, mostly because it is thinner. This gives you a bit more control when you use it. It also tends to be quite inexpensive.
Other-You can also use other materials such as cloth, vet wrap, latex strips, or even leather strips to do a mummification.
How do you wrap someone up?
So the first thing to do is pick a material to use. I am going to explain how to use plastic wrap. So first off you are going to need a lot of it. If you are using plastic wrap, you will need about four regular sized rolls of wrap, or one big roll of wrap if you buy one you use to wrap pallets.
First, you need to decide how much of the person are you going to wrap. Sometimes people just do a person's legs, other times from the ankles to the chest, and sometimes the entire person including their head. I am going to describe how to do a full body wrap. First decide if you want to add some sensory deprivation. If you do, you can blindfold your partner and add ear plugs.
If you want a very hugging experience, you can wrap each limb individually and then wrap it so their limbs are attached to the body. So once you want to wrap the body, you put their hands at their sides and the feet together and then you start wrapping. I like to start from the feet and work upwards. This just works well in my opinion.
It is important to be careful how tight you wrap. You want it to be a good bondage experience, but too tight and it will not be fun. The tension can really add up when it is across the whole body and the more layers you add. So the first time I suggest not wrapping too hard and then you can add a bit more pressure the second time. You can also add more layers to make it tighter if you desire.
Safety
There are some safety considerations you want to make when mummifying your partner. The first is hydration. Plastic does not breathe very well, so overheating and dehydration can be a problem. Just check in frequently and make sure they can get fluids if necessary (a straw and a small mouth hole work well).
Secondly is their breathing. It is important to watch certain areas. Their chest is one. If you wrap many layers, it can prevent breathing. If they cannot expand their chest, they cannot take a breath in. So make sure to leave some space for them to breathe. If you wrap their chin, you need to make sure it is not too tight. You need to be able to open your mouth to breathe. If you wrap too tight, this cannot happen.
Extraction
Getting your partner out of their mummification can be a bit difficult. Your best bet is to buy a pair of EMT medical shears because they are less likely to cut your partner. Pull the plastic away from their body slightly when you are cutting. Be extra careful when around their hair. You don't want to cut any off.
As always if you have any questions feel free to ask them in the comments.