Hell yes!
Are sex toys appropriate gifts?
When I saw the new subjective topic, I felt like screaming hell yes! For the longest time in my life, I wanted to receive sex toys as gifts, and for many reasons.
Remember when you were a kid and you could not wait till Christmas for opening the presents? And you would get surprises? Any toy would be fun to play with if you had siblings, friends or cousins, pretty much no matter what was in the package – if it was lame you could find a better way to use it than was intended, and the discovery and trying made it all exciting and interesting.Then there came a time when toys were no longer an appropriate gift, and I received cosmetic stuff, clothes, books – nice, but not exciting. Something was lost from the excitement of opening presents.
But sex toys I still love! I still love playing and fooling around, especially if I am not alone doing the experimenting. Receiving one would also mean I have someone who knows this, cares enough to buy one – and is kinky enough to do it and enjoy it with me rather than judge me. It would absolutely bring the excitement back, not to mention the promise of a sexy night together – be it slow lovemaking or some kinky role-play. It would probably make me much happier than jewellery, which I rarely put on.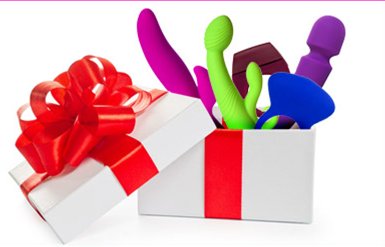 I am also a little bit into bondage – nothing really hardcore, not enough to be really BDSM – but enough not to be completely vanilla. Receiving a collar or a collar name tag – it would not mean the same as for someone serious in BDSM, but it would mean something serious, like halfway to engagement. Right now I still can't imagine anything more romantic! So hell yes, it is appropriate!
On the other hand, it would be a toy for us, not for me – so probably I would prefer to get something for just myself too. Not necessarily a big thing, let's just say a hair clip like the ones I use.
Yes! I would love to see the surprise on his face, a wondering, dreamy expression of what we could be doing with it, seeing as he gets turned on by just thinking how kinky we could get.
But then some strange ideas popped up in my mind – the objective did not specify anything about from whom, to whom and when it would be given. The first colorful image that popped into my mind was opening a kinky present (say, an anal hook or a trainer ball gag) from my partner, with mum and dad leaning over the package to see what I got. It would make an exciting Christmas for sure – can he outrun the bullets from mum's rifle? Or receiving anything sexy from my grandmother – that would surely be a total mood-killer.

The next image was my boss receiving an over-sized, inflatable plug from the director of the company – and it made me shiver in disgust. Something like that happening would be hell. Hell no, I don't want to see that!

In conclusion...it all depends on the circumstances.

Note to self: triple check the tags on the presents to not give the prostate massager to grandpa by accident!