If you thought
Caleb Laieski
, the 15-year-old who's standing up to Arizona schools, was awesome, check
this kid
out.
His name's Malcolm, and he's 7.
The
Los Angeles Gay and Lesbian Center
recently received a check for $70, and a handwritten note from Malcolm that said, "My name is Malcolm. I'm 7 years old. I am sending you this money because I don't think it's fair that gay people are not treated equally."
Malcolm's mom sent in a letter, too. In it, she told the center that Malcolm was given $140 to give to his favorite charity. When he heard a story on the radio about the mistreatment of gay people, the little guy decided to send half his money to the center and the other half to the Human Rights Campaign Foundation.
"Malcolm's gift gave me so much hope for our future," said Lorrie L. Jean, CEO of the center. "A hope that when his generation reaches adulthood, all of the homophobia, discrimination, and abuse we in the LGBT community face today will no longer exist."
Lorrie, you took the words right out of our mouths.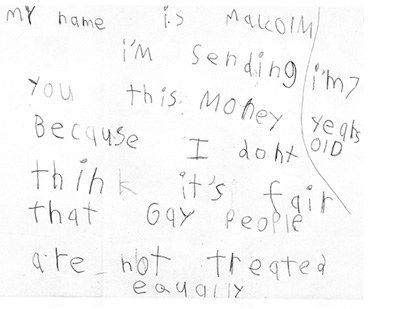 Malcolm's letter.
(More
Sex Feed
)