When was the last time you attended an arts and culture event that left you in a state of ferocious arousal, ready to rip each other's clothes off and devour one another in animal lust? For a powerfully erotic date night to prime your pumps for the bedroom later, I strongly recommend
Matthew Bourne's production of Swan Lake
.
During my recent teaching tour in New York City, I accompanied my
sex-blogging pal Viviane
to see
Swan Lake
performed at the New York Center main stage. I expected an evening of beauty and aesthetic pleasure. Instead I got punched in the gut with sexual energy so powerful that I was wound up like a bull in a carnal rodeo.
Let me say this first: I am
not
a classical ballet fan. I've gone so far as to come up with creative excuses to avoid ballet even when friends offer free tickets. My taste in dance runs more toward
Sankai Juku's
. I would have neither patience nor fondness for the classical 19th century Bolshoi ballet rendition of
Swan Lake
—namby-pamby sugar coated sweetness is all I would see.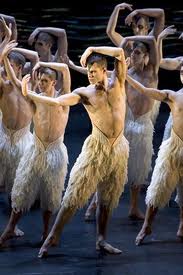 Even as a little girl, the sight of wan looking identical white girls clad in enough tulle to bury a small alpine village, melodramatically feigning feminine helplessness, annoyed me. Somewhere in my little girl heart I raged at the notion that they represented some feminine ideal. Then there were the swans. I'd seen them at parks, these giant creatures with muscular wings and nasty beady eyeballs perched atop mean hard beaks. Nothing about them seemed delicately feminine.
Additionally, the edict by polite Japanese society to appreciate this art form rubbed me the wrong way. When I was growing up in Japan, 19th century European art forms were de rigueur, and girls were to take ballet, piano and violin lessons. I wanted to climb trees and beat up boys.
Sadly, all this tainted my enjoyment of Tchaikovsky's gorgeous music. Listening to
Swan Lake
set my teeth on edge—until last week. Now anything that reminds me of
Swan Lake
will instantly get me seriously horny—all because of Matthew Bourne's brilliance as a dance theater choreographer.
The swans and the Swan Prince, all male dancers, bare-chested and painted white, explode onto the stage and occupy it with the bravado of gangsters. Their muscular arms spread to simulate the strength and the enormous wingspan of the bird, while sinuous snakelike spine and hand movements, punctuated by head cocks, make them all weirdly avian. They moved like a menacing pack rather than a flighty flock; at times they seemed more reminiscent of Hitchcock's
The Birds
.
Jonathan Olliver, playing the lead swan and the Stranger at the Ball, oozed a feral and dangerous male sexual energy even as he executed stunning leaps and precise movements. His body and presence undulated across the stage in a Tango-esque sequence as he seduced all the women at the Ball, including the proud and imperious Queen. He was breathtaking in his physical splendor and Viviane and I, along with the entire audience, could not keep our eyes off his impossibly tight black leather pants as he glowered and stamped his way across the stage. He was as potent and dangerous as Marlon Brando's Stanley in
Streetcar
, threatening and alluring both the onstage characters and the audience alike.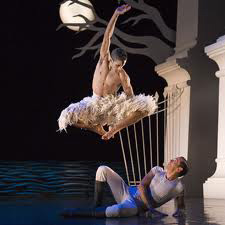 The Swan's initial encounter with the young Prince, played by Dominic North, was as confrontational as it was seductive. Towering over the beautiful Prince, the Swan Prince taunted, teased, intimidated and invited the young Prince to reach for temptation and ecstasy. It was all so familiar to me, with a feel of the dark courtships and couplings that played out in so many leather bars along the gritty edges of civilized urban consciousness.
Matthew Bourne's narrative can be read as a classic romance. Lovers meet, their passions intertwine, grim forces of the world tear them apart, and in the end they are united in death and redemption. On another level, though, what we have here is one big tragic queer coming-out story, complete with a rejecting parent, the obligatory girlfriend and desperate attempt to conform to social expectation … followed by depression, the first gay hookup, elation, hope, brutal bullying and finally, suicide. The attacking swan troupe, descending upon and tearing apart the lover Swan was as horrific as a lynching. I felt helpless and heart wrenched.
Far too many suffered their fate in silence and invisibility. Although debuted in 1995, this performance seems particularly timely now, given the recent media attention on homophobic bullying, youth suicides, and new efforts of outreach such the "
It Gets Better
" project.
Lest you think this piece is just about the boys and their swinging masculine prowess, as it can be in many homo focused works, I happily testify that the women and their roles are fiercely and unapologetically sexual as well. The Queen, richly played by Nina Goldman, is a complex mix of regal, cold, lustful, glamorous and dramatic. In one scene she chooses an evening's lover from the ranks of military men she inspects. In another she allows the Stranger to give her pleasures, despite her son's conflicted protestations. During the Ball, the stage is so full of mini tableaux of couples dancing entwined in lust, jealousy and struggle of wills that it's hard to know where to focus one's attention. I clearly recall one woman carried off stage by a group of men … possibly to be the queen bee of an orgy?
I'll confess this performance spawned many fantasies for me—but I'll share just one. If I could remake the world to my pleasing, I would want to see this performed by Nureyev and Nijinsky. I would need no other porn—ever.
With all this sexual energy exploding from the stage, Tchaikovsky's grand music caressed me in a whole new unexpected way. Swan Lake seduced me in my cunt and my heart, stealing my breath away and rendering me incapable of speech other than gasping "
Wow
!" for hours after.
***
Editor's note: Matthew Bourne's
Swan Lake
concluded its New York engagement on Nov. 7. The production has moved on to Milan, Trieste and Florence, Italy for the next month.