We had a couple favorites. We always went up into the neighborhood back behind Twin Lakes, a relatively new development full of huge, two- and three-story single-family houses with big driveways and garages and wrap-around second floor porches, lots of room on each lot between the houses. They always seemed to have pretty great displays with intricate icicle lights and blow-up Santas.
One of my favorite photos of my sister was when she jumped out of the car, ran onto some stranger's lawn, and crouched behind a display of a train, posing as if she was driving it.
And then there was Mint Way: Inevitably, the houses there would be the paper's winners. They would have full scenes of reindeer or snowmen on the front lawns and elaborate lines of lights along the awnings of the houses. We would
ooooh
and
ahhhh
as we drove by, pointing out little details.
Though people do decorate in New York City, some having, as a friend of mine put it, "An unhealthy relationship with the holidays," the thing to do here isn't necessarily to go out into the neighborhoods, but to go to the heart of the city, in Midtown, and look at the holiday window displays of the major department stores.
So my other girlfriend Kristen and I spent a few hours walking down Fifth Avenue from the southwest corner of Central Park at 59th Street all the way to 38th Street, taking photos and observing this year's beautiful displays.
Christmastime In the City
Barney's
Bloomingdale's
We started at Barney's.
"Have a Foodie Holiday" at Barney's featured well-known food icons like Martha Stewart, Rachel Ray, and Mario Batali.
Bloomingdale's was just a few blocks away, but I was disappointed to see all the windows were big animated screens.
Sure, the animation was beautiful, but it has a very different feel than actual installations of clothes, mannequins, marionettes, jewelry, and other amazing things.
Especially compared to the next place we stopped: Bergdorf Goodman.
Bergdorf Goodman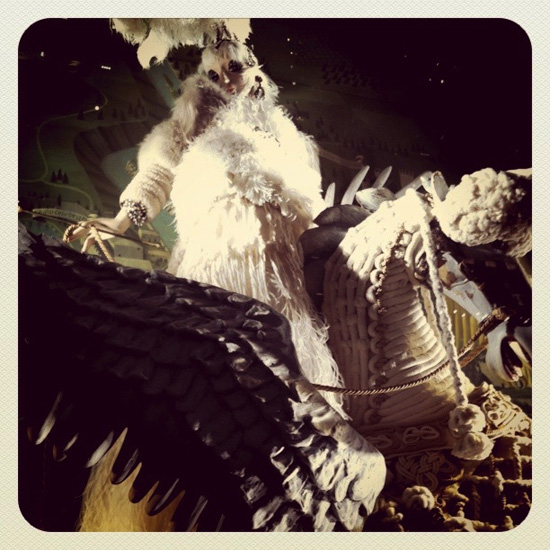 I could show you another dozen photos I took there. Their windows are amazing. If you only visit one of these stores, go there.
Next, Kristen and I walked down Fifth to 49th Street to take a look at Saks Fifth Avenue. It was quite impressive.
This year they had an underwater theme, some of the lights in the show were snowflakes and others were bubbles, and the windows featured some nautical displays and even an octopus. (In fact, there was an octopus at Bergdorf's too…Is there something going on I don't know about?)
Saks seemed to focus more on the clothes and designers than many of the other stores. And since it is right across from Rockefeller Center, you can see the huge, lit up building reflected in a few of these shots. The tree and the angels are, as usual, set up near the ice skating rink, and are quite lovely to add to this kind of outing.
In addition to their windows, they also have a light display on the side of the building that happens every 15 minutes or so, and is synched to holiday music.
Last but not least, we headed down to Lord & Taylor.
Lord & Taylor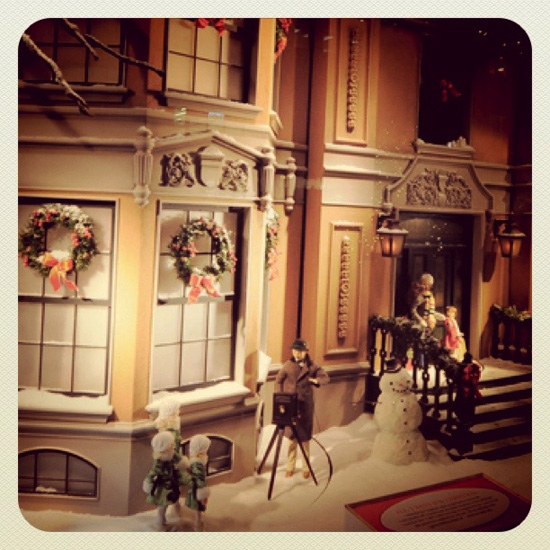 Lord & Taylor is quite well known for their holiday windows. This year, they asked for stories (from their Facebook page, I believe) of people's favorite holiday memories, and built windows around those stories. There were many small diorama-like scenes of dolls trimming a tree, going caroling, delivering packages, playing in the snow—many with moving parts, doors that opened and closed, walls that turned and revealed a new scene. I particularly liked the appearance of Santa's sleigh.
We didn't make it down to Macy's this time, but I'm sure there are lovely windows on display there, too. Maybe next week.
I'm glad to carry on a holiday tradition of my own family's, even if it looks quite different now than it did when I was a kid. It feels important, like a thread to my own heritage and childhood. After all, isn't that what the winter holidays are about? Well, that and the presents, of course.