This slang term stems from the idea that the hymen is meant to 'break' the first time the vagina is penetrated, expressly during sex - but could be done by fingers, toys or certain lifestyles, leading to a bloody mess. Once the hymen is broken, the cherry has been popped and will never be the same again. This brings about the idea that the hymen, once broken, is lost and gone forever.
Through my high school years, I often heard this term being thrown around as the boys did their victory dance for every popped cherry conquest as if it were some masterful achievement. Where this all takes a turn for the worst is when a woman is
expected
to bleed as proof of her virginity. If she doesn't bleed, she can then be reduced to worthless, dirty and even unfit for marriage. In fact, the whole idea of popping someone's cherry is a bit violent. There is no reason for the anxiety that many women suffer from before their first time having sex.
The thinking goes that the hymen, sometimes referred to as the vaginal corona, covers the vagina completely. In reality, this idea is only true in a very few, rare, cases. This is the imperforate hymen which must be opened by a gynecologist in order to allow menstrual blood to escape and provide the normal function and use of the vagina. In general, the great majority of women are born with hymens that can look something like those depicted below.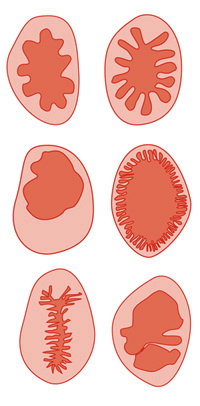 The hymen is a thin elastic layer of mucous membrane located roughly 1-2 centimeters inside the vagina or just on the outside, and only partially covers the vagina. For each woman, this membrane can have differences in shape, size, color, amount of folds in the tissue and can be thicker or thinner. Women with a thicker hymen may feel more discomfort during their first time having sex than women with a thinner tissue. By warming up and properly preparing before having sex for the first time or for the first time in a long time, this discomfort or pain does not have to occur at all no matter which characteristics are specific to your hymen.
The hymen, thought to be a remnant from fetal development, has no known function but it does remain with a woman her whole life. Whether she's having sex for the first time or is becoming sexually active again after having been on a sexual hiatus, this membrane will have to be stretched to ensure comfort and, ultimately, a good time during sex. Slowly and carefully, and with proper preparation, the hymen can be stretched without tearing. It can remain stretched out, and out of the way, provided that masturbation, sex or even tampon use is a regularity.
A tear in the hymen can cause bleeding and some pain. This pain can feel like a sharp sting on the outside of the vagina. Being too rough, going too fast or not using enough lube can certainly cause these types of tears. The amount of blood will depend on the size of the tear. The hymen will mend itself and perpetuate even after being torn. Depending on the elasticity of the hymen, which varies amongst women, sex and childbirth will have different effects on it. The hymen may return to its original shape, or it can become withered.
There is no way to determine whether a woman is a virgin or not, and that includes the popped cherry myth. There is no prize to be won and virginity is not something that is to be taken. Sex for the first time, or any time for that matter, never has to be painful. If there is blood, this can be indicative of a tear in the hymen and is a good signal to slow down and take the time to properly warm up.