"I'm selfish, impatient and a little insecure. I make mistakes, I am out of control and at times hard to handle. But if you can't handle me at my worst, then you sure as hell don't deserve me at my best."
Creating "Marilyn Monroe"/Marilyn's Work in Film
Since March is International Women's Month many are writing about Influential Women right here on EdenFantasys. One of the most influential women in history who has affected me is Marilyn Monroe. Marilyn charmed the masses. Though she did start out with a lucky break, she worked hard for her success.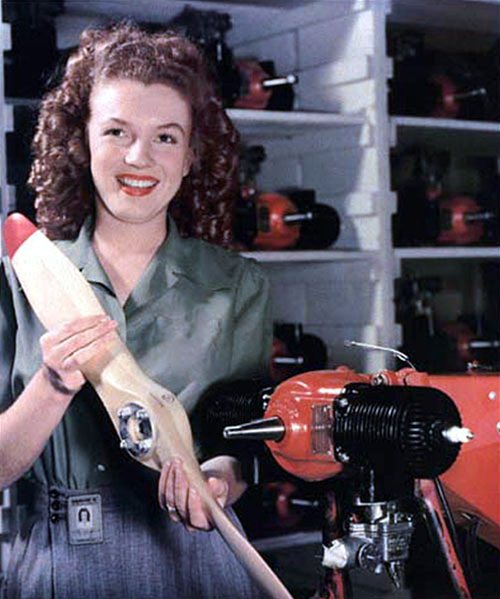 Marilyn started out life on June 1, 1926 as Norma Jeane Mortenson. She was raised in various foster homes due to her mother's issues with her own mental health. Marilyn did what she had to as a young woman to advance in those times. At the age of 16 she married her first husband, James Dougherty, to get out of the system. While he was away in the merchant marines she worked at a munitions factory. It was there that a photographer took some quick shots of her, originally to be used in a patriotic magazine, to boost morale. While these photos were not printed in that magazine, this led to her being signed with a modeling agency. It was during her time at this, The Blue Book Modeling Agency, that she had her initial makeover which transformed her brunette 'do to blonde.
After a few years of modeling she started getting film work. By this time Ben Lyon, a 20th Century Fox executive, had renamed her Marilyn Monroe. According to some fictionalized versions of Marilyn's life, such as the HBO film
Norma Jeane and Marilyn
, it's been inferred that Marilyn, while beautiful, was not considered to be naturally talented. She took acting, singing and dancing lessons. She worked incredibly hard to better herself, later with the legendary Lee Strasberg.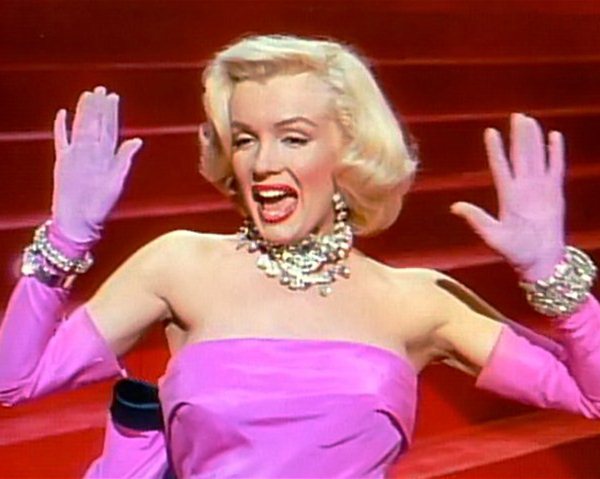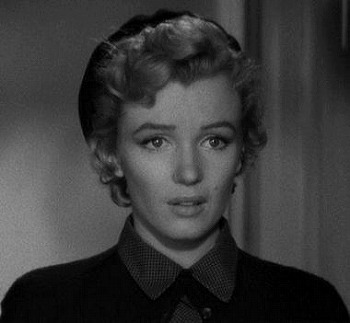 Despite a love of reading and wanting to stretch her acting chops, Monroe's most successful films were considered to be her work in romantic comedies, such as
Gentlemen Prefer Blondes
and
How to Marry a Millionaire
. If you want to see a great darker performance by her I recommend
Don't Bother to Knock
.
"In Hollywood a girl's virtue is much less important than her hair-do. You're judged by how you look, not by what you are. Hollywood's a place where they'll pay you a thousand dollars for a kiss, and fifty cents for your soul. I know, because I turned down the first offer often enough and held out for the fifty cents."-Marilyn Monroe

Marilyn did have a reputation as one of the great sex symbols. While her modeling agency and studios may have initially started this she did her own part, as she knew that it was an important factor in her career. She was actually highly aware of her public image and often had final approval over what photos of her were released publicly. She was also the mastermind behind her nude appearance in her last and unfinished film, Something's Got to Give. She knew that this would generate a huge amount of interest in the film. However she still wrestled with feelings of being used solely for her looks at the same time.

"I'm a failure as a woman. My men expect so much of me, because of the image they've made of me—and that I've made of myself—as a sex symbol. They expect bells to ring and whistles to whistle, but my anatomy is the same as any other woman's and I can't live up to it"-Marilyn Monroe

It's important to note that while Marilyn Monroe was highly sexualized, she herself did not have a fulfilling sex life. She did not have have an orgasm until the last year of her life. She once even told her psychiatrist Dr. Greenson, "Speaking of Oscars, I would win overwhelmingly if the Academy gave an Oscar for faking orgasms. I have done some of my best acting convincing my partners I was in the throes of ecstasy."
"It's better to be unhappy alone than unhappy with someone."-Marilyn Monroe

"I have too many fantasies to be a housewife....I guess I am a fantasy."-Marilyn Monroe

"A girl doesn't need anyone who doesn't need her"-Marilyn Monroe

Monroe was truly a woman who wanted it all. While it's said that her first marriage failed due to her trying to get her career going, she later tried her hand at it twice more. Though both marriages ended in divorce it was not for lack of trying. Marilyn married baseball star Joe DiMaggio in 1954. Theirs seems to be a great romance, even extending past her third divorce. They were still in close contact in her last years. He even had a half dozen red roses delivered to her crypt three times a week for 20 years after her death. She sited "mental cruelty" as the reason for their divorce. It's been said that he could not deal with her sex bomb status. In 1956 she married playwright Arthur Miller. She seems to have been enamored with his mind. Miller wrote her role in The Misfits, which he thought would please her, but actually paints her as a sad version of the hot bimbo stereotype that studios had presented her as for years. They divorced in 1961. It's said that they had a heated marriage and that she may or may not have cheated on him during it.
"The thing I want more than anything else? I want to have children. I used to feel for every child I had, I would adopt another."-Marilyn Monroe

Not only did Monroe try hard to find love she also wanted to be a mother. This was not to be as she had two miscarriages and an ectopic pregnancy during her three marriages.
"She was terrified of meeting people and being judged"-Robert Mitchum on Marilyn Monroe in The Discovery of Marilyn

Marilyn also wanted to get to the root of her own mental health issues. This is why she spent a long time going through psychoanalysis.

Despite her best efforts to work on her issues Marilyn succumbed to the lure of overusing pills and booze as a means to escape her problems.

On August 16, 1962 Marilyn Monroe died from an overdose of barbituates. It is unknown as to whether this was an accidental overdose, a suicide or involved some type of conspiracy.
Ms. Monroe was also opinionated and not afraid to let others know. Much of this advice is incredibly helpful. It has inspired many women and girls for years and will most likely continue to do so. Some of my favorite quotes from her are below.

"No one ever told me I was pretty when I was a little girl. All little girls should be told they're pretty, even if they aren't."

"Imperfection is beauty, madness is genius and it's better to be absolutely ridiculous than absolutely boring."

"I am good, but not an angel. I do sin, but I am not the devil. I am just a small girl in a big world trying to find someone to love."

"Ever notice how 'What the hell' is always the right answer?"

"A wise girl knows her limits, a smart girl knows that she has none."

"I knew I belonged to the public and to the world, not because I was talented or even beautiful, but because I had never belonged to anything or anyone else."
It will come as no surprise to those who know me that Marilyn Monroe has been a huge personal inspiration to me. When I'm going through something personal, for example a breakup or issues with my social anxiety, I have looked to both her quotes and her issues with her mental health to inspire me or at least make me feel less odd.
Plus there is no denying that she had incredible charisma and knew how to present herself. Those qualities have helped me when wearing what I want to express myself and in
my amateur modeling
. I think that it's important to appreciate those who were unique and inspiring even though they had problems of their own.
Just because Marilyn wasn't perfect doesn't mean that she wasn't amazing.