"Think of the children!"
As someone who has worn my share of sexy Halloween costumes; Elvira, a Playboy fairy, and a sexy cop, it may come as a surprise, to some, that I don't always veer that way. Sometimes I go for sweet; Tim Burton's Alice in Wonderland, or Dorothy from The Wizard of Oz.
However what I'm pondering is not if adults should dress sexy for Halloween, it's about the state of children's Halloween costumes. As someone who was born in the early '80s I feel that I had a much tamer childhood than those growing up today. As a young child my costumes were those plastic "dresses" with sweat inducing face mask. My favorite? She-ra!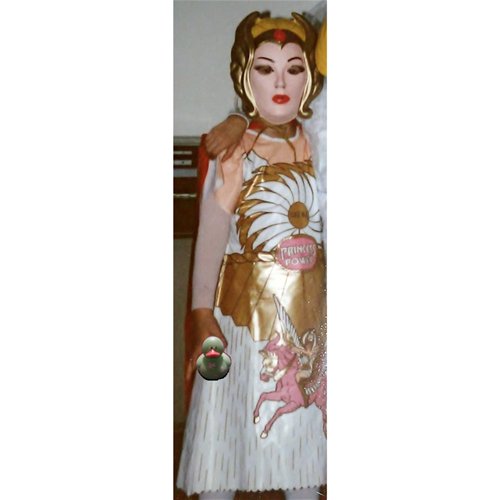 (source:
The Adventures of Lucky Duck
)
As a child I wasn't as flooded with media as children are these days. I wasn't exposed to adult costumes. Our choices at the store, as I've previously mentioned, were not at all sexy. In contrast consider the below, Dark Cheerleader from Kmart. An exposed mi-drift and a short skirt, yes, this is a children's costume. If I had a daughter I definitely wouldn't buy her this.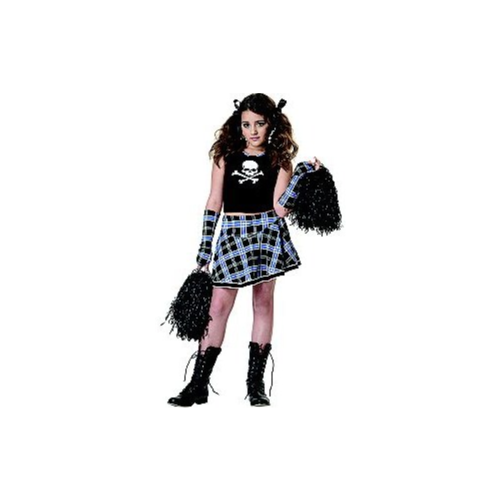 When did I first realize that Halloween costumes could be used to tantalize? I'd say it was when I went trick or treating in 6th grade as a widow (the featured photo). I put my outfit together that year. I was wearing a tight black top that looked witchy to me, since it laced up and a black skirt that the wind kept blowing up. I had several men who I considered to be old men (40+) ask me if I was a hooker. I tried to explain that I wasn't but they didn't really care as they eyed me. It was quite stomach churning. Now I was a young bloomer physically, I had to be about 10 or 11 in this photo but I already had to wear a B cup bra, and at 5'3" was well on my way to what would later be my full height of 5'4". I was with all of the other children who were trick or treating though so you would think it would be pretty obvious that they shouldn't have made those remarks.
You would also think that I would have learned my lesson. However, in Jr. High I was basically fully mature and wore a store bought Halloween costume from the women's section; a maid. It wasn't labeled "sexy maid", it was labeled "French maid". It was also, in my opinion, too short. I naively thought that this was a mistake. As you can guess, it wasn't.
So where would you draw the line if you were a parent? Well, I think that when hormones really start to get going then, yes, I would allow a teen to dress sexy. In fact, there is now an entire subsection of costumes labeled teen. They often seem sexy but not quite as sexy as an adult costume. Maybe they show too much leg, but the chest is often covered. I, most likely, wouldn't argue with my theoretical daughter if she wanted to wear one of those. It does make sense.
However, in these times when children have their own cell phones, access to the net, and sexy characters to look up to how long can they really hold onto any sense of innocence?