Sure, you've got vampires and the standard hot pirate / gladiator costumes but very few real, old-fashioned ghost and monster stories are turn-ons. My standards are notoriously low but even I'm not aroused by rotting zombie flesh, Nosferatu's rat face or the slow hand of Freddy Krueger. Unless you're jumping into someone's arms while watching one of these movies, sexiness and spookiness don't often mix.
Unless, of course, you are having actual sex with an actual ghost.
It's called spectrophilia and some experts say it not only happens, but tales of it go back to the earliest days of storytelling. It's a peculiar concept, even for the most credulous, Fox Mulder-type believer. A key component of any sexual experience would seem to be, after all, a body. Sex does begin with arousal, borne of chemistry, which implies chemicals, which are physical things…then there's the naughty bits that are so helpful in taking it to its joyful conclusion. But all the things ghosts are credited with — from the emotions of rage or possessiveness to the ability to move objects or steal
Carol Ann through the TV
— would seem to require chemistry and physicality. If they don't need bodies for that who's to say they need one to feel you up?
Take Melissa, for example. A Travel Channel show called
Ghostly Lovers,
which you can still see, in part, on Vimeo
details this New Jersey bartender's experience of sensing an unfamiliar energy in her apartment one night and then having physical feelings of heat, energy and being touched when she went to bed (and not by an angel, unless it was
Pygar from Barbarella
). She felt someone holding her arms and, with a racing heart, went through the motions of having sex. She didn't want to believe she was having a paranormal encounter and, after the first time, went to bed wearing multiple layers of clothing and wrapped in her blankets. Eventually curiosity overwhelmed fear and she relaxed into it.
"Once I was accepting of it, I was really into having sex with this entity," she says on the show — mind-blowing, orgasmic sex, mind you. She never got the entity's name or identity, but some of us can say that about flesh and blood people whom we could have asked, had we thought of it, and without the aid of a Ouija board.
Speaking of entities,
The Entity,
a 1982 film starring Barbara Hershey, is probably the most well-known pop culture example of spirit sex, only in that case, it was spirit rape. The story was based on experiences reported by a woman from Culver City named Doris Blither. The website Ghost Theory — A Skeptical Approach to the Paranormal
details Blither's case
, saying that her unstable, abusive background, possible psychic abilities, hostile home environment and her heavy drinking may all have attracted poltergeist activity. Eventually paranormal researchers came to Doris' home including
Dr. Barry Taff
. Taff is a parapsychology expert who investigated the incident in 1974 and says on his website that the case "was not, in my professional opinion, the result of spectral rape, aka spectrophilia, but a rather disturbingly real poltergeist outbreak." An
interview with Doris' son Brian Harris
on
Ghost Theory
found that he differed with Taff on a number of points, but corroborates that the incidents were real.
Melissa's and Doris' experiences are starkly different; one pleasant, one horrible, but both uninvited, begging the question of how we would react to suddenly finding a horny spirit in our beds…and what if we didn't want them there? How could you tell people you were assaulted by a ghost? Could you eventually able to remain calm like Melissa did, if you were suddenly squeezed by unseen hands? I never even liked shaking hands with strangers in church…and isn't it bad enough not knowing what people online really look like, let alone someone under your blankets? Attraction is a mysterious force even among humans — how do you end up attracting a ghost and why?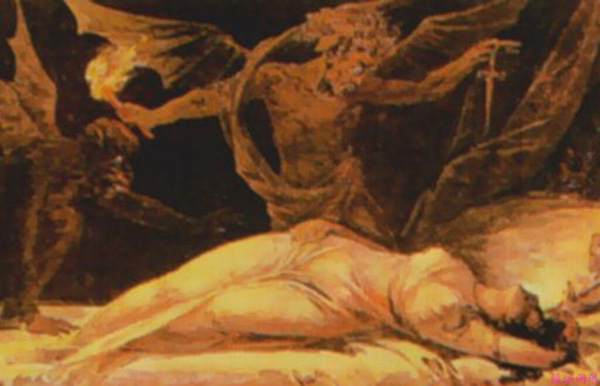 There aren't many people whose jobs I'd like to have but
Rosemary Ellen Guily
is one of them. A paranormal researcher and author of 41 books including exhaustive works like
The Encyclopedia of Ghosts and Spirits,
Rosemary was on a tour of London when I asked her for an email interview explaining a little more about spectrophilia. She wrote back that it's just a small part of "entity sex. There are many entities who reportedly engage in sexual relations with humans."
"Fairies, Djinn, angels, ghosts of the dead, demons, vampires (real ones) and extraterrestrials are just some of the entities reported in sexual encounters." The incubus and succubus, words probably familiar to most horror fans, are "demons that engage in sex."
Rosemary says she does occasionally get reports of such activity, more if she solicits them, but hesitates to make a blanket statement about the nature of these cases because individual circumstances are so different (and isn't each case of love and lust totally unique?).
Rosemary steers me to some information from her book
Talking with the Dead,
with co-author
George Noory
, radio host, in which the pair note that the dead usually deal more in the realms of ideas and our spiritual advancement than in booty calls, but when those worlds do collide it's often in haunted hotels, places with high spirit activity or a home in which a spouse has recently died. People are often embarrassed to talk about the incidents in public.
"There are possible explanations for some of these encounters, such as repressed sexual tension, vivid dreaming, and, in the case of bereavement, grief and longing that gets projected out," the authors say, "but not encounters can be explained by psychology. Everyone reacts differently including one woman who got over the shock and told Rosemary in the book "I would have gone all the way," she said, "except I couldn't find a zipper!"
Psychic Patty Negri says in
Ghostly Lovers
, that you can fend off an unwanted encounter (usually) by just telling the spirit no, by claiming your space. She also notes that in Greek, Roman and Egyptian mythology gods routinely had sex with humans with whom they had children. I'm no expert in these matters but The Virgin Mary got pregnant somehow…might the
Bible
have just left out some of the juicy bits?
It's all pretty fascinating stuff and though I'm not 100 percent convinced about spectrophilia, I like to keep an open mind. Besides, I thought you might not have enough to worry about this Halloween. Now you might.
Pleasant dreams.