Australian-born, Bentley has lived many lives in this one: a young dancer under the tutelage of the old master George Balanchine, she danced with the New York City Ballet for 10 years. An accomplished author, she wrote her first book,
Winter Season: A Dancer's Journal
, at age 22. After a sudden career-ending hip injury, Bentley embraced the writer's vocation full time.
After three notable books published in her new incarnation, Bentley's evolving passion for spontaneous sexual escapades led her to begin writing about her amorous exploits. In longhand, on notepaper, she recorded the delicious details, although she confesses, it was only "a tenth of what it was really like."
Bentley showed the erotic prose to a girlfriend, who termed it "unusual" and "weird," and when finally brought to market, no publisher came forward. That is, until Judith Regan, of Regan Books (an imprint of HarperCollins), took the bold move in 2004, giving the green light to what would become Bentley's
The Surrender: An Erotic Memoir
.
New York City Ballet's production of Serenade: Photo, Paul Kolnik, 2003
Filled with of memorable scenes, such as "sitting on the face of a stagehand," a herky-jerky 10-year marriage, a cunnilingus-expert masseur with a delightful mouth, endless run-ins with "pussy hounds," the "Christian satyr," and the sizzling threesomes with "Ms. Redhead,"
The Surrender
has been excerpted in
Playboy
, published internationally, and is still riding high on bestseller lists in Italy and Brazil. But the heated soul of the book is a clever young lover, "A-Man," who provides Bentley with the magical blend of buggery and sexual submission.
Without remorse, shame or regret, Bentley writes of her awakening: "My transformation, however, was not from bottom to top, but bottom to bottom, from my wretched submission to my blessed sexual submission." It's emancipation through the backdoor of her womanhood.
"Ass-fucking is a great anti-romantic gesture," Bentley says via telephone from her Los Angeles home. "I know it's not politically correct. It's a sense of power within submission, conscious submission, consenting submission. I'm giving up the power by choice. I have a lot of control. You can't give up power unless you have it. Anal sex is very empowering to me."
Of course, there's nothing new about worshipping the shapely backside or indulging in the forbidden act of sodomy. In porn, fans have witnessed fantasy girls such as Vanessa Del Rio, Ginger Lynn, Erica Boyer, Jackie Jacme, Jada Fire, Belladonna, and Sasha Grey take it between the cheeks for years.
In a glowing ode to sodomy, Bentley chronicles her numerous sex miscues with men on the prowl for pussy. "Yes, I called some men 'pussy whores,' because they fall for the trap of the pussies with 'their ready openings and angry owners,'" she explains. "Women have sex when they don't want to. Their pussies are willing and ready. Women lay back and lift their legs for money, fur coats and false love. When I get fucked in the ass, there are no questions. It is the sheer level of trust and intensity."
Asked why anal sex is considered the last sexual taboo, Bentley coolly explains: "The puritans in America think it's not only criminal, but unclean. Europeans have been doing it since the beginning of time. I became a perverted convert for butt fucking. Anal penetration means total surrender, total surrender of your being, total surrender of control. Total surrender of ego. I was such a good girl and to go over to the other side, to get fucked in the ass, it meant I had to let go."
Who was this "A-Man," the young stud who turned her out? "[He] loved it from behind," Bentley says. "He was something special. It was him, his face, his smell, his body. He became what I wanted—my fetish, my obsession. I wanted him every minute of every day. It was like being on a drug. He took me to a sexual place that I never knew. I had a release that I'd never had before."
Bentley further spells out what the sensual awakening meant to her: "Vaginal sex may or may not give most women an orgasm. However, the difference between vaginal orgasm and anal orgasm is that a hard dick in the ass triggers bigger, deeper, and most profound climaxes. Once you get past the fear and pain, pleasure and bliss awaits. Good anal sex can make for a transformative experience."
"Ass is the new pussy" may not qualify as the zeitgeist for the current generation, but acts of heterosexual anal sex are on the rise: One in three women report experiencing it before the age of 24. Men, especially butt-men, crave the curvy, round rears of J-Lo, Nicole "Coco" Austin, Serena Williams, and Kim Kardashian, while TV ads market ass-cheek padding to slender females.
Still, straight-laced critics condemned the relationship between Bentley and A-Man since the couple indulged in sex without any pretensions that the affair went beyond the bedroom, but was instead, indicative of many contemporary romances: hot sexual romps without all the social foreplay. No dating. No dining. No banal meeting in bars. It was about sex and sex alone. When the pair parted abruptly, Bentley admits suffering an emotional meltdown—but the memoir became a bestseller.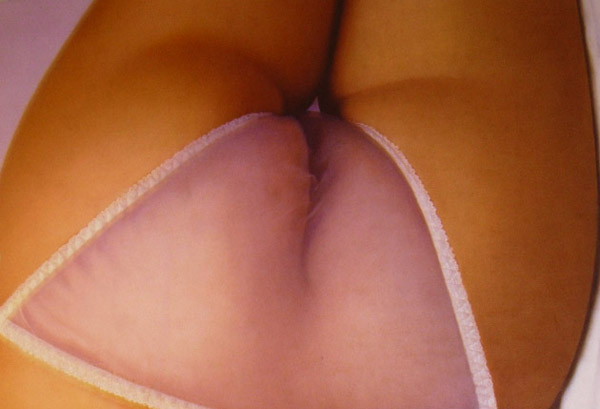 Inside cover, The Surrender
After the initial firestorm of publicity, Bentley resumed writing articles and reviews for
The New York Times Book Review, Los Angeles Times, Rolling Stone, Bookforum, the New Republic, the Wall Street Journal
, and the
New York Review of Books
. (Awarded a 2008 Guggenheim Fellowship, she recently penned her first travel piece for the
Wall Street Journal
on the Grand Royal Mansour hotel in Marrakech, and is currently writing a book on Balanchine's first ballet,
Serenade
.)
While many men warmed to the erotic message of
The Surrender
, the majority of feminists opined that S&M role-play, including sodomy, was an extension of male oppression. Bentley disagrees. "I'm a product of the feminist movement," she proclaims. "I'm a woman whose sexual experience was very unconventional. I'm interested in sex and the freedom, the power it holds. Some feminists detest the themes of the book, submitting and surrender. Butt-sex is an affront to many modern feminists, but feminism gave me the freedom to submit. I'm a liberated woman.
"I celebrate what I've done," she concludes. "I never considered it shameful. It was extremely beautiful. It transformed me into a happy girl out of bedroom, and I'm grateful for that."