Icon Brands Velvet plush fulfiller - Butt plug from Icon Brands

Product Details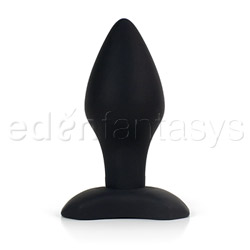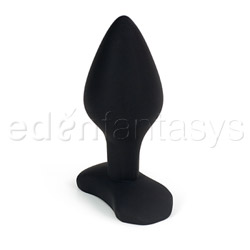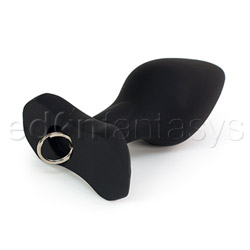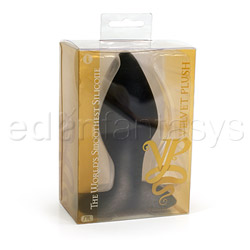 Summary:
The Velvet Plush Fulfiller does live up to its name: it will fulfill. This velvety silicone plug has a wickedly smooth feel, and the fact it can be sterilized makes it sharable. So long as you are prepared for an advanced experience and warm up, this can be for you.
Pros:
Silicone, pull tab, stays in place.
Cons:
Poor advice on packaging, advanced users only.
Best use:
The Velvet Plush Fulfiller is a butt plug designed for safe anal play. Its flared base allows for hands free wear once in place, without fear of losing the toy. It could also be inserted vaginally if desired. It can be used in addition to other toys, such as clitoral vibrators and masturbators. If using between partners, it is best to use a condom over the plug or sanitize it by wiping the toy with a bleach solution. The Velvet Plush Fulfiller can be used and enjoyed no matter your gender or orientation.

While not discreet in appearance, the Velvet Plush Fulfiller does not make a sound. So long as you can hide it, you can use this in a dorm without detection. If you have roommates, you can use this plug in the shower since it is waterproof. Overall, this is not a plug designed for beginners or even those who are a bit beyond beginners. This toy is for advanced users. Warm up toys and plenty of lubricant will be needed to safely enjoy the Velvet Plush Fulfiller.
Material / Texture:

The Velvet Plush Fulfiller is made of a good grade of silicone. There is a seam that runs down the middle of the toy showing how it was molded, but it cannot be felt. Its only textures come from the change in shape. Still, the toy is velvety smooth like its name. Despite what the packaging says, use plenty of water based lubricant when inserting this toy.

The Velvet Plush Fulfiller is nonporous, so bacteria cannot thrive inside the toy. The Plush Fulfiller is also very body safe for those who have latex and similar allergies. It is not designed to be realistic. It is basic in this respect. The silicone is solid, but if you squeeze it you can feel the plush it has. The head of the toy is firm enough to aid in insertion. The neck is more flexible. Again, this plug is for advanced users. While the shape aids in insertion, this toy is not for the faint of heart.

There is no overt odor or taste to this toy.

Material:

Silicone

Material safety

Texture:

Velvety

Safety features:

Food-grade material / Hypo-allergenic / Latex free / Non-porous / Phthalates free

Design / Shape / Size:

The Velvet Plush Fulfiller is shaped like a torpedo. It has a gently tapered point that fans out to a large circumference of over six inches. This toy is above average in size. It is intimidating in both length and width. In order to use the Fulfiller successfully, you will need to insert one or more warm up toys. This is not a spur of the moment toy. It will take at least 15 to 20 minutes (or more) to warm up for this toy. There are two smaller sizes for this line of toys, so these may be good to start with.

The Velvet Plush Fulfiller has no moving parts or motors, so it is discreet to travel with. Just cover it in a pouch or wrap it in a towel, and the Fulfiller can fit in a medium size purse or luggage bag. If you are more daring, you can wear this toy in public and you won't be detected since it is silent. To maintain discretion, don't leave this toy in plain sight. It is obviously a sex toy.

Color:

Black

Length:

5"

Insertable length:

4 1/2"

Circumference:

6 1/4"

Diameter:

1 3/4"

Weight:

0.4 lb

Performance:

Once in, the Velvet Plush Fulfiller does a good job of staying in place. This is because the neck thins out enough to let the tapered portion stay comfortably inside. Removal is also made easier with the metal pull ring at the base of the toy. The metal ring can rest snugly in the hole at the bottom of the toy when not in use. The ring is large enough for the average index finger to slide through it.

It is great that the Velvet Plush Fulfiller can be sterilized and shared between partners. This makes it an option for those interested in group play. The Fulfiller does have a base, but it's elongated. This means it can fit more comfortably during long term wear. However, it won't make it the best for a harness. It might be able to work for some harnesses, but it won't be very secure in some standard O-ring harnesses.

The Velvet Plush Fulfiller performs well for hands-free wear once it is in. This leave the hands free for other toys or to please a partner. It can be used vaginally, and the tapered point may be able to stimulate the G-spot. For the more experienced, a couple might be able to perform double penetration using the Fulfiller and a vaginal toy or penis.

Special Features:

Ergonomically shaped
Flared base
Waterproof

Care and Maintenance:

Care for the Velvet Plush Fulfiller is simple. Soap and water, toy cleaner, or wipes work like a charm. To sterilize the toy, you can wipe it down with a bleach solution. Because it is silicone, only use water based lubricant to maintain the coating on the toy. Even though it is made of silicone, the Fulfiller does not collect much lint.

Once the toy is clean and dry, it can be stored in a drawer or in your general toy storage. Just be sure to keep it from touching jelly, rubber, and TPR toys, since they can compromise the silicone coating.

Care and cleaning:

Soap and water

Packaging:

The packaging is a simple, clear plastic box. The packaging is not discreet, since the toy is easily visible. There are not explicit instructions, but the text on the back of the box is exaggerated/inaccurate. It states that the velvet is so smooth that little lube is needed and that the plug can be used by itself. For anal use, this is not true. There is no such thing as too much lube for anal toys, especially those on the larger side.

The packaging is not really designed to be reused. This could make an interesting gift.

Experience:

The overall shape of this plug is very standard. The good thing is that the neck is long enough to keep the toy from coming out. The metal pull ring is a nice touch to aid in removal. During insertion, do keep a firm hold on the toy. Once you pass the widest part of the toy, it has a tendency of sucking in. If you are not ready for that, just keep a good hold on the toy. Always remain relaxed when engaging in anal play and use plenty of lubricant.