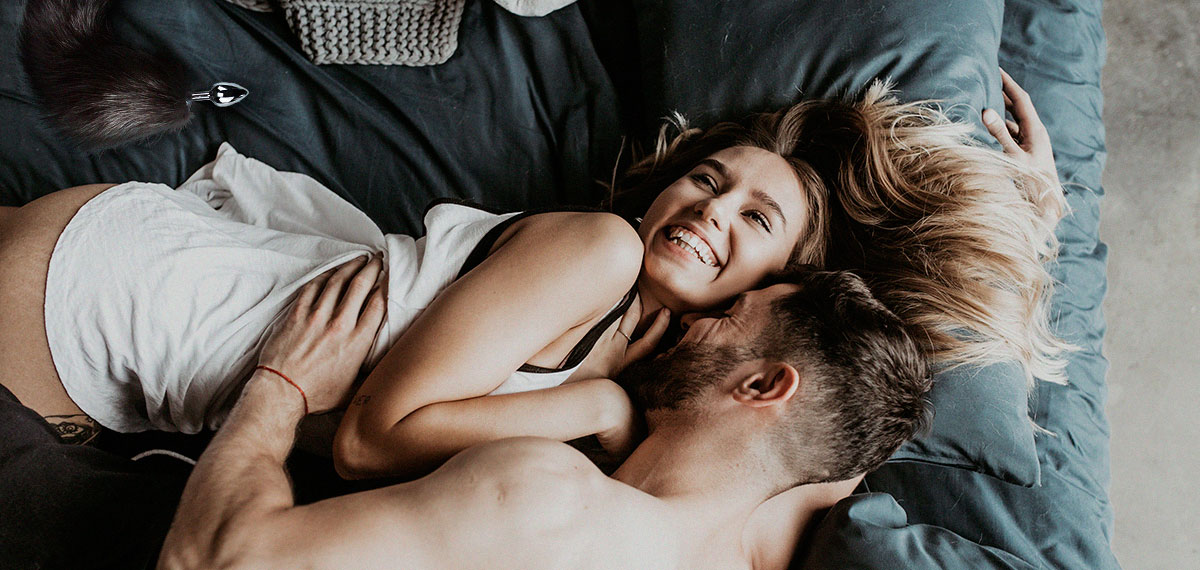 Top 10 Anal Sex Positions Better With Sex Toys
The wildest and the most blissful ASSgasms come to those who understand that anal sex is all about the positions. Our list of 10 ASSgasm-inducing sex moves will teach you how to take your ass play to the next level and show you which sex toys will make your backdoor session truly ASStonishing.
Spooning For Anal
Whether you're a backdoor newbie or an old hand, you can up your anal pleasure quotient with this backdoor variation of Spooning that gives both partners a range of movement and leaves his hands free to explore her body, stimulate her clitoris, or play with her nipples. To make the position even more blissful for her, indulge her clit with the orgasm-inducing oral-like suction of a clitoral stimulator.
Beginner's Bend With Booty
Similar to Spooning, this position allows for much deeper penetration. That said - as with any anal sex position - take care to use PLENTY of lube! In this position, he can effortlessly tap into any of her erogenous zones, treating her to a hot orgasmic mix of pleasures. It also offers near-limitless possibilities for making things even more blissful with the addition of playthings.
One of the hottest enhancements is stimulating her breasts with sexy silicone nipple toys. Sweet nip teasers can be used directly on her nipples or applied down below for an extra jolt of clit joy.
Backdoor Cowgirl
Cowgirl Anal gives the receiver full control over the speed and depth of penetration, allowing her to go from a sensual, relaxed tempo to a more passionate frenzy as the mood takes her - while leaving her hands free to play with her nipples or clit. A wand massager, with its intense vibrations, is just the toy to deliver the kind of powerful added magic touch that will cast a spell of orgasmic ecstasy on her clit and shoot his level of pleasure over the moon.
Doggy Style Goes Greek
Classical Doggy Style is one of the best sex positions for anal play: It allows for a deep yet controlled entry and simultaneously offers him thrilling eye-candy to savor. For a more blissful session, stimulate her clit with a vibrating egg, or slip the egg inside and enjoy the deeply satisfying sensation of delightful double penetration.
Anal Lap Dance
A lap dance is another great position for anal sex that puts the receiver in full control and leaves hands completely free to touch and please. To step up the backdoor choreography, try adding buzz with a fingertip vibrator - or two! The result will be mind-blowing orgasms.
Face To Face Anal Sex
This variation of the Cowgirl sex position is one of the most intimate for anal sex. You can fully enjoy both the closeness and the intense pleasure of anal play. The most exciting thing about Face-to-Face is that it gives her a wonderful chance to enjoy simultaneous C- and G-spot stimulation. A C-shaped vibrator will significantly increase the intensity of her orgasms, blending C- and G-spot pleasure in one mighty explosion.
The Standing Booty Slide
The Standing Booty Slide definitely may not be suitable for beginners, but it certainly screams passion and desire. She places her hands on a wall for support as he thrusts from behind, holding her hips and controlling her movements. Sliding in a G-spot vibe at the crucial pre-orgasmic moment will offer a real treat for both lovers as the extra G-spot stimulation and sweet vibrations are sure to lead to shared orgasmic bliss.
Solo Double Penetration
Do you feel a bit awkward about double penetration but still fantasize about it? If you dream of having all your sweet spots getting thoroughly buzzed until your screaming with pleasure but aren't ready to share your booty, a solo DP experience will allow you to easily achieve one of the most fulfilling orgasms of your life all on your own, anytime you desire.
Pegging The Cowboy
If you want to switch roles to experience a whole new range of sensations, pegging is the way to go. The Cowboy gives him control over the speed and intensity of the movements and also leaves his hand free to stroke his shaft. It's a win-win pegging position for both partners. He'll experience the most intense P-spot orgasm of his life, while she enjoys her G-spot orgasms to the max!
Solo Prostate Bliss
Pleasuring your prostate solo for the first time doesn't have to be confusing or intimidating. That's because this particular anal sex position grants easier access to the P-Spot and leaves your hands free for extra added extra stimulation that will deliver the most amazingly intense orgasm you've ever experienced! For the ultimate in P-erfect prostate play, dive into our foolproof P-spot guide.