Electro-Stimulation For Beginners
Remember when you used a vibrator for the first time? It felt so unique and exciting, right? If you want to experience the thrill of newness again, consider electro-stimulation as the matter-of-course next step. If you think it's too kinky or dangerous than you should know that using the power of electrical impulses will get you unique pleasure that no traditional vibrator can give - and it's absolutely safe if you choose the right gizmos and follow all the safety rules. Are you ready to tingle your nerves with shocking ecstasy? Let's learn the ABC of E-stim play and explore how to enjoy the brightest electro-orgasms.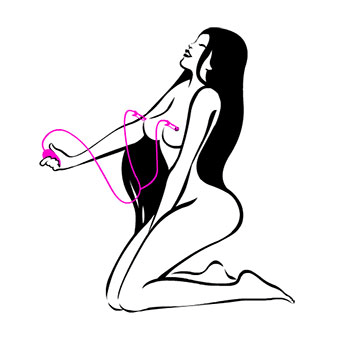 E-stim is a unique form of stimulation that provides special sensations, which is hard to get with usual sex toys. In the core of the successful performance of E-stim toys lays specially designed electrical current for safe erotic stimulation. By teasing the nerve endings with electrical pulses, E-stim toys make your muscles involuntarily clench, what your brain interprets as a strong erotic signal. Such a profound stimulation is pervading the nerve system and makes you feel incredible euphoria.
Depending on the device and the intensity level set, e-stim toys can be used for massage, simple muscle relaxation or erotic stimulation. It may be worth saying that even though E-stim fits into BDSM, it is not exclusively for BDSM lifestyle. In fact, it can be enjoyed by a much wider audience.
E-stim may introduce you to a fast and heavy climax, or it can steadily maintain a slowly spreading tingling sensation that will keep you euphoric for hours ahead. For many people, E-stim play is the ticket to hands-free orgasms due to the intense level of stimulation it provides.
You can add the new layers of intimacy to your couple play, entrusting the partner to control the electric impulses they send to your body via a special E-stim controller. E-stim toys also allow men to maintain their erection longer and mastering the art of "edging" - a technique that lets men balance on the verge of an orgasm for as long as possible.
The range of sensations that electro play offers is incredible and depends on the toy and mode of stimulation you choose via a controller. It can be mild and felt like a gentle tingling and teasing or intense enough to make you feel tantalizing pleasurable pain. The first time you experiment with a new E-stim toy, always start with the lowest power mode, to understand how it feels and to give your body time to get used to this new sensation.
4

What Are Best Electro Stimulation Sex Toys For Beginners?
Electro Stim Pads
Soft gel pads are the most beginner-friendly and easiest to use E-stim toys - perfect for making your first steps into the world of electrosex pleasure. To use them just stick the pads to the skin. E-stim pads have the perfect shape to experiment with - apply them to the buttocks, thighs or any other body parts, and find where it feels more delightful.
E-play Massage Gloves
Whether you are a beginner in E-stim play or not, such E-stim gloves are a good investment for every couple which wants to spice the things up. Electric massage emits pleasurable tingles to anything you put your hands on. Try them on spanking your partner, give them exciting electro-massage or play solo - the possibilities to use such gloves are almost limitless.
E-stim Nipple Toys
While simple nipple clamps arouse nipple zone by restricting the blood flow, electro clamps provide much more intense stimulation, making your nipples super sensitive and erect - if the nipplegasm is still in your wishlist, it's your chance to experience it while wearing E-stim nipple clamps.
Love Rings
Tiny and portable cock rings have all the benefits that the traditional cock rings offer, excepting that they provide an additional boost to your arousal making the sensitive muscles of erogenous zones contracting. A steady level of arousal and strong stamina are guaranteed.
5

How Should I Use E-stim?
Keep The Attachments Dry
When connecting to the device, ensure that attachments are dry and the power is off (The toys need to be cleaned and thoroughly dried before first and after each use).
Use Special Lube
Use lubrication - specially designed E-stim lube or any water-based gel will work, as dry skin won't let you feel any effect at all. Lubrication will conduct the electricity, causing it to spread evenly across an area on your body.
Care For Your Fingers
As fingers and palms have more nerve endings, you will feel shocks there more intensely than on other areas, so if you are not ready to expose fingers to electric discharge, keep them away.
Make A Circuit
If the toy has multiple attachments, for better result apply all of them to the body to make a circuit, unless the instruction states otherwise.
The E-toys are the safest way to enjoy electro-stimulation if you follow the general guidelines:
Don't use E-stim toys if you have underlying heart issues; for instance, a pacemaker, congestive heart failure, or any other damage to the heart.
Don't use electro-stimulation devices while pregnant.
Don't use E-stim attachments on broken, inflamed or irritated skin.
Don't use E-stim kits when feeling fatigued, dehydrated or not at your best.
Don't use piercings as electrodes.
Don't use E-stim equipment in or near water.