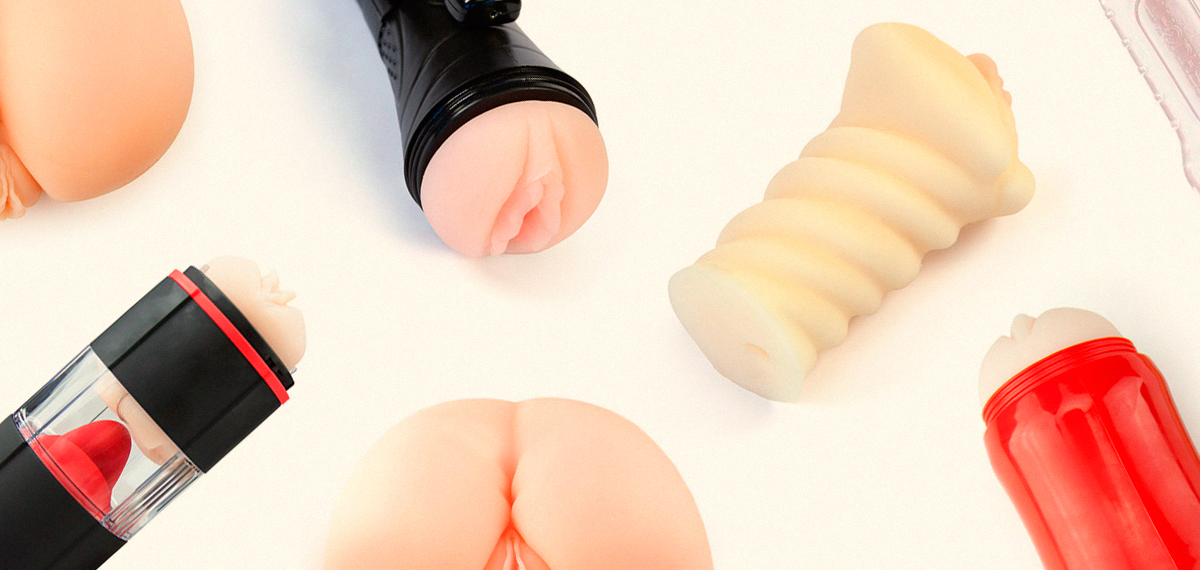 How To Choose The Best Realistic Masturbator For Your Me-Time
With a silky smooth touch of hyper-realistic skin, with remarkable detailing and many seductive angles, realistic vaginas are as close to the real thing as you can get - and sometimes even better. Check out our super hot solutions for your me-time that will never feel lonely anymore.
Life-like Vagina For Missionary
If you're a fan of classics, nothing will suit your taste better than these stunning babes. All the comfort and the tenderness of your "motion of the ocean" can be given to these delicious realistic pussies, and they will take it all. To enjoy effortless thrusting in this position, choose a heavier toy to easily fixate it on the bed and make sure that both orifices of masturbator are properly angled to the top to allow you easy access for deep penetration.
Realistic Masturbator For Doggy Style
One of the most stimulating sex positions out there, now doggy style doesn't have to be only a couple's play treat. The gorgeous realistic vaginas allow you to experience the intensity of the angle and the piercing beauty of thrusting from the back - as close to the real thing as possible. Spank it, give it all the business - this seductive shape with provocatively exposed butt cheeks is designed for you to grab it tight for more intense, fast, rough motions.
2

What Makes Realistic V-Jay-Jays So Good?
Two orifices
Tight anal orifice for an exciting backdoor session or a promisingly open vaginal hole - which one sounds more exciting? We vote both! Majority of molds traditionally offer two openings - anal and vaginal - with textures and tightness that significantly differ, making the experience as authentic and special as it can be.
Texture
If someone says that all vaginas feel the same, feel free to laugh at them - obviously, they've never tried out a good kind of a realistic masturbator. The range of inner textures and sensations out there is so mind-blowing, it will leave you speechless. Tickling, swirling, nubbed, ribbed, mixed - any kind of teasing sensation you can imagine - realistic vaginas pack them.
Vibration
Besides having all the advantages of sex you would have IRL, realistic masturbators have something else - one little upgrade that can hardly be beaten. We're talking vibration, of course - one little bullet in the body of your sex toy can make a world of difference, treating you to orgasms of cosmic proportions. Switch vibrations, experiment with the speed and intensity as much you like - just turn the button on and let the vibrations take you to the moon and back.
Hands-free
Great solo time means you leave your hands for pleasure, not for work. Realistic masturbators are wisely made so that you could savor your orgasms absolutely hands-free - just put your realistic pussy firmly on the table or any other sturdy surface you prefer and go to the pound town.
3

What Life-like Sleeves' Material Feels Best?
There are plenty materials in realistic masturbators - phthalate-free PVC, thermoplastic rubber, skin-like, and silicone. And all of them feel fantastic. But if you really want to choose, opt for safety - while all four are harmless to your body and non-toxic, silicone is most hygienic and easiest to clean. However, if you want to get the feel as close to the real skin as possible, go for skin-like materials. They require some special care, but it is so dang worth it.
4

Is There A Right Realistic Mold Size?
When choosing the right mold size, decide what best suits your lifestyle. Keep in mind that some masturbators are of life-like proportions and therefore are hardly discreet. Such models are a good investment if you live alone or have enough room to store this babe. Otherwise, opt for small travel-friendly models 4'-6' inches deep that can easily hide in your pocket.
5

How To Make Them Even More Seductive?
Warm Her Up
Hold the toy in warm water for 15-30 minutes. The material is very receptive to temperature changes, so your experience will be much more welcoming.
Set The Mood
Do whatever gets you in the mood. Turn on your favorite adult movie, go through some naughty pictures - your session will be more exciting when lit up by your fantasies.
Lube Up
To make the penetration smooth and slick, and to enhance and diversify your sensations, make sure you use a lubricant. Choose a warming or a tingling lube for an ampler feel.