Guide To Temperature Play
Would you like to "spice up" your lovemaking? Then the temperature play is your cup of tea. Or ice tea? Get creative, follow the simple tips of our savvy guide, and experience with different degrees of passion with the coolest glass and metal sex toys.
Cool Temperature Play
Why Use Cooled Down Sex Toys?
Cooled sensations are cool, huh? Especially when you're hot and bothered, a fresh bite feels like an erotic charge sent through your body. Nerve endings become ultra awake, goosebumps add a thrill, and sensations become crispy. Also, a brilliant way to blow off some steam between the rounds, to regain that fresh perception.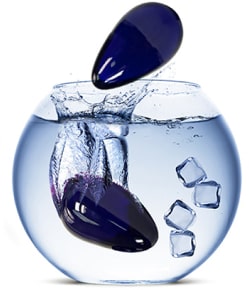 How To Cool Down A Toy?
Take a bowl large enough to fit your gizmo.
Fill it with cold water, add ice cubes into the water if you want it colder.
Put your toy in the bowl and wait for 10-15 minutes.
Test your cooled toy on forearm before using it.
Remember
Don't ever use the freezer to cool off your toys. When too cold, it can either be damaged itself or harm your skin.
Warm Temperature Play
Why Use Warmed-up Sex Toys?
Hot. Hotter. The hottest. The filling of warmth makes us relaxed - and aroused. A warm sex toy can draw more blood to the spurred area, engorging it, feeling with aching pleasure. Temperature play with warmed-up sex toys is a gateway to instant arousal and a heatwave of orgasms.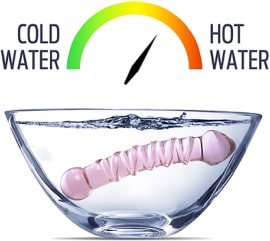 How To Warm Up A Toy?
Take a bowl large enough to fit your toy.
Fill a bowl with warm water that is not too hot.
Place your toy into the water for about 10 minutes.
Test it on your forearm before using it.
Remember
Avoid warming up your toys with boiling water - it's the opposite of pleasure. Don't warm them near the open fire - those are not marshmallows, and intense heating can lead to irreparable damage.
How To Choose A Toy For Temperature Play
Put The Words "BDSM" And "Temperature Play" Together
Temperature Games With Toys With High-Tech Features
Warming Toys. Today, manufacturers let you enjoy the warmth of added arousal without actually putting your toy in warm water or involving fire into your game. There are products that have an amazingly realistic heating feature. Usually heating up to around 110°F, these toys either heat themselves up or aim the heat at your sweetest spots.
Heating massagers for outer play make for ridiculously good sensations during, well, massage, bringing your orgasm out from deep within your body. Gently applying heat on your clit and nips - and wherever you want to put it - it aggravates your sensations. These heating wands are way more effective at easing the soreness in your muscles and, combined with their classic power, the heat kicks in for an orgasm so big you can't even.
Heating masturbators engulf your shaft with seductive heat as you thrust inside, making the inner tunnel feel super real - and super honry and ready for you.
Heating prostate massagers dive inside your booty to bring warming arousal between your buns - it's relaxing, which is always a bonus during anal penetration - and incredibly orgasmic, virtually speeding up the sweet release by prepping the muscles with warmth.