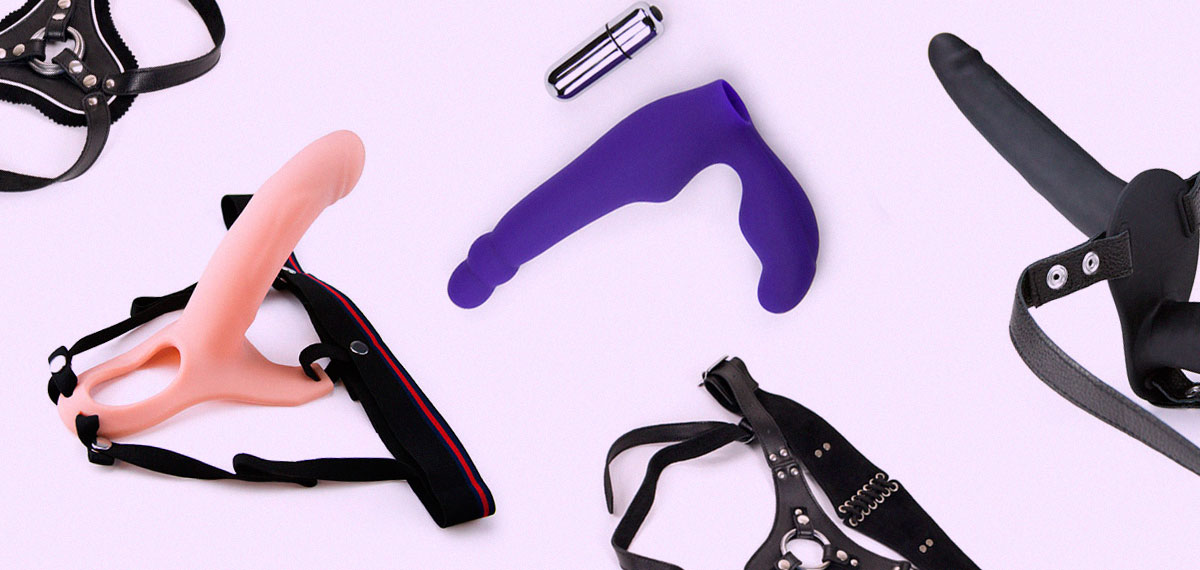 How To Choose The Best Dildo Harness
Dildo harness lets you enjoy all the fun you would get with the real penis and even takes it one step further on occasion. Want to indulge your partner in pegging or have a sensual girl-on-girl love session? Pick a good harness and go straight ahead. Looking to enjoy all the advantages of a rock-hard shaft or try double penetration? Again, place your bet on the right harness.
The possibilities of using this fashionable sex accessory are limitless, so you'll never regret investing your time in choosing a good model. Ready to discover all the ins and outs of picking a harness for unlimited fun? Then buckle up and keep reading this ABC guide to dildo harness.
1

What Is A Strap-on Harness?
In short, dildo harnesses are devices designed to secure a dildo to the harness wearer to enable penetration. There are countless variations on the types of harnesses and ways to use them. There are models created to fit well on the female body, there are models for wearing by men, but what is always №1 priority is to feel comfortable while you are wearing your harness. Choosing the model that perfectly fits you is very important. After all, if the harness sits well around the wearer's hips it allows having better control over the dildo during your session and you can focus on your pleasure, not on technical performance.
2

Why Should I Use A Strap-on Harness?
Pegging. Strap-on offers a unique way to explore the erotic power of gender-bending during pegging - a sexual practice in which a woman penetrates a man's anus with a strap-on dildo. Explore this guide to learn how to peg. By wearing such a harness, she can take on the role of a male, effortlessly thrusting her hips during a session in various positions. While she is enjoying the new role, he is getting euphoric pleasure from thorough spur of his P-spot.
Bigger & better hard-ons. Men can indulge their partner with a larger and harder shaft by wearing strap-ons, even if their erection is not very hard at the moment. Want to make the receiver scream of delight with super-strong and vigorous thrusting? Strap-on harness is here to embody your desires.
DP experience. With a harness, you can easily bring to life the fantasy of blissful fullness that only hot double penetration delivers. Just decide which of her two sweet holes will get the strap-on dildo shaft, and which will be penetrated with your own penis.
Major turn-on. The mere sight of the fully erect, big penis is an enormous turn-on and can make you both go wild. By exploring the new heights of pleasure you both will strengthen your bond as a couple and will fill your relationships with excitement, playfulness, and passion.
Hands-free play. Using a harness, you can enjoy all the benefits absolutely hands-free, leaving both your hands for caressing of your or your partner's erogenous zones.
3

How To Introduce It To Your Partner?
When you want to invite your partner to play with a strap-on harness, the most obvious thing is to start with an honest and open conversation. Keep in mind that they may be absolutely unfamiliar with the topic. Before you bring up a dialog, it is a good idea to gather more information so that you can seduce them describing all the pleasure you can get with a harness.
4

Best Strap-on Harness Systems
The O ring
This is the piece that secures the dildo to the harness and sets the parameters for the width of the dong you can use. Generally, you won't have to worry about its construction, but if you plan on using large or heavy strap-ons you'll want an O ring that's made out of solid metal. In almost all harnesses the O-ring is attached via straps, and this construction allows you to use different sized O-rings and thus different sized dildos. Such replaceable O-rings is your thing if you are not planning on sticking with a particular dildo size.
Strap-on adventure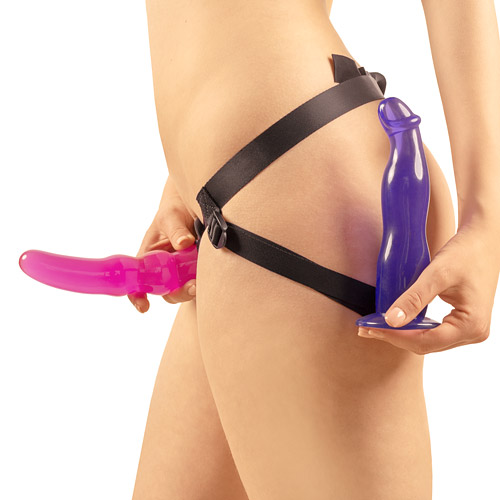 Locking systems
Some harnesses come with the locking system which fastens compatible dildos to the harness. One of the most popular locking systems is Vac-U-Lock - it offers a solid conjoining piece that connects the harness to the dildo. The system provides a firm and secure connection making you feel as though strap-on dildo is a natural part of your body. One thing you should keep in mind is that with such a system you will be limited to only compatible dildos. There are, however, extensive lists of compatible harnesses and strap-ons in a wide range of varieties and prices.
O-rider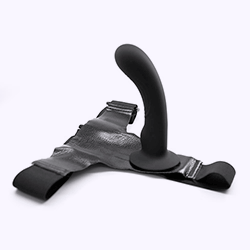 5

Best Strap-on Harness Styles
Thong-style Harness
One-strap (thong-style): this type of harness is built just like a G-string, i.e. a single strap runs between the legs. This is a surprisingly stable design, and you want a harness that will support a dildo without sliding around; a strap-on that stays in place looks more realistic and that authenticity will give your role-playing a great boost. Many women also enjoy the friction that a strap running down the middle brings and will even wear them on everyday occasions.
Ladylove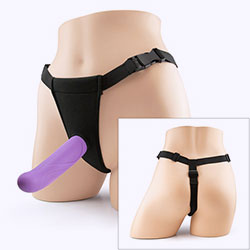 Two-strap Harness
The two-strap harness, as its name suggests, goes in 2 straps that lay around the genitals and leave the crotch excitingly exposed. This unique design provides easier access to erogenous zones and gives more freedom for their stimulation. Two-strap model is a good choice for beginners as it provides more stability when properly adjusted.
G-surf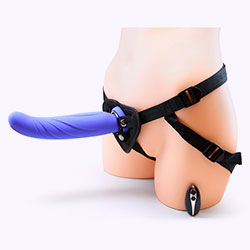 Underwear Harness
This is the most straightforward and easy-to-use style of a strap-on harness. Designed like underwear, such harnesses come in different models. The advantage of such harness is that it doesn't have any buckles or straps - you just slip them on as you would do with any of your panties. Though this model is not adjustable, it gives a decent level of comfort and doesn't look intimidating.
Packer Gear brief harness
Packer Gear brief harness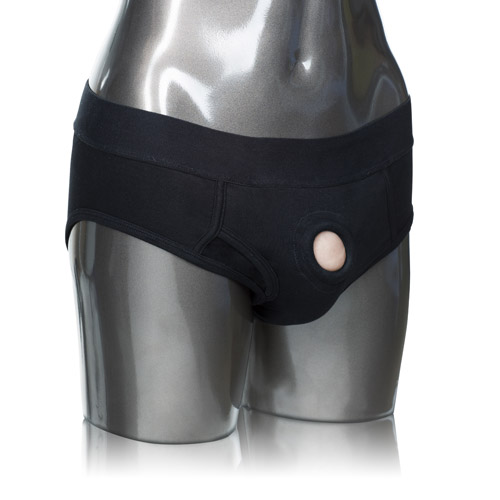 Natural Or Faux Leather
As far as durability, quality and comfort are concerned, you can't beat leather; Its reputation in all B&D and S&M acts is well deserved, and the cost is generally proportional. That's because besides looking absolutely sexy, it also achieves two main goals: it's comfortable and secure (as long as the fit is right.) In addition, it also molds to the shape of the wearer over time and has an organic feel. One easily surmountable obstacle leather products present is that they have to be hand-washed, preferably with commercial toy cleaner or antibacterial soap.
Wide back vegan harness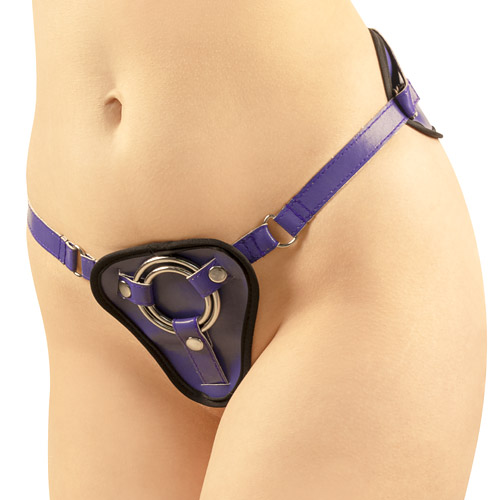 Fabric And Nylon Webbing
Fabric harnesses usually feature nylon webbing straps with front and back pieces made from velvet, polyester and other materials. Fabric harnesses are usually less expensive than leather ones but that doesn't necessarily mean they'll be less secure. A well-fitting harness of any material will stay in place and won't slide around. Fabric's largest advantage is probably that it's washable, making it hygienically superior. So if you find one you like, go for it.
Soft touch harness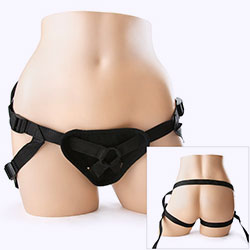 7

The Right Size Of A Harness
Two factors you should take into account when choosing a strap-on harness - your waist size and how high you are going to wear it on your hips. A comfortable harness is crucial to your enjoyment and sexual satisfaction, and not all harnesses will fit you the way you like. Leather dildo harnesses are generally adjustable to smaller waists sizes (up to 40-44") than those of other materials, and other harnesses can measure all the way up to 68".
If you have a preference for how high or low to wear a harness make sure you get one with an adjustable crotch strap as well. Different harness fits allow different uses of leverage, and that preference varies from person to person, but the most important thing is to have a secure fit.
| XXS (0) | XS (2) | XS (4) |
| --- | --- | --- |
| 23.5 | 24.5 | 25.5 |
| 34 | 35 | 36 |
| S (6) | S (8) | M (10) |
| --- | --- | --- |
| 26.5 | 27.5 | 28.5 |
| 37 | 38 | 39 |
| M (12) | L (14) | L (16) |
| --- | --- | --- |
| 30 | 31.5 | 33 |
| 40.5 | 42 | 43.5 |
| XL (18) | XL (20) |
| --- | --- |
| 35 | 37 |
| 45.5 | 47.5 |
8

Tips For Picking Your First Harness
Take your time. Choosing and using your first harness with little to no experience in the matter, can take time for practice. Take it easy and enjoy the process. As you accumulate more experience, you will become an ace about what is better for your body and what feels great for your partner. The more you play with the harness, the more pleasure you get.
Consider comfort. Comfort and adjustability are important for a harness, and it is especially important when you are making your first steps. Look for a model without sharp edges on the straps and with adjustments on all of the straps. Make sure to pick an adjustable harness made out of soft comfortable material - leather or nylon would make a perfect choice.
Ensure variety. Some harnesses can be used with a variety of dildo sizes, while other harnesses can only be used with specific dildo sizes. Finding out that the dildo doesn't fit the harness is a huge turn-off, so always make sure the harness you're buying is compatible with a strap-on dildo.