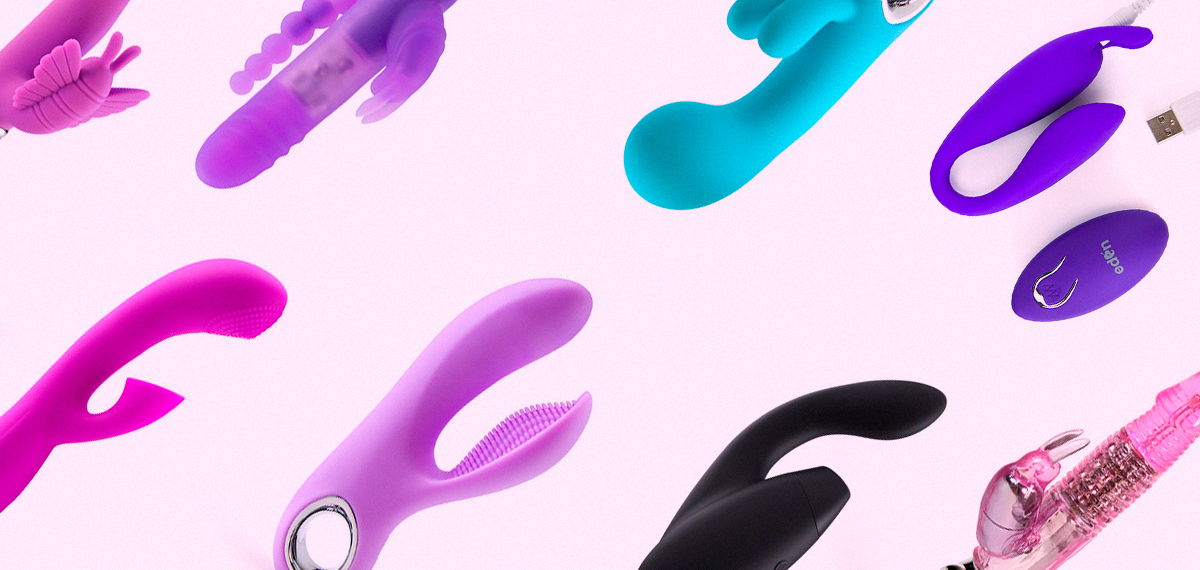 How To Choose And How To Use
A Rabbit Vibrator
Rabbit vibrators have revolutionized the idea of an orgasm, making thousands of women happier. Two powerful motors in the shaft and in the clitoral attachment are always on the watch for the most stellar orgasm. Learn how to choose your perfect rabbit vibrator, discover all the astonishing functions and features you should look into for the best experience. Rest assured - this guide will even teach you how to use a rabbit vibrator for maximum pleasure. So hop in, bunny!
While choosing an orgasmic bunny, it's vital to look at the size first. The measurements vary dramatically, from extra big to super discreet. Rabbit vibrators tend to be quite girthy, so a beginner should be mindful of that. The same goes for frequent travelers - discreet rabbits are the perfect baggage stuffers.
2

Plug In Rechargeable Rabbit Vibrators
If you're ready to splurge a bit, rechargeable vibrators would be an A-list choice. They rid you of all the fuss with batteries and wires. Plus, these lavish toys hold their charge much longer, so you can use these rabbit vibrators without fear of being abruptly paused in the middle of the heat.
3

Dive In With Waterproof Rabbits
Love taking your love games to the water? No matter what is it - shower, tub, pool or ocean - there are rabbit vibrators that would gladly take a dip with you. Made from luxurious materials, rabbits withstand water admirably, bringing you a total splash of pleasure.
4

Look Into Advanced Functions
First, there are multiple vibration patterns and intensity levels in rabbit vibes that could take you on an erotic roller-coaster. Then there are rotating beads, rotating power rods, thrusting motions, "come-hither" motions, oral-like stimulation, warming sensations - those bunnies and their special features are just an all-you-can-eat orgasmic buffet, so go ahead and choose what sounds the most arousing.
5

Double The Bet With Dual Vibration Rabbits
If you are really on to a hunt for a stellar blended orgasm, this is your hit. Dual rabbit vibrators pack two robust motors - on for the main shaft, and one for the clit attachment. These wild love machines spread vibrations both inside and out your hottest zones, delivering an ultra-intense orgasm.
6

Crave more? Opt For Triple Rabbit Vibrators
If your lust in insatiable and you always want more, more, more - triple stimulation rabbit vibrators are your cup of tea. With clitoral, vaginal and anal spur assembled, you'll be so packed with pleasure you might explode with orgasms in mere minutes.
7

How To Use Your Perfect Rabbit Vibrator
Decide on whether you want a long solo flight or a quickie - intensity you pick depends on it.
Make sure you have fresh batteries or your rabbit is fully charged - you don't want any disappointments in the heat of the moment.
Apply plenty of lube on your toy and yourself. Be mindful of what lube you use - silicone based lubricant can heavily harm your premium silicone bunny.
Warm up by applying vibrations to your clit first. Start by light touching, then press and release, do the circle motion - anything you would typically do by hand.
Start inserting the vibrator's shaft slowly, then pull out again - let your body get used to the strong vibration and the thick shaft.
Once the shaft is in, you can either relax and let the magic functions of the rabbit vibrator do the miracle work, or move slightly to thrust and aim the G-spot.
Get the most fantas-mic orgasm of your sex life.
Repeat.