How I Made My Sex Romantic: Learn My 6 Go - To Moves
My husband and I had been married for just over 10 years when I realized something was missing from our love life. Don't get me wrong! Emotionally and physically, things between us were just fine. We even enjoyed a little bit of sexual experimentation now and then, but for whatever reason, sometimes, when we made love, it felt like we were just going through the motions. I really wanted to put the spark back into things, but how? By changing things up and adding romance!
I Made My Sex Romantic
The experience taught me that hot, fast - and even rough sex - can be fun, but what really helped our erotic feelings bloom was balancing spontaneity with sessions of gentle, sensual lovemaking. We've both learned that being romantic involves having a connection that goes beyond the genitals. Romantic sex is based on intimacy and affection, and is an expression of how much you care about your significant other.
Romance is the language of love - to enjoy a fabulously sensual lovemaking, start speaking it before you go to the bedroom.
When you open an amorous dialog with beautiful romantic gestures, you're bound to notice some wonderful changes in your sex life, as we did.
"That's fine," you say, "but how can I do that?"
Read my collection of suggestive date scenarios, and you're sure to find the inspiration for your romantic sex.
The Recipe For Love
Put on your aprons because today you'll be cooking together! A cooking date à deux is a great way to spend quality time with your SO. If you're new to culinary endeavors, as I was, just choose a simple dessert recipe and enjoy just being together while you're preparing it. When the delicacy is complete, whisper to him that you might just have a sweeter dessert for him to enjoy. He'll get the message.
My Experience
Clear the table and sit at the edge. Lie back and dab chocolate syrup or whipped cream on your hot spots, and then have your honey lick off the dainty delights. Once he's eaten up all the goodies, "turn the tables" and pamper him with some sensual fellatio.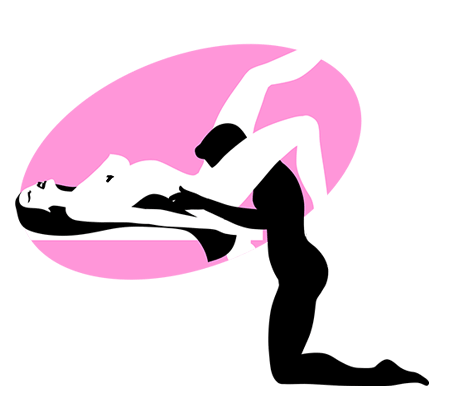 My Toolbox
This long-lasting oral lube has a delicious flavor, and unlike syrup, it's not sticky. Your pleasure points will be tastier than a chocolate sundae, without the gooey mess.
JO H2O flavored lubricant
JO H2O flavored lubricant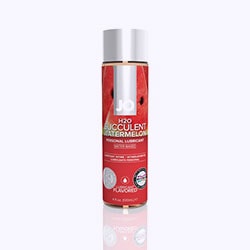 Slip this buzzy gem on the corner of your mouth or his to make lips and tongue tremble with gentle vibrations, transforming every oral touch into heavenly bliss.
LingO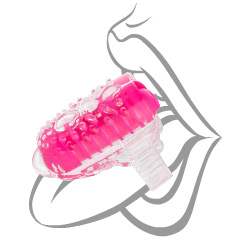 Get the ultimate kit for oral pleasure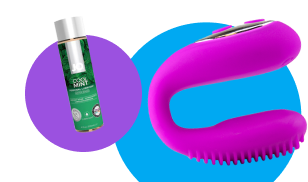 I Recommend
While cooking, feed each other natural aphrodisiacs, such as dark chocolate, bananas or strawberries. Before you know it, you'll be ready to eat each other up instead.
of couples consider chocolate-covered strawberries to be the best dessert for romantic SEXperiments.
Source: zoosk.com
Love On Wheels
Have you ever dreamed of doing the deed in public? It was the fantasy I'd visited pretty often but never dared act on - until one happy night when my husband and I went to an old-fashioned drive-in movie. As the romance on the big screen heated up, we cuddled and kissed inside the car, talking dirty and letting our hands wander inside each other's clothes. When the movie was over, we were so aroused, that we drove to a secluded parking place and continued our "auto-erotic" scenario.
My Experience
Both of you move to the back seat and recline the front seat for maximum comfort and space. If you're feeling flexible, get your legs all the way up on the seat. I found this sex position super romantic and intimate since we got to be very close and have an eye-to-eye contact.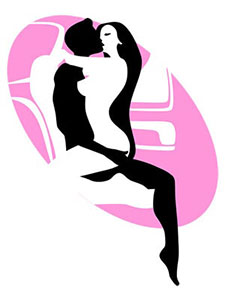 My Toolbox
Add exciting stimulation to your C and G-spots with a C-shape vibrator. Using this couples' toy gave me a 100% guarantee of intense orgasms, even in some pretty awkward positions.
Sexy U
I Recommend
Struggling out of jeans takes time, ruins the romantic fleur and may call unwanted attention from prying eyes. Wearing a skirt with crotchless panties lets you get down to business the moment passion strikes.
Morning "I Love You"
Whenever my SO brought me breakfast in bed, I thought it was a beautiful gesture, so I decided - why not turn things around? I soon learned that a nice breakfast in bed could say "I love you" better than words. My man found the idea very touching, and I bet yours will, too. Bring him his favorite morning meal, kiss him passionately, and then join him under the covers to enjoy the serene morning hours together in blissful romantic lovemaking.
My Experience
Spooning is an ideal position for calm and romantic morning sex. Your man can get pleasure with minimal effort, and he can also touch any part of your body, which is great for both of you!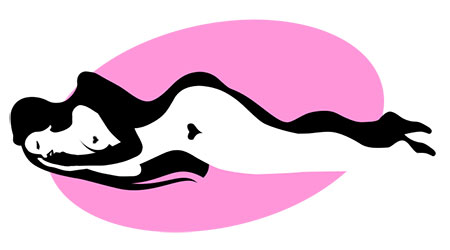 My Toolbox
This awesome clit-stimulating toy with its oh-so-realistic sucking feature is the perfect accessory for multiple morning Os in this position.
I Recommend
Stir up the mood for romantic sex with some nice relaxing music - nothing kick-starts your morning like a sexy jam.
Snuggling and holding hands
causes breathing and heart rates to sync up between you and your partner.
Source: zoosk.com
Oceans Of Emotions
A romantic weekend at the beach can inspire some truly spectacular lovemaking. The bond with nature makes you feel connected to a life force that both relaxes and invigorates your sexual energy. I think the most romantic way to experience making love in water is to wait until after sunset. Choose a secluded spot where your only audience is the twinkling stars above, and let the tides of passion carry you and your lover to heaven.
My Experience
Hold onto his shoulders and wrap your legs tightly around his body. Swing the waves and literally build up the motion of the ocean for deep, sensual thrusting. Plus the mesmerizing face-to-face positioning will turn up the romantic atmosphere.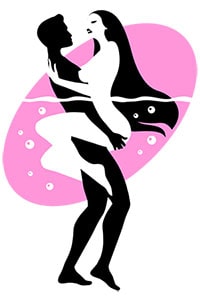 My Toolbox
Tease your hot spots with the robust vibrations and nubbed texture of this waterproof ring, to enjoy the sweetest simultaneous orgasms.
Vibracious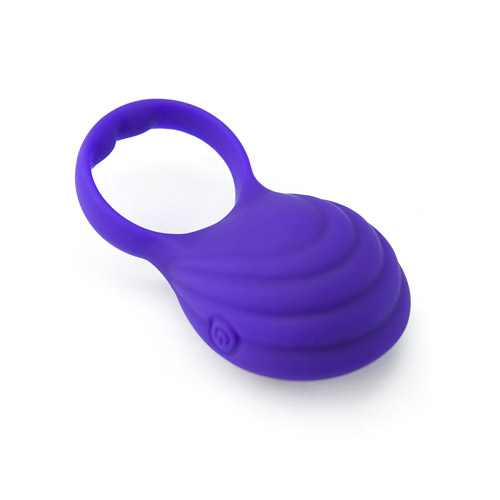 One squirt of this long-lasting lubricant delivers sex-enhancing moisture to your pleasure zones, whether you're underwater - or anywhere else!
Ultra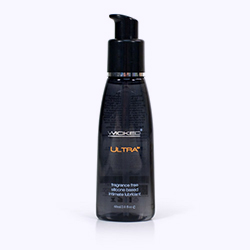 I Recommend
Water strips the body of natural lubrication. A generous squeeze of silicone lube will make your aquatic sex session much more pleasant for both of you.
Pleasure Hunting
For me and my husband playing scavenger hunts helped to rekindle the flames of desire and stay committed to one other. I'm sure you and your SO will love it, too! Hide a series of intriguing flirty clues, each more suggestive than the last, that will lead him to a secluded rendezvous spot where you'll be waiting for him, all hot and ready. Choose the location wisely - it has to be a place where you'll have your privacy. Because by the time he finds you, he'll be ready to tear your clothes off and jump your bones!
My Experience
Continue your adventure in the bedroom by exploring one another's erogenous zones with a simple game. Each of you has to draw a map of your body, and mark "treasure" spots you want to be touched in. Swap the maps once you're down and follow your partner's clues to find their hidden orgasmic treasure in a variety of positions while actively engaging your fingers. It's very romantic and really naughty, trust me!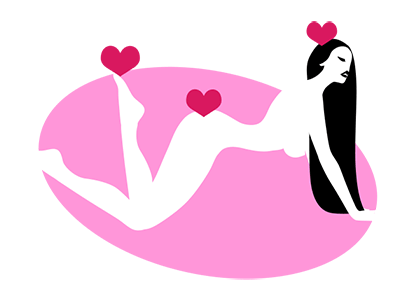 My Toolbox
Turn your finger into a pinpoint orgasm-inducing mini-vibrator with this textured buzzy teaser and stimulate even the tiniest and most inaccessible hot spots.
Pleasure finger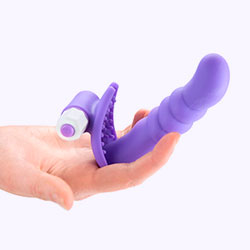 I Recommend
Up the erotic ante by including sexy goodies with your hidden clues. Stash your lacy panties with the first clue, a hot matching bra with the next, and finish with a provocative nude photo of yourself. The mental striptease is sure to drive him wild with desire.
A successful romantic relationship needs love and understanding, but it needs fiery passion and wild sexual experiences, too!
Captured By Love
Are you looking for a thrilling, anything-but-vanilla way to spend quality time with your SO? My idea for an adventurous role playdate featuring a romantic "kidnapping" is exactly what you need - as long as both parties are on board. Warm your honey up with a sexy note to inform him that a "stranger" is about to kidnap him. Intercept him somewhere that's part of his regular routine: for example, the street he takes when he walks from work. Ambush him with a passionate kiss as you quickly handcuff him to you and take him on a romantic date as your love hostage.
My Experience
Pin his wrists above his head. Get on top of him, and then carefully slide down so that you're lying flat on top of him with your legs between his. Focus on how good it feels simply being so close to one another.
My Toolbox
To add a pinch of kink to your game, I recommend using this soft fetish kit. It's simple, beautiful and contains everything you need for naughty play.
Desire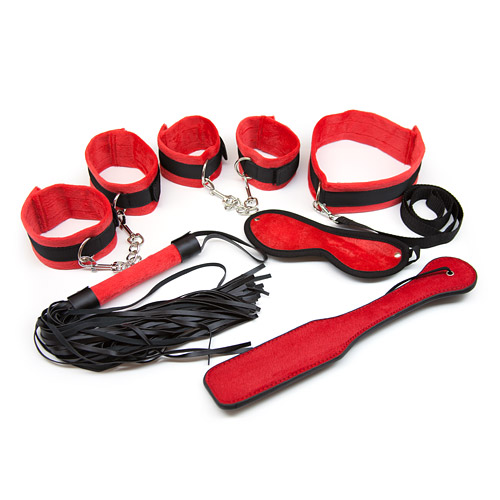 I Recommend
Variety is the spice of life that men adore, especially when it comes to sex. Trying out the role of a seductive stranger can be as simple as changing your look with dark glasses, a wig, and a flirty dress. The "new you" is sure to stoke the fire of his desire to white-hot passion.
Extra Tips:
Be Generous. When you act generously toward your SO, it keeps your relationship romantic and vibrant over the long haul.
Be Spontaneous. To reintroduce the excitement do something that your partner wouldn't expect. The more out of the ordinary, the better!
Pay Attention To Little Things. Romance can be found in the smallest moments. Don't forget about those tiny acts of daily loving that have a big impact.