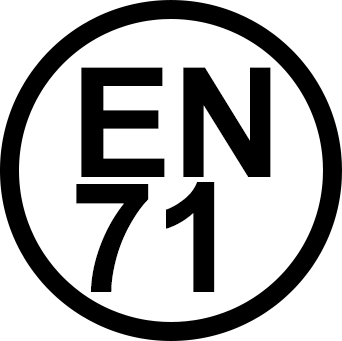 Introduced in 2011 under the umbrella of a broad CE Directive, EN71 is a set of Product Safety Standards that applies to all toys sold in the European Union. Made up of 13 parts, EN71 sets regulations for mechanical, chemical, electrical, and other toy components.
One particularly interesting standard is the Specification for Migration of Certain Elements, which protects against the use of the following chemicals on product surfaces that may come in contact with skin. Migration levels tests are required to be performed on coatings of paints, varnishes, polymeric and similar materials, paper, glass/ceramic/metallics, pliable materials, and materials intended to leave a trace (graphite in pencils and liquid ink in pens).
EN71 prohibits the use of Aluminum (Al), Arsenic (As), Lead (Pb), Cadmium (Cd), Mercury (Hg), and others, which could be dangerous if swallowed, licked or chewed.
International Organization for Standardization (standard ISO 8124) has also specified the maximum acceptable migration levels of such elements as arsenic (As), barium (Ba), cadmium (Cd), chromium (Cr), lead (Pb), mercury (Hg), and selenium (Se) from toy materials and from parts of toys.
Compliance is then indicated by the EN71 labeling on the product's packaging.
For more information on toy safety, please visit this page
For more information on International Organization for Standardization, please visit this page