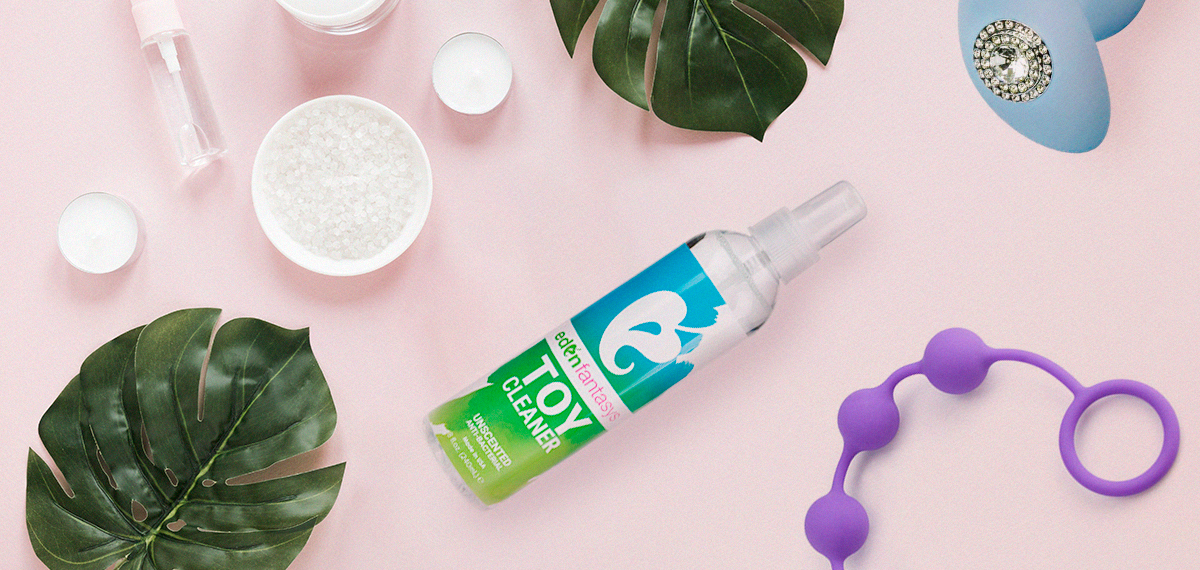 Guide To Sex Toy Storage, Care, And Cleaning
Isn't it nice to know your sex toys are well, neat and comfy laying in their storage, waiting for the next time you bring them out to play? There are, however, many curious intricacies when it comes to taking care of your toys. You have to know how materials work, what proper ways of cleaning there are, etc. Sounds overwhelming? Well, but at least you'll know your sex toys is going to serve you loyally longer and better. And that is really nice.
1

How To Treat A New Sex Toy?
Make sure to read instructions first if there are any.
Make a note of the product's material.
Use a sex toy cleaner before first use.
If you plan to share the accessory, we recommend using a condom over it.
2

Why Sex Toy Cleaning And Storage Is So Important?
Storage
Practice shows that most often sex toys that were meant to be super longlasting break down pretty easily because they weren't stored right. It's a fabulous idea to keep your toys separately, in dedicated containers, away from direct sunlight and other harmful influences. Give those babies some separate housing so they won't freak if you know what we mean.
Cleaning
Concepts of "safe sex" and "hygiene" in the world of sex toy come hand in hand. Whether your favorite toy is a glass dildo, a silicone vibrator or a pair of leather handcuffs, thoroughly cleaning your playthings before and after each use not only guarantees you safety but also extends the life of your goodies.
3

How To Care For Silicone Sex Toys?
How To Store Silicone Sex Toys?
Silicone attracts dust and hairs easily. Doh, the lint! To prevent it we recommend a cool dedicated sex toy storage like a plastic bag, for example. This way it will be armed and ready to use the second you take it out.
How To Сlean Silicone Sex Toys?
Products made of silicone are non-porous, so they do not absorb bacteria like other toys. Yay silicone! If there are no mechanical components to your toys, they can be boiled (3-5 minutes) to be sterilized - use a veggie rack for protection. Some silicone gizmos can even be put in a dishwasher. If the object is not 100% silicone, you should use a special sex toy cleaner to make sure you do not damage it.
4

How To Keep TPR, TPE, PVC Products?
How To Store TPR, TPE, PVC Sex Toys?
TPR, TPE, PVC sex toys can react to each other badly, so we recommend a separate sex toy storage for each of your gadgets. Always store jelly-like toys away from direct sunlight and heat - these popsicles can melt.
How To Сlean TPR, TPE, PVC Sex Toys?
Accessories that are made of PVC or elastomers are porous and therefore trap dirt and bacteria. They cannot be boiled, so always spend extra time cleaning them. Use an antibacterial sex toy cleaner and/or lukewarm water.
5

What About Hard Plastic or Acrylic Sex Toys?
How To Store Hard Plastic And Acrylic Sex Toys?
Keep your sex toy storage away from sunlight and heat - plastic and acrylic toys are also prone to melting and/or losing color, so you really risk your bright pink dildo turning into an unappealing worm-like sausage.
How To Сlean Hard Plastic And Acrylic Sex Toys?
Hard plastic and acrylic gadgets react really well to water, so a gentle antibacterial soap and a quick rinse will work wonders for their well-being.
6

How To Maintain Glass or Pyrex Willies?
How To Store Glass or Pyrex Sex Toys?
Although glass is one of the sturdiest and safest materials ever, it needs special care, also. It merely impossible to break a glass or pyrex sex toy, but you can scratch it. Scratches can harbor the dirt and bacteria. Keeping your glass willies in soft fabric pouches will be good for them, making them feel cozy and loved.
How To Сlean Glass or Pyrex Sex Toys?
Use a sex toy cleaner or wash your glass wands with gentle antibacterial soap and water. You can also boil them or throw them in the dishwasher next to your silverware - this will make quite an ensemble.
7

What Does Stainless Steel Sex Toys Need?
How To Store Stainless Steel Sex Toys?
Stainless steel is yet another material that is almost impossible to harm, but, like most metals, it is "allergic" to dampness. Make sure the place you store them is completely dry so they won't rust.
How To Сlean Stainless Steel Sex Toys?
You can use a 10% bleach solution to clean your steel wangs, boil them or use a mild soap and water. We do not recommend using a dishwasher as some rinse agents are bad for some metals. Also, better avoid jewelry cleaners - those are not THAT kind of gems. Make sure the metal toy dries fully before you put it away, because, well, rust.
8

How To Nurture Realistic Materials Such As Cyberskin, Ur3, Soft Touch?
How To Store Sex Toys Made Of Cyberskin, Ur3 Or Soft Touch?
For realistic sex toys, storage in separate boxes is an absolute must, because if they're touching, they can melt together. And that would be creepy. If the piece is medium to large-sized, we recommend storing them in the original packaging as it preserves their shape.
How To Сlean Sex Toys Made Of Cyberskin, Ur3 Or Soft Touch?
Wash life-like toys with warm, not hot water, and gentle antibacterial soap or a special sex toy cleaner. After a thorough cleaning, let the product air dry completely. Then, apply a light coating of cornstarch to the product to keep it maintained and fresh and ready to please you.
9

Super Important Sex Toy Caring Tips
How To Clean Your Sex Toy When You Are Unsure Of The Material?
If you no longer have the toy packaging, or the packaging didn't state the material properly, just arm with a bar of mild antibacterial soap and lukewarm water - those won't let you down. Also, don't forget to let your sex toy air dry.
If You Have Allergies
If you suspect you can be allergic to the material or the cleaning products, better stick to hypoallergenic silicone-based toys; the silicone can be boiled or wiped with peroxide or bleach solution. Hypoallergenic sex toy cleaners are also a thing - so look them up.
Don't Wash Waterproof Toys In The Dishwasher
Only glass dildos or silicone toys without batteries can be stuffed in the dishwasher or boiled. Do not submerge gadgets that feature battery-compartments, and never submerge electrical toys - just clean them with a specialized sex toy cleaner instead.
Why Use Condoms Over Sex Accessories With A Long-Term Partner?
PVC, TPR, TPE, and realistic materials are porous and harder to clean thoroughly, so using a condom will not only extend the life of the product but also keep you safe from any infections that might travel from obne orifice to another. The more orifices involved, the more condoms you have to have at hand.