What does Jimmyjane's motto "Live Sexy" translate to for customers? For 7 years, Ethan and Jimmyjane have reimagined a sexual wellbeing lifestyle; with new designs focused on quality, functionality and aesthetics. Is this the future of the industry as a whole?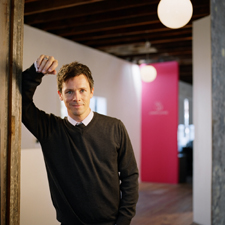 Ethan Imboden is the Founder of Jimmyjane, a design-centric brand that has revolutionized how sex accessories are perceived. A trail-blazer who has carved the company's way into the mainstream, you can find their unique vibrators, massage tools, candles, blindfolds, fragrances, kits, and jewelry in retailers such as Nordstrom, Fred Segal and Bed, Bath & Beyond – as well as in mainstream magazines.

Prior to founding Jimmyjane, Ethan spent a decade in brand and product development with some of the world's top design firms. He started the company in 2003, after attending an industry show and realizing, "People are looking for something better than this. Creating high quality products that are beautiful, well built, free of toxic materials, quiet, don't have porn stars on the packaging, and which outperform your expectations when you open the box – that was the obvious first step." And the rest is history. So, what lies ahead for Ethan and Jimmyjane?
JimmyJane products definitely land on the higher end of the spectrum in regards to design, quality and price. What made you think there was a gap to fill there as opposed to making more cost efficient (albeit cheap) products? Do you market your products toward the every day sex-toy user or is your target demographic a specific type of person?

When I first began playing with the idea of presenting a new perspective on sex accessories, it seemed that almost anyone who caught wind of the project was immediately intrigued. The more people I spoke to, the more obvious it became that many had been let-down by the sex products they'd tried in the past – but sexuality was important enough that everyone was still looking to explore further. This gave me the confidence to dive in and design our first collection – targeting a group of people who are not united by a demographic as much as by a shared interest in quality goods, and a proactive approach to pleasure and connection.

Where do you get your inspiration for candle scents? I know scents tend to trend (ie pomegranate being popular now, sweet pea a few years back, etc) but you guys have some fantastic ones that are different and original.

Thank you! The development of new fragrances is usually inspired by an experience – Black Currant was inspired by one of my favorite teas (I'm an avid tea drinker), Cucumber Water was inspired by a spa escape, and so on.

We don't add fragrances arbitrarily – each has its purpose in the line. Scents are intimately tied to emotion and memory, and we emphasize their use for guiding moods. Each Jimmyjane fragrance focuses on one of the three essential elements of attraction – the intellectual, the emotional or the physical. This architecture for our fragrance lines was first established when we created our THREESOME Essential Fragrances – WIT, CHARM and KINK.

Does having things that are more sensual in nature -- massage candles and tools, fragrances, etc -- as well as the more blatantly sex oriented product like blindfolds and vibrators make it easier to break into the mainstream market? Do the less threatening sensual products and the extreme luxury of Jimmyjane products in general make the "sex toys" easier to market? And, in reverse, do the more sensual products sell as well in the adult market vs mainstream?

From the very beginning we've used our diverse collections to present a notion of sexiness that extends beyond the bedroom, and can be enjoyed throughout the day. I think our customers find it welcoming to discover that we offer this broad range of experiences.

Our approach has worked well for the "mainstream" because we offer our customers an opportunity to find their own path. In some cases, our customers are introduced to Jimmyjane by our massage and body products, then continue on to discover our vibrators and such. Interestingly, just as many seem to explore in the opposite direction – hearing about our vibrators first, then extending into other experiences throughout the collections.

I loved your article on HuffPo (We've Come a Long Way, Barbara) about the fuss over Barbara Walters and her co-hosts on The View talking about vibrators on the show. Aside from the discourse about how this is long overdue, how do you approach getting more people to talk openly and comfortably about sexuality?

The first step for me has been to become comfortable talking about it myself. I try to be as candid and transparent as possible – you can't expect this from others until you're willing to offer it yourself. Of course, it's also important for our team to remember that most people don't spend their entire day discussing, designing, and marketing sexual products – if we become desensitized to this, we'll lose touch with our customers.

Victoria (host): "Great answer! I think desensitization is a serious issue in this industry - which makes understanding your customers even more critical."

I love your ceramic massagers - how did you come up with ideas for the different shapes for them?

Thank you! Each of our CONTOUR Massage Stones is focused on enhancing a certain range of massage techniques. For instance, CONTOUR M is very versatile, and is good for all-over body massage. The broad dome is great for areas where you'd use the palm of the hand, the four points are perfect for finger-tip techniques, and so on. CONTOUR I is shaped for deep massage, and can be used as a dildo as well, whereas CONTOUR Q is for targeted sensations and acupressure techniques. Once these basic goals are in place, we evolve the shapes, keeping them as simple, ergonomic and versatile as possible. Through this process, the forms naturally end up being very satisfying to hold and use.

Have you ever considered partnering with Nike to create a running shoe that gives you orgasms while you run? Because I would totally buy that. If you invent something like that please send me residual checks for the idea.

PS. This should be for chicks only because if you do it for guys it's going to get messy and the track will get slippery and then you're going to get sued for all the slips caused by this. Also, ew.

You must know somebody who knows somebody, because nobody's supposed to know about this yet. ...but since you already know... Nike's collaboration with Apple was just the first stage of the program. Seamless integration with

Jimmyjane's iMoan application

is slated for fall, 2020. We've also developed a new, hyper-absorbent track surface made up of ground up decommissioned phthalate-laden novelties that never should have been manufactured in the first place -- so you'll still be able to round the corners at top speed, even when hot on the heels of a Jimmyjane-enabled male sprinter.

See you at the Olympics!

How did you come up with the name Jimmy Jane?

I was looking for a name that sounded sexy and luxurious -- and everything I came up with was French. This felt contrived (I'm not French, nor is the company), and led me to the (obvious) realization that Europe doesn't have a monopoly on "sexy". Jimmyjane is truly an American brand -- innovative, optimistic, playful and modern -- and these qualities are in our DNA. Our brand is about inclusion, not exclusion, and the name is intended to convey this. It's the conjunction of a man's name and a woman's name (always spelled as a single word, with only the first J capitalized), and could be a Southern belle.

It was also the first name that I tried out on people that made everyone smile.

What makes Jimmyjane different from other luxury sex toy makers such as LELO, Myla and other designer's brands? Who is your favorite competitor?

We don't actually view Jimmyjane as a "luxury" brand. Some of the products that we create are luxurious, certainly, but this is just one expression of our broader goal of completely re-imagining sexual products and experiences from the ground up.

Instead, Jimmyjane is a design-centric brand, with it's own design studio at its heart. This structure was a natural result of the transition from me running my own creative agency, to launching Jimmyjane in the same studio. All of our design and development work is completed in-house, so there's a consistency of quality, aesthetic and personality. We are not solely a vibrator brand -- we design products and experiences, so from the day we launched our collection ranged across many categories -- from fragrances and jewelry to blindfolds, ceramic massage stones, massage oil candles and games. On occasion, we're even asked to design environments.

As for competitors -- our offering and distribution is so different, and the market is so large that we see quality vibrator manufacturers as assisting us in spreading the word, and vice versa. We consider the folks at Lelo to be friends and allies, and we've partnered closely with Myla for a few years now -- they commissioned us to create a special edition vibrator for them, and carry our line in their stores.

How has the economy effected your company?

People are returning to the basics – I wrote about this phenomenon in a

piece for the Huffington Post

last November.

When we're under pressure, we're careful to focus our resources on the aspects of our lives that are most meaningful to us, and our emotional and physical relationships with our significant others – and ourselves – are a priority. We also seek healthy escapes that offer relief from day-to-day concerns, helping us to maintain perspective. Quality sexual accessories can play a positive role in all of these processes. Jimmyjane's products are in high demand because they not only provide pleasure, but also strengthen connection and create provocative possibility for our customers.

Contrary to what many (though perhaps not those participating in this Q&A) assume, sexual products are not simply for solo use. Often – even predominantly – they are enjoyed by couples. Some of our products, such as

LITTLE CHROMA

and

FORM 6

, incorporate couples-friendly features more subtly in their design. Others, such as the

ICONIC RING

, are clearly focused on this use. We have also seen tremendous growth in our line of

massage candles

and

massage stones

-- products which help many to slow down, reconnect and enjoy their time together.

I love that the Jimmyjane Beyond products are free of parabens and other harmful materials, do you happen to have plans for a line of Jimmyjane personal lubricants in the future?

Why not! I think everything should be slippery. (Except when you want friction, of course.)

I'm glad that you noticed what's in our products - and, equally as importantly, what's not. We're extremely particular about every ingredient that goes into our BEYOND Sensational Massage Lotions and AFTERGLOW Natural Massage Oil Candles. Come to think of it, we're also very particular about every material that goes into our vibrators, massage stones, blindfolds...

Let's hope that every customer follows your lead and takes the time to understand the quality and safety of the products that come in intimate contact with their body.

Can you give us any hints or teaser about upcoming products? The beyond lotions are truly sensational! Any chance we can see more stuff like them soon?

Rest assured, we're hard at work and will continue to surprise and delight. Our next series of launches will be some of the most significant (and most highly visible!) launches in the history of our company.

Expect to feel good. Really, really good.

(BTW, I'm glad you're enjoying BEYOND. Which is your favorite,

Warming

,

Cooling

or

Euphoric

? Personally, I change my mind all the time -- at the moment I'm loving Euphoric. It smells (and feels) like a vacation. (Thank you Beta-Endorphins!))

I can't help but wonder with your educational acheivements, how you got where you are today. What happened to make you go from motorolla and Nike to sex toys? That just seems like such a huge change in your career path. Are you glad that you made this change? Any regrets?

This may sound cheesy, but it's the truth -- I wanted to make a difference. After years of designing yet another cell phone, yet another pair of sunglasses, yet another toothbrush, yet another TV... I wanted to design something more meaningful, something that could have a significant, lasting, positive effect on peoples' lives.

When I stumbled across the possibility of completely re-imagining the relationship that people have with sexual accessories -- I was immediately fascinated. I thought that design had been everywhere, yet here was a subject of massive importance that was largely overlooked because of lingering, outmoded taboos.

This is by far the most challenging design project I've ever undertaken, and I love its inherent complexity, subtlety, tension and playfulness. I have no regrets whatsoever.

I love the Iconic collection cockring, rabbit, and pocket rocket. Are there going to be any other exclusive Jimmyjane collections like that in the future?

Absolutely. We're always looking for opportunities to offer excellent products to our customers.

Who had the initial idea to team up with Vibratex for the Usual Suspects line of toys?

I'd known the folks behind Vibratex for many years, and had always admired both their products, and their wonderful approach to the market. It seemed like an obvious fit, and I was flattered that they thought so as well. Vibratex is a pioneer in our industry, and has remained true to its innovative roots for over 25 years now. Talk about leading the way...

The latest addition to Jimmyjane showcases The usual suspect Iconic Rabbit as the rebirth of the classic model. What has been changed to make this toy modern? What design changes make this an improved model? Why did you choose the color white?

THE USUAL SUSPECTS, including the

ICONIC RING

,

ICONIC POCKET

and

ICONIC RABBIT

, is a collection of iconic vibrators that we brought together in response to repeated inquiries. Over the past 5 years, Jimmyjane has become a trusted resource to its customers -- many of whom had heard of these products, but were asking us for guidance. We fielded a lot of questions like, "Which is the best "rabbit"?", "What do you think of the "pocket" vibrator?", and "What's that "ring" thing all about?"

Certain vibrator styles have become mainstays of popular culture, and as a result of their popularity, have spun off a dizzying array of variations. Today, with so many alternatives available, the selection can be overwhelming. It's often difficult to tell which are the most functional, durable and – most importantly – safe. Our customers were at a loss to understand which to choose and why.

To make it easy, we tracked down the best of each style, distilled them to pure white, and gathered them into a single, unified collection. They're made by the original manufacturer and adhere to the original design that made them the icons they've become.

Best of all, each of THE USUAL SUSPECTS has been tested to meet Jimmyjane's stringent material quality and safety standards, and is backed by our one-year limited warranty – a first for these vibrator styles.

Hi Ethan,

Do you find it more difficult or embarassing to share with people what you do for a living now verses what it was like when you worked for Motorola?

I am definitely conscious of the fact that what I do takes some people by surprise. If I'm meeting new people and am uncertain of their comfort level, I try to be sensitive when my work comes up for the first time. That doesn't mean that I dodge their question, it just means that I give a simple, forthright answer and move on. If people want to talk about Jimmyjane (and fortunately, most do), believe me, they'll redirect the conversation right back to it.

On the other hand, before I started Jimmyjane, my first conversations with people were much more limited to the standard pleasantries. These days, I never know what I might be discussing two minutes after meeting someone for the first time -- it's amazing (and refreshing) how willing people are to speak candidly about sexuality when given the opportunity.

I've noticed a lot of rechargeable vibrators have an underlying, high pitched sound separate from the sound of the vibrations and the Form 6 is no exception. (It's not a bad thing. It's not even all that loud. Just noticeable.) Does this have something to do with the chargeability? A different type of motor for toys that can be recharged, perhaps?

You have good ears! The sound that you're hearing is actually the result of how the motors are driven by the processor. Digital sex toys will often have this sound, and it's generally most noticeable at the lower speeds when the motor is quietest. The good news is that driving the motors this way makes FORM 6 incredibly energy efficient; it can run with both motors at full speed (which is a lot of vibration!!) for over two hours. Next time you ride in a Prius, listen closely... you'll notice the same sound.

Is there a way that one can share ideas for new toys with the industry?

Yes -- and the industry can use input from you and others. The more that customers get involved and are vocal about their interests and preferences, the better their (and your) needs will be met.

If you're looking for a business venture, I recommend that you attend an industry trade show and talk with representatives from the brands that you respect and trust. Be aware that there is a danger that they will take the answer and run with it -- without you. There are a variety of ways that you can protect yourself legally (from a Non-Disclosure Agreement to a patent), but the best protection is simply to find an honest and trustworthy partner.

If you're looking to just give the idea to someone so that your idea can be realized and made available, you can offer it to the brand(s) of your choice, or even blog about it, then email out links to the blog posting.

Good luck!

Another question that must be asked: How did/does your family react to your decision to start a (very classy) sex toy brand?

I'm very fortunate to have a very open-minded and entrepreneurial family. Everyone in my immediate family has put in their time in our offices, and my mother was one of the first investors in Jimmyjane. I can't overemphasize the positive impact of this kind of support when launching a business.

The contour massagers are made of double -fired porcelain. Is it safe to assume a kiln is used? If so, how many times will one massager go through the kiln? If a kiln is not used, how is this double-fired process achieved?

Yes -- you are correct, a kiln is used, and every CONTOUR Ceramic Massage Stone passes through at two stages of manufacture.

If you ask me, double firing is totally hot.

As it is a tradition with our interviews, would you please finish the sentence: "Sex is..." ?

Sex is as common to all of us as a pinky finger, but as unique to each of us as a fingerprint.

Victoria (host): "What a great answer! Succinct and visual - perfect."

Have you ever designed a toy after any part of your body?

If YOU were a Jimmyjane sex toy, which one would best represent you and why?

Hmm... Do I know you? Are you two working in collusion?

I take the 5th.



What's the story behind "Spin Me"?

All I can think of is my own awkward teenage experience and that monumental moment where I almost wasted my first kiss on a boy who was less than attractive.

Spinning a bottle, making out, what's not to love?

But wait -- who DID you kiss?

Hi Ethan,

Thank you for accepting the interview invitation! The Eden community is excited by the opportunity to have an open dialogue with you.

Here are few of my questions:

Sex toys are quite specific products from the ID (Industrial Design) point of view. The ergonomics depend not only on various anatomies of people but also on the psychological state of every particular individual. I absolutely agree with your big picture approach of creating a lifestyle coexistent with these products. Would you please paint a brief picture of this lifestyle for us? As the mastermind behind the idea, would you give us a tour of your product lines with the ambience and lifestyle set as a backdrop for the products?


Just getting to this one now -- and hope it's already been answered by reviewing the other replies in the interview. It's been great to have a chance to chat with the Edenfantasys.com community and to respond to such a broad range of questions. We've covered a lot of ground! If there are any additional questions, I can always be reached through

Ask Jimmyjane

.

What is your absolute favorite Jimmyjane product?

Today? FORM 6 in Blue. (It's sunny out, and we're going in the pool.)

No one else has asked and it must be asked of everyone...

What's your favorite sextoy?

For obvious reasons, I'm partial to

LITTLE CHROMA

and to

FORM 6

-- in both cases because of the innovations that they offer.

The challenge with LITTLE CHROMA was to create a vibrator that was as simple and approachable as possible, yet still offered all of the most crucial features our customers were seeking. It's exceptionally quiet, completely waterproof, incredibly efficient, safe and easy to clean. It's also the only vibrator in the world with Jimmyjane's patented replaceable motor system, so it can literally last a lifetime.

FORM 6 is one of the only rechargeable vibrating massagers in the work that is truly waterproof. It is also the most versatile design I've seen -- it's only vibrator where there's no side that you hold on to and (opposite) side that you use -- every surface is designed for contact with the body. Last but not least, it delivers more power than any other cordless vibrator we've tested.

We're very proud that FORM 6 has also been honored with the two top design awards in the country -- the ID Award, and the IDEA Award from BusinessWeek and the Industrial Designers Society of America. It's the only product of it's kind to receive these accolades.

With all that you have achieved, what's left for you? What is your pie in the sky vision for JimmyJane and the industry as a whole?

We've only just begun!!

I'd like to see the industry continue to evolve as rapidly as it has been over the past few years. The major shift underway is that customers are becoming more educated and more vocal, and are beginning to hold brands and retailers accountable for the products they offer. This is raising the bar on the industry, and is accelerating a very healthy evolution to higher quality, safer and more durable products.

I'd like to see customers always get their money's worth -- or more!


What are the challenges you've faced as your company has gown? Obviously it has opened up avenues for you, bu I am interested in hurdles you have faced as a result of expansion. Have you had to make compromises on any level? WHich have been the hardest to make?

As you know, every day in a growing company poses its own unique and surprising challenges -- and ours is no different.

Perhaps our first big challenge was to overcome preconceived notions about sexual accessories, and to get customers and partners to allow us the opportunity to show them just how different these products could be. When we launched, nobody had seen anything like what we were doing, so they had no point of reference whatsoever. Today, our brand is known and our concept and quality are understood, so we're able to focus on the content of our message, not simply the delivery.

Expansion comes with a different set of hurdles. Among the most important aspects of your company to protect as you grow is the quality of your team. I'm very fortunate to be working with the team that we have, and feel that you can never put too much time into getting that right.

Growth is a process of constant prioritization and reprioritization, and to keep focused you must certainly compromise. The good news is that you can choose where you make those compromises, and where not to. At Jimmyjane, we've chosen to put product quality above all else. Once that's decided, it simplifies the picture and -- I think -- secures the future growth of the business.

What are the differences between the Beyond warming and Beyond cooling massage lotions? Is it just personal preference for warm/cold or should both be used in different areas?

Each of our BEYOND Sensational Massage Lotions features unique active ingredients and is lightly fragranced with essential oils to complete the experience. You should choose the effect you'd like, then explore the different sensations around the body. They're also excellent as a luxuriant daily body lotion.

WARMING: Natural warming extracts raise the temperature of touch. Citrus Bergamia Oil calms the senses, while Rosewood Oil adds its unique aphrodisiac benefits.

COOLING: Natural cooling extracts awaken the senses. Organic Willamette Peppermint Oil revitalizes and stimulates, while Cucumber Extract soothes and refreshes.

EUPHORIC: Natural plant extracts promote the release of Beta-Endorphins, causing a sense of wellbeing. Ylang Ylang Oil adds to the euphoria with its own relaxing benefits, while Coconut and Monoi Oils moisturize and condition the skin.



When you deciding what scents to make your candles from, do you take into consideration how they affect the part our brain that effects arousal? For example, studies have shown that the scent of cucumber often causes certain women to become aroused. Do these studies affect your choices?

Yes -- this was one of the fundamental criteria when we set out to create the first massage oil candles and introduce them to the market. We are focused on creating that offer multiple possibilities, so developed candles that not only offered flattering illumination and aphrodisiac scents, but could also go a step further and be used as a nourishing (and exciting) massage and body oil.

Of all the senses, scent has one of the most immediate and powerful impacts on our mood and memory. I first began working with fragrance when I developed our THREESOME Natural Essential Fragrances. I then created aphrodisiac pairings for our

EMBER Natural Massage Oil Candles

, and afterwards, continued on to create the fragrances for

AFTERGLOW

.

Scent is one of my favorite mediums.

So, Ethan, what keeps you awake at night? What are your biggest concerns?

My girlfriend keeps me up at night -- bless her heart.

My biggest concern is that she'll leave me for a vibrator designer, or some other weirdo.

The packaging for your toys - and even the toys themselves - uses a lot of white which gives it a very sophisticated look. I think some designers are afraid to use white and this has been a bold move. Was there a lot of thought involved in that?

Absolutely. It was a natural extension of the Jimmyjane brand -- light, playful, modern and innovative. I don't believe that sex or "sexiness" has to equate to a dark, victorian aesthetic. That's a look that we play with sometimes, but it's too heavy to drape across the entire brand.

In order to get your business under way what kind of marketing did you do to help spread the word about your products and their quality? (i.e. Expos, word of mouth, parties, samples...etc.)

I think "high end" sex toys is a great idea!!! I'm sure you know that designer items are very coveted by the public these days.

And it's wonderful that you have broken through many of the mainstream boundaries.

I'm curious how you broke through to get into stores like Nordstroms and magazines like Vogue?

Also I'm curious if you've gotten any of your items in the Red Carpet gift bags that are given to the stars at award ceremonies?

If not that would be a great idea.



How receptive to carrying your line were mainstream retailers who have never carried such a product? Did you have to convince them it was ok or were they looking to do so anyway?

We were very fortunate in launching Jimmyjane when we did. We were early enough that our approach to the market was entirely new, but not so early that our soon-to-be customers weren't yet ready.

The marketing of the company was, and still is, very organic. We don't advertise. Instead, we focus our efforts on delivering a great experience to our customers, building a relationship with them, and exceeding their expectations at every opportunity. While this means that we work overtime -- it's an investment we're willing to make in the foundation of our organization.

Very early on, our products were embraced by celebrities and influencers. This lead to other influencers, and to an initial surge of media coverage. This in turn lead to our products being included at the Golden Globes and Sundance... Before we knew it, we were on the map. It was a small map, mind you, but we were on it.

We had a few key retailers, but this really began to snowball once the media and influencers had their hands on the brand. It wasn't long before we were able to find likeminded, forward thinking partners who were interested in our innovation -- and how it lined up with their own. Our ongoing partnership with W Hotels is a great example of this type collaboration.

I'll end how I started this answer -- we've been very fortunate, and continue to be. I'm constantly delighted by the support that we get from our partners and customers. Without their (your!) enthusiasm, Jimmyjane wouldn't be here today.

What future plans do you have for Jimmyjane products? Which plan makes you the most excited?

Are there any more Jimmyjane Games, such as the Spin Me, in the works?

Hello and Welcome,
Is there any chance of a product similar to the Little Chroma but with a G-spot curve in the near future?

Looking over all of the products, I tend to envision an elegant yet comfortable bedroom where either a single person or a married couple house their Jimmyjane goodies. Have you ever thought about creating your own bedroom line or collaborating with a company like Bed, Bath & Beyond? Or what about your own line of bath products (i.e. body wash, shampoos, conditioners, lotions.)? Perhaps that's going a bit too far beyond sex toys, but it seems like it could be a natural progression for Jimmyjane.

I love the design but why do they have to be so expensive?

One of the things that I love the most about Jimmyjane is that there are so many opportunities for the company as it continues to grow -- both as a team, and as a concept. People never feel better than when they feel sexy, so we work to extend this experience in both expected and unexpected ways. Jimmyjane is not about a bedroom, and it's not about nighttime. From day one, we've been interested in offering sexiness throughout the day. This broad view opens up the possibilities for me as a designer, Jimmyjane as a company, and our customers as our accomplices.

So, are there more games in the works? Yes. Will we be doing more with our LITTLE SOMETHING vibrator line? You bet. Will we continue to step into new and unexpected product categories? Absolutely. We will continue to find new ways to surprise and delight customers, offering an ever broadening range of provocative possibilities for how to Live Sexy. You will see more from us every quarter -- so keep an eye out.

We will never compromise on quality, so when you choose to go with Jimmyjane, you can be confident that you're getting the most effective product made with the best materials and offering the longest lifespan. At times it costs us a bit more to achieve our standards -- so, as we grow, we continually research and implement new designs, engineering solutions and production processes to deliver the highest quality products at the best possible price.

Do you have any ideas for making more "green" products? Ones that are safe for users and for the environment? If so, what are they?

Absolutely, and thank you for asking! We emphasize environmental accountability in all of our product development (hence the "everlasting" vibrators with replaceable motors, the rechargeable vibrators, and the natural massage products) as well as in our business practices. For detailed information, I encourage you to read our

Environmental Statement

.

Many of the Jimmyjane products are quite stylish. With your degree from Pratt, I can't help but wonder if there are any artists that have inspired your designs?

Thank you! I find inspiration all over the place -- from classic designers like

Joe Colombo

and current innovators like

Hella Jongerius

, to jewelers like Ted Meuhling and artists like

Richard Prince

. I also really enjoy collaborating with others, and have had the pleasure of working with musicians like

Dave Stewart of the Eurythmics

, curators like

Philip Wood

of Citizen:Citizen, artists like Jamie Hewlett of

Gorillaz

, and brands like

W Hotels Worldwide

and

L'Eclaireur

.

Of course, my greatest inspiration and best collaboration is with the incredibly creative and dedicated Jimmyjane team.

Can you share any specific feedback you've gotten from satisfied customers? I don't mean this in a cheeky way! I'd love to know if the high-end look and feel of your toys has encouraged sex toy use in individuals who may have previously been too embarrassed or nervous to purchase them.

As members of this online community, we have the opportunity to test products ourselves and give feedback to others. While I'm sure you have focus groups to get feedback, which people in your life are fortunate enough to test drive a toy that you've created and give you their opinions?

How much attention do you pay to online reviews by people like us?

If an item of yours gets less than favorable reviews, do you try to improve that product?

I've noticed the Form 6 donning new and exciting colors that I personally find very refreshing. Can you tell us if the Form 6 has underwent any other changes besides its color?

Feedback from our customers is crucial to our development process, without it we'd be designing in a vacuum. We've set ourselves up so that our customers feel that they can easily reach out to us at any time and get a prompt response -- directly through our 1-800 number, through

our website

, through

ask@jimmyjane.com

, through

Jimmyjane's Twitter

, through

my Twitter

, through

Facebook

, and of course, in person. We've gotten all manner of wild stories, as you might imagine -- and love hearing about the fun that people have with our products.

We do also have testers. (And a long waiting list of people who'd like to sign up!) The profiles of these testers intentionally vary widely -- different experience levels, ages, genders, orientations, desires, needs and so on.

We pay close attention to the input we receive from our customers and testers, and track both successes and opportunities for improvement for every product. Each time we do a significant production run, we evolve and refine them, incorporating both outside comments and those generated by our own team and testers. Many of these changes might be hard for the average user to spot -- a firmware upgrade that improves battery life, a new method of anodizing that is environmentally friendly, an extra internal sound baffle to reduce resonance and make a product quieter.

Sometimes the changes are very significant -- as when we completely re-engineered FORM 6 Generation 1 and released

FORM 6 G2

. It went from being spashproof to completely waterproof, we eliminated the raised buttons and a charging contact so that every surface can now be used in contact with the body, we added the enclosed charging and storage case, and made it much quieter. ...and those are just the obvious changes.

I love your patented replaceable motor in the Little Something collections. Can you tell us how you came up with the idea for this type of motor technology?

Which of your toys do you feel was the most innovative? Which do you think did the most to change the standards for luxury sex toys?

A rose by any other name would smell as sweet, and at the end of the day, a sex toy is a sex toy. How were you able to spin your brand to break through to mainstream retailers and media outlets?

When I set out to design my first vibrator, I decided that I wanted to create one that was free of all the issues I saw in the products that were available -- most were noisy, unattractive, not waterproof, poorly constructed, and were made of toxic or undesirable materials. It seemed to me that if anything should be beautiful, it's the objects involved in our sexuality -- so I set out to create a true object of desire that would be a meaningful and lasting token of affection.

I immediately began designing our iconic 24K gold, platinum and steel

LITTLE SOMETHING

vibrators -- not only would the precious metals be beautiful, they would also be completely safe for the body.

Using precious metals in vibrators was unheard of at the time, and I soon discovered why. Every vibrator has a lifespan, and for the cheap ones, this lifespan can be a matter of weeks. The vibration is created by mounting an eccentric weight on an electric motor. The eccentricity causes the vibration, but it is also very hard on the motor. Over time, the motor will wear, and eventually die. (Don't worry, Jimmyjane uses very robust, high quality motors, so they will last for years -- even under very heavy use.)

So I had hit a roadblock -- who would want a precious metal vibrator (or any vibrator for that matter) if it was just a disposable product? I decided that I needed to make the vibrator last forever, and dove into the engineering of what is now our famous replaceable motor. The completed design for the vibrator is silent, efficient, waterproof, body-safe, everlasting and -- I think -- beautiful.

When we launched the LITTLE SOMETHING vibrator line, it immediately captured the imagination of the public, the press (Vogue, GQ, etc), celebrities and some of the world's top luxury retailers. A few years later, we launched LITTLE CHROMA, using the same engineering concept, and constructing the vibrators out of bright, playful anodized aluminum. Looking to push the boundaries further, we also introduced

LITTLE SOMETHING ETERNITY

, which features a band of 28 VS1 round cut diamonds around the base of the vibrator.

The combination of the simple elegance and technical performance make the LITTLE SOMETHING vibrator one of the most important and most successful products in Jimmyjane's line.

What products would you recommend for a beginner? I'm just starting to build my "bedside drawer" collection and would love some suggestions on items for me o use alone and with my husband.

What's the best informative info/book/video etc. for a young couple who know nothing about sex, sexual intercourse, foreplay or anything like that? They just got married yesterday and are asking "LOTS" of very, very basic questions. They were both virgins until last night! Thanks!

Do you have any plans for something along the lines of an ergonomic clitoral vibrator? You have some beautiful toys but the vibrators tend to focus on internal stimulation.

These are all excellent questions, and you're not alone in asking them. We've just finished writing an online

Vibrator Guide

to address these and many other questions so that the answers are available to all. We also cover how to introduce a vibrator into a relationship, which products are good for which type of stimulation, vibrator 101 for guys, etc. I'd love for you to check it out, and let me know if your questions are answered!

What inspires you to create? Is it different depending on whether the end use is for yourself or for your work or are the two so intertwined it does not matter. Are their certain times of day, certain seasons, music, dance, movies? We are surrounded by information and influence at all times now it can be difficult to escape. How does that affect what you create and how do you block out a bad influence so your work/design can remain true?

How is designing sex products different from designing for other companies like you've done in the past? Since you have degrees in Engineering as well as Industrial Design, how have you put these two careers together to make your products? Do you look at new designs from an engineer or inductrial designer's standpoint, or do you keep both in mind when first coming up with a product?

As an aside, your massager and candle sets are so sleek and futuristic, they're very beautiful. And the fact that they're made with such high quality materials is very attractive too.

What similarities are there between designing sex toys, and designing "regular" things (I'm referring to the e-mail I received stating that you used to work for Nike and Motorola)?

We learn as much—or more—from our failures as we do our successes. Ever have a product you thought was sure fire that fizzled?

When you are desinging toys, do you approach from a design/beauty perspective, or a function perspective?

What product was the most fun to design and produce? Which are you most proud of? What was the most difficult and what made it more difficult?

Whether designing a cell phone, sunglasses, an environment, furniture or a vibrator -- I take inspiration from the world and people around me, folding my experiences and observations back into my work. l'm fortunate in that I travel very frequently and widely, so am continually intersecting with different cultures, lifestyles and objects. Even more importantly, I am always seeking (or simply bumping into) fascinating people who share their own perspectives and discoveries with me. Finally, I do everything that I can to build a team that is similarly curious, passionate and perceptive.

In some respects, my approach to designing a candle, massage stone or vibrator is very similar to my approach to designing a headset, a toothbrush or a line of shoes. I believe in a integrative design process where there is as much continuity as possible between the research, ideation, refinement, engineering and production as possible. Within Jimmyjane, we've been able to expand this integration even further so that it extends through every aspect of our business -- from marketing and communications to shipping and customer service.

Prior to starting Jimmyjane, when I was working as a designer for various brands, it was very difficult to follow an "ideal" process. As an outside consultant, it's almost impossible to tie together all the disparate facets that should be incorporated into a design. As a result, some of those designs missed the target and fizzled, providing some great lessons to me.

I don't believe that a designer needs to choose between beauty and function. Beauty is a natural side effect of an elegant solution, whether you're talking about a spoon, a mathematical proof, a vibrator or a tree. When it comes to my own work, I'm most proud of the designs that have found their beauty in this way.

I find the simplicity of

LITTLE CHROMA

to be enormously satisfying -- particularly since I know the sophistication of the replaceable motor system inside. [FORM 6 | https://www.edenfantasys.com/vibrators/g-spot-vibrators/form-6-jimmyjane] is a technological triumph, and to our customers -- it simply works. Water and electrical devices don't like one another, so creating a one of the only completely waterproof vibrators in the world that is also rechargeable was very rewarding.

I love that you have taken some of the seediness out of sex toys, and added a sense of sleekness and minimalism, making them more mainstream, without sacrificing the power or features. I am always curious how a man can so easily get into the head of a woman and know what she is looking for in terms of sex toys, as you seem to be spot on?

When designing the toys and products, did you interview the women in your life (family, friends, coworkers) to find out what type of sex toys they enjoy and why, or what they felt was lacking in the sex toy market? Or did you pay attention to trends and read reviews and then applied your knowledge and creativity? Or perhaps you did all of the above?

I've always wondered why so many sex toys for women are in pastel colors and are shaped after "friendly" animals, smiling bugs and rabbits and dolphins and the like...I presume that this means many women want to feel that sex toys are not "dirty"? I've also noticed that male sex dolls seem to be catered to men and that there is very little market for sex dolls for women; I'm curious why women wouldn't be interested in sex dolls yet men are.

If you simply take a typical, straightforward, numerical research approach to the subject of sex, you're missing the subtlety and individuality, and hence, the beauty.

As you might expect, we have a whole host of methods for gathering information and knowledge to guide our design efforts at Jimmyjane. Many are very obvious, and parallel the sort of work that I would do when designing for other types of products -- we do research and conduct surveys, we do one-on-one interviews and have product testers, we track outside research and tap into a network of experts and educators, etc. But, sexuality is an intensely personal and deeply nuanced subject, and though the broad data provides a good backdrop, it is the more individual insights that make all the difference. For this reason, we spend as much time in contact with real customers and product users as possible.

We also have a (not-so-secret) secret weapon -- our staff is more than 50% women, and of the 5 members of our executive team, I'm the only man.

Personally, I like the gather all the information I can, review, absorb and analyze it, then simply put it away. I then work observationally and intuitively, looking for the "why" and the "how" rather than the "who" and the "what" that much of the available information focuses on. I fold in numerous other influences -- from fashion and beauty to technology and travel -- and use the combination to pull our designs away from the obvious and the cliche.

We wouldn't want to end up with more pastel colors and friendly animals, now would we??