Toy's heart Kozaru - Masturbator from Toy's heart

Product Details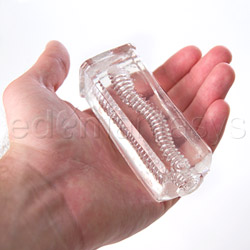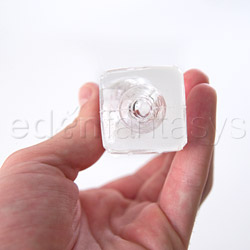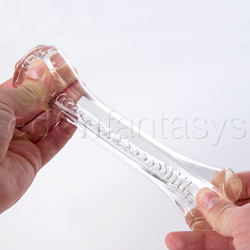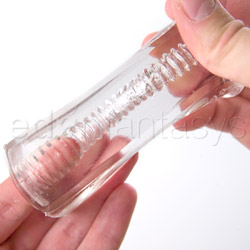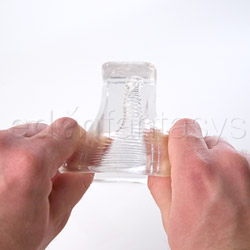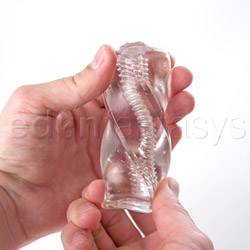 Summary:
From the box, it seems that Kozaru is a well endowed, hentai woman dressed like a school girl. When it comes to the actual toy, it's a small, clear, stretchy TPE penis sleeve. Its look and feel is non-realistic, but very tight. This tightness keeps it from being very useful for warm-up activities, but once one is already erect, the tightness helps the interior ribs to be very noticeable. The TPE is very stretchy, but the greater endowment the harder this will be to keep on. Very travel friendly!
Pros:
Phthalate-free TPE, very stretchy, ribbed interior.
Cons:
Very tight, cannot be used for warm-up.
Best use:
If you are looking for the translation (if any) of Kozaru, you are looking in the wrong place. If the outside of the box is any indication, Kozaru is a well endowed woman in a school girl costume all drawn in a hentai style. Once you open the box, however, Kozaru is a male masturbation toy from Toy's Heart. Kozaru is a TPE rectangular prism with a ribbed, winding hole molded into it intended for penile insertion. As far as sleeves go, Kozaru is small and tight, so some pre-Kozaru warm up is required.

Toy's Heart includes a lubricant sample with Kozaru which is nice because some lube is necessary to use this toy. The lube is thick and stringy so it tends to be messier than some other lubes. It washes away with water, so it is presumably water based.
Material / Texture:

Kozaru is made of clear TPE. TPE is supposed to be phthalate free, but Kozura had an odor to it upon opening the package. That odor has dissipated over time, but there was definitely something there. TPE does not have the realistic feel of skin-like materials like SuperSkin or UR3. It feels more like a very soft rubber. The exterior has square corners, but the material is so pliant that the corners do not interfere with holding the sleeve well. Aside from the corners there is no texture on the exterior of the sleeve, so it can be difficult to hold on to if your hands are slick with lubricant. The interior of the sleeve is ribbed and winds back and forth. The sleeve is tight enough that the ribs can easily be felt during use.

Material:

TPE

Material safety

Safety features:

Hypo-allergenic / Latex free / Phthalates free

Texture:

Ribbed

Shape / Design / Size / Fit:

Kozaru is small, 1-3/8"x1-3/8"x3-3/4" to be exact. That's right, Kozaru is only 3-3/4" long. That's shorter than just about any guy I've ever heard of. So, if you've always wanted to feel like you've got a big cock and want to bottom out in your masturbation sleeve, Kozaru might be just the thing. Kozaru is also very tight, so putting a limp cock inside is next to impossible. This means it doesn't have much use as a warm up toy. The TPE is very stretchy though, so once you're hard you can lube up and slide inside Kozaru and enjoy the ride. One thing about the size, though, is Kozura has to be one of the most travel friendly male masturbation sleeves available. So if you are looking for something that is easy to conceal, Kozaru might fit the bill as well.

Color:

Clear

Length:

3 3/4"

Fits up to:

2"

Circumference:

4 3/4"

Width:

1 1/4"

Weight:

4.8 oz

Functions / Performance / Controls:

Special Features:

Lubricant included
Super stretchy
Travel

Care and Maintenance:

One of the nice things about TPE is it is generally pretty easy to care for. Soap and water or toy cleaner can be used to clean the toy. It is porous, so no sharing without a barrier, but most people don't share their masturbation sleeves any way. TPE contains no silicone, so it is safe to use with any lubricant except petroleum based lubes. Cleaning is easier because Kozaru can be turned completely inside out so it is easy to make sure everything is clean. It can be left that way for drying as well which is nice.

Packaging:

Kozaru's packaging is a cardboard exterior with the toy wrapped in plastic inside. The cardboard has a silver metallic base color and is decorated with the aforementioned drawings of the well endowed woman. Her blouse is open to show a lot of cleavage and her breasts are just a little more covered on the front of the box but in the location on the back of the box where her nipple would be revealed the manufacturer carefully inserted their name to cover it up. Most of the words on the package are in Chinese, so the meanings are pretty mysterious. The company name is in English and the specs on the back of the box are in English. On one side of the box there is a scale of 1 to 5 where it says soft above the 1 and hard above the 5. Kozaru is 2 on the scale, so it seems it is on the softer end of the Toy's Heart scale.

Experience:

As far as masturbation sleeves go, this one is very different from others I have used. I have quite a bit of experience with Feshlights and at first I thought some of them could be difficult to use for warm up depending on the respective opening, but nothing like Kozura. I tried everything I could think of to get Kozura on when I was soft and nothing would work. After I got myself hard and then lubed up, I was able to slide into Kozura successfully. The experience wasn't bad, but Kozura is definitely tight and it does have a tendency to slide off, so you need to keep a good grip on it. After using Kozura, it made me wonder what the Tenga Egg would be like as that is another small, stretchy male masturbation device that is travel friendly.