Sportsheets Sex and Mischief red and black stripe flogger - Whip from Sportsheets

Sex and Mischief red and black stripe flogger videos
Product Details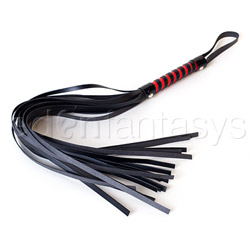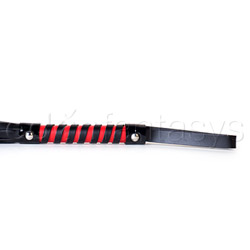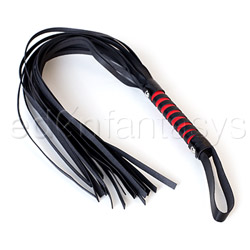 Summary:
The Red & Black flogger is a great product that can be used as a teaching tool. The light weight makes for a swift and steady lashing without a strong bite. The vinyl material is stiff but over time may become more pliable. Experts in flogging can use this product as a warm-up.
Pros:
Vegan friendly, lightweight, inexpensive, perfect learning tool for beginner to flogging.
Cons:
Stiff vinyl, tails can be ripped if pulled hard.
Best use:
Sportsheets is known for making affordable toys with a wide range of variety. The brand teeters the line that separates vanilla from kink and because their line is reasonably priced you are able to experiment with different types of sexual play.

The vegan friendly Sex and Mischief red and black stripe flogger is a lightweight flogger that is perfect for a beginner looking to explore BDSM play. It is 32" from the tip of the wrist handle to the end of the 18 falls. The length is perfect for extended reach play and the light weight of the product allows one to find which techniques are comfortable to use while flogging.

The faux leather vinyl material is sturdy and will not tear easily if properly cared for. It will deliver a sting that is very much controlled by the user. The sting that occurs after one is hit is not like a terrible bite, but more of a kiss of faint heat that lets you know it was there without leaving distinctive marks on your skin. While experts in flogging and being flogged may want more of a punch, this item would be a great teaser or introduction for a newbie who has yet to discover their true pain tolerance.

The weight of the toy is unusually light: however, it makes it perfect for travel. No one would know it was there unless you showed them. If you do decide to wrap it up to sneak into your luggage, hang it from the wrist strap to allow the bends to fall out. Although the flogger is pliable there is definitely some noticeable stiffness in the falls when you first receive the product.
Design / Craftsmanship / Size / Material / Features:

The design of the flogger is similar to most floggers out there which is perfect because if you have used floggers before you will be able to handle and maneuver this product with ease. But if by chance you are new to floggers there's still no need for a learning curve, you will find yourself in flogging heaven in no time.

As I said before, the flogger is 32" in complete length. The wrist handle is 4 1/2", the handle is 6", and the falls are 21 1/2". The wrist and cattails are both made of vinyl, while the handle has a light wooden core and is then wrapped in red and black vinyl. Most of the toy had a matte finish except for the shiny black vinyl wrap that is around both ends of the handle that are held into place by nickel-free hardware.

Although EdenFantasys lists the flogger as being made of faux leather the Sportsheets card attached to the handle says that it is made of vinyl. The material and properties of faux-leather and vinyl differ.

There is barely a smell to the flogger.

Material:

Faux-leather

Color:

Black / Red

Length:

32"

Width:

1/4

Weight:

0.2 lb

Performance:

All floggers should be used by someone who is experienced, however the Black & Red Flogger is perfect for those who are completely new to flogging in both giving and receiving.

There isn't a strong sting from the falls when they come in contact with your skin. At the same time you will feel its wrath after the flogging is over without the marks to show for it. This will work for delicate skin because it won't break the flesh on contact.

The length of the falls allows you to come in contact with your partner without having to be right at their throat. The intensity of the sting varies depending on what part of the tails hit your skin. The sting is felt strongest when the tips hit your flesh.

Care and Maintenance:

To clean your flogger, simply wipe with a warm cloth and antibacterial soap.

To store, hang the flogger by the hand strap or fold it neatly in a drawer.

Packaging:

The whip arrives in a cellophane bag with a Sex and Mischief tag attached to the hand strap. There is a code on the inside of the tag that you scan scan with with a cell phone or tablet to continue the erotic story written on the card, view other products, and watch a video.

There aren't instructions on how to use the flogger but the information can easily be accessed on-line.

Other

Texture:

Smooth

Circumference:

3"

Diameter:

1"

Special Features:

Safety features:

Phthalates free