Related to:
Sexy is a Journey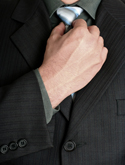 My last two articles have been about guys and their self-esteem. In the first,
Being Ken is Just as Hard as Being Barbie: Why Body Image is a Male Problem, Too
, I dicussed some of the issues that plague men and cause their insecurities. While some of the issues appear the same as women's issues on the surface, the reasons behind men's issues can be very different.
This week, in my article,
Sexy is a Journey
, I wrote about how to overcome those issues and be sexy for YOU.
And that's really the crux of it, isn't it. You gotta be sexy for
YOU
.
"Today, as I scan the pages of Facebook, I see my former bullies are still living in the little cattle town we grew up in; their lives little different to how they'd been when we were at school together. I realize now that they'd only said those mean things to me because they were a reflection of their own insecurity; and how my potential had highlighted it.

That realization was liberating; and confirmed that my journey towards "sexy" had only truly began when I stopped worrying about what other people thought of me, and started living my life for myself.

And that's what "sexy" means to me – rejecting the labels other people place on you, and embracing your own identity. Hitting the gym and getting a promotion is great; but the only true secret to "sexy" is making the decision to believe that you are."
So here's my question to you. Society's got its ideal, but when it comes right down to it, which of these people do you identify with? Leave the why in the comments.